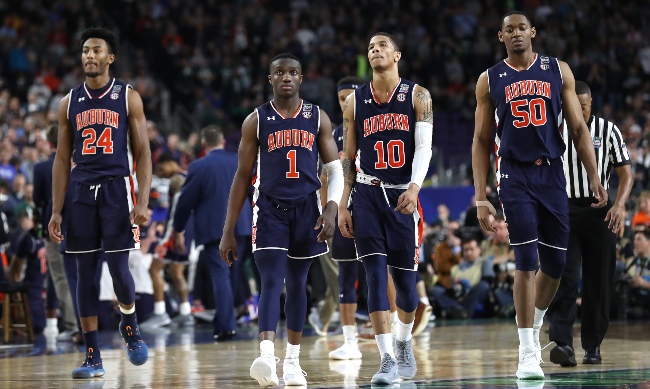 Saturday's Final Four matchup between Virginia and Auburn will be remembered for a long time. After blowing a double-digit lead in the final minutes, the top-seeded Cavaliers escaped with a victory on the strength of three free throws from Kyle Guy and, along the way, there was plenty of discussion about the officiating.
In fact, the ending was so wild that a number of Auburn fans were confused about the end result, to the point where they charged Toomer's Corner thinking that the Tigers were headed to the title game.
Eventually, it became obvious that something was awry, and in fact, the Cavaliers came out on top. You can probably guess the reaction.
In defense of the Auburn faithful that made this grave mistake, even the in-stadium PA announcer believed that the Tigers were going to advance and there was genuine confusion in the building at U.S. Bank Stadium. Still, this is a wild instance of the "thrill of victory" meeting the "agony of defeat" and it was all captured on video.
All things considered, it was an awesome season for Bruce Pearl and his team and, frankly, Auburn wasn't expected to crash the Final Four party after landing as a No. 5 seed in the same region as North Carolina and Kentucky. Still, the Tigers were so close to participating on Monday night and this is a fitting visual representation of that near-miss.