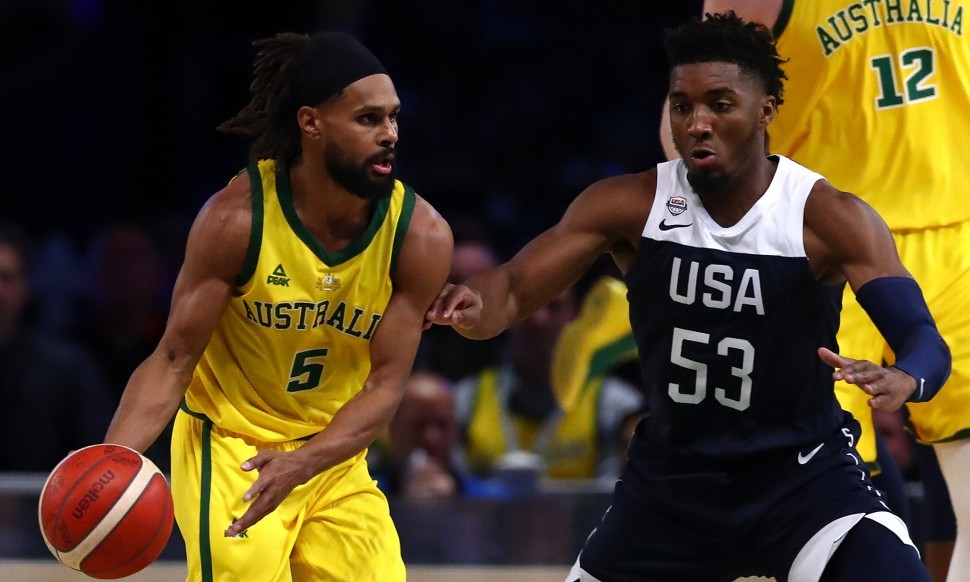 On Wednesday, Team USA handled Australia with relative ease in their first of two exhibition games against the Boomers, running away with a 102-86 win in front of a packed stadium in Melbourne. However, when the two teams met again on Friday, it was a different story as the Boomers stunned the Americans with a 98-94 win over Team USA.
It's the first loss by Team USA in an exhibition game since 2004 when they lost to Italy, and they had won 78 consecutive games across all exhibitions and major international tournaments going into Friday, as noted by the AP's Tim Reynolds in the fourth quarter.
The Aussies had trailed late in the game, but Joe Ingles stepped up to hit a big three to give the Boomers the lead as part of a 15-point, 7-assist night for the Jazz forward.

While Ingles' shot gave them the lead, Patty Mills was the one that put the game away. Mills led the way for Australia with 30 points on 10-of-22 shooting, including catching fire down the stretch with four straight baskets to help the Boomers pull away from Team USA.
Kemba Walker and Harrison Barnes were the bright spots for the Americans, scoring 22 and 20 points each, but only Donovan Mitchell was able to claw into double-figures for Team USA along with those two. After hitting 43 percent of their threes in the first game against the Aussies, Team USA shot just 33 percent in the second game from beyond the arc.
The Boomers outside of Mills struggled from deep, but they carved up the U.S. defense to hit 65 percent of their attempts from two-point range. It was a stunning outcome, but not one that was completely out of the blue. Gregg Popovich had referred to Australia as one of the top threats in the World Cup in the lead up to the game and the Boomers roster is filled with NBA players. Couple that with a USA roster that's as weak as it's been going into an international competition in some time, and an upset happening was always lingering in the back of U.S. hoops fans minds.
The question now is how the Americans bounce back from their first defeat in over a decade of major international competition. They get a chance to bounce back with one more tuneup against Canada on Monday, but they will head to China for the FIBA World Cup with an air of vulnerability about them for the first time in a long time and teams will be looking to follow the Australians in shocking them in the tournament.