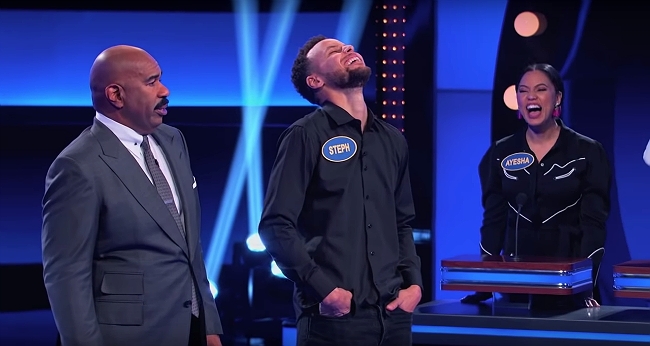 The NBA is taking over Celebrity Family Feud, and just like in the actual NBA, the Golden State Warriors are dominating. The classic Steve Harvey-hosted game show is running celebrity editions on ABC this summer, and the latest edition pits Steph Curry's family against Chris Paul's squad.
Their Western Conference Finals showdown tended on the court with the Warriors winning it all, and the same can be said for the Feud version thanks to Ayesha and Steph Curry. Steph is a three-time NBA champion and league MVP with remarkable range from behind the arc. Ayesha, meanwhile, is a celebrity in her own right, pivoting herself into a lifestyle guru and celebrity chef.
To say they're a power couple would somehow be an understatement, but that's exactly what they are. That's why when it came to the Fast Money segment of the show, Steph and Ayesha stepped up to deliver in the clutch.
If you have never seen Family Feud, get out of this house right now you don't get to live here anymore. Anyway, you need 200 points to win the Fast Money grand prize and have to answer five questions in 20 seconds. The idea is that if each player gets around 100 points, you're golden. But Ayesha did far better than that: she aced the survey with four of the top answers to leave the board looking like this after her round.
Pretty good! That means Steph just needed to get six points to secure the win. The pressure really wasn't on, but Steve Harvey took a moment to apply some anyway.
"If you don't get this you're out of the league," Harvey warned.
But Curry didn't get off to a very good start. Some repeat answers lost him a lot of time, and he skipped one question and ran out of time to answer it. His first answer also netted him a zero. His second answer, however, was enough to get them the win.
The Currys have enough money, however, so all that Fast Money they got amounted to $25,000 to charity, specifically the Community Foundation Sonoma County. I think it's safe to say Ayesha is the much better Feud player, but Steph is well aware that having great teammates helps.