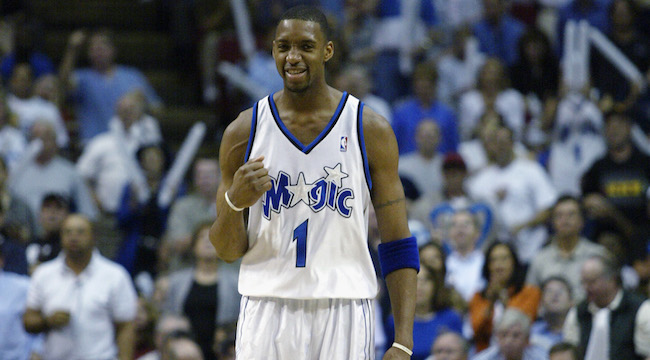 The 2016 Naismith Memorial Basketball Hall of Fame class included all-time greats like Shaquille O'Neal, Allen Iverson and Yao Ming. In short order, Tracy McGrady and Chris Webber will have a chance to join them in enshrinement, as the 2017 finalists for induction were announced on Saturday as part of NBA All-Star Weekend.
Inductees will be announced during Final Four weekend in Phoenix in early April, but being named as a finalist is a significant honor. McGrady, who averaged 28.1 points, 7.0 rebounds and 5.2 assists per game over his four-year apex with the Orlando Magic, made the cut in his first year on the ballot, while Webber needed a third attempt to be named as a finalist. McGrady was a seven-time All-NBA selection and two-time scoring champion, while Webber completed a 15-year career while averaging 20.7 points and 9.8 rebounds per game.

Other NBA-focused finalists include former Golden State Warriors and Miami Heat point guard Tim Hardaway and former Milwaukee Bucks swingman Sidney Moncrief. Hardaway averaged 22.1 points and 9.9 assists per game over a four-season period from 1990 through 1995 and he ranks 13th all-time in assists per game. As for Moncrief, the two-time Defensive Player of the Year was known for his lock-down ability on that end of the floor and he was selected as a five-time All-Star.
Joining the NBA finalists are men's collegiate coach Bo Ryan, high school basketball coach Robert Hughes, NBA referee Hugh Evans, WNBA star Rebecca Lobo, women's collegiate coach Muffet McGraw, men's collegiate coach Rollie Massimino, the 1954-1958 Wayland Baptist University women's basketball team, women's collegiate coach Kim Mulkey, men's collegiate coach Bill Self and former NBA coach Rudy Tomjanovich. While that may seem like a lengthy class, candidates such as Chicago Bulls executive Jerry Krause, Phoenix Suns point guard Kevin Johnson, long-time NBA standout Bobby Jones and Detroit Pistons big man Ben Wallace did not make the cut.
It will be a long wait until early April for the likes of McGrady, Webber and Hardaway but they are one step closer to enshrinement.