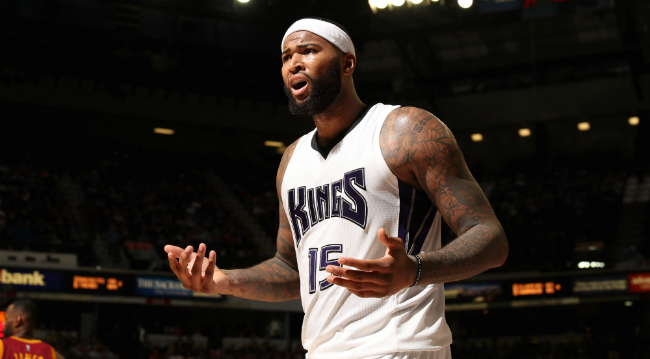 Comedian and comedy theater founder Chris Trew is a New Orleans Pelicans superfan who has a single season ticket directly behind the visitors' bench inside New Orleans' Smoothie King Center, where he interacts with the opposing team's players and coaches. He will be documenting his experiences here for us in a regular column called, Behind the Bench. You can follow his in-game interactions live on Twitter at @Trew2theGame. The Pelicans' opponent in this column: the Sacramento Kings.
For as much flak as the franchise gets, Sacramento sure did seem like a well-oiled unit for most of the game. The bench was gabbing, the energy was high, the Kings were dialed in.
— Before the real warm-ups start, before the fans start piling into the arena, there's hyper local entertainment like junior high school cheerleaders or dance teams. For the first time, I saw a player stay on the court to work on his game while the kids did their song and dance. Dear Eric Moreland: I admire your bravery. You made those teens work around you. May your baby hook shot be forever smooth, just like you as the William Pitcher Junior High Lions stumbled their way through that dubstep version of "Hello" by Adele.
— Just before tip-off, Willie Cauley-Stein took in the crowd in New Orleans. Attendance was pretty weak on this Monday night against Sacramento and Willie let us hear it. "It's a damn shame," he said a couple of times.
— Kosta Koufos complimented my beard in a semi-sexual manner, saying, "I wish what you had on your face was on my head." Quincy Acy is still on the Kings roster, and he still has a beard, and he was called out by Caron Butler for not having the best beard in the vicinity.
— Caron Butler, by the way, gets the Paul Pierce Award which is the shortened name for "Most Fun Player to Sit Behind Who Maybe Won't Actually Play Any Meaningful Minutes." Butler was in his teammates ears coaching them along, shouting out defensive assignments, and being downright irritated by Norris Cole getting so many shots off in the first half. After he yelled at McLemore, "Young fella, get in his sh*t!," I asked Caron if he hates Norris. He turned around, smiled, and said, "What do you think?"
— More Caron Butler highlights: he begged the defense to "leave Perk open." The Sacramento bench, very in tune the entire game, laughed a lot here. When Omer Asik got his 4th foul, Caron Butler said "he don't want it." I asked Caron if he would like to take the center off our hands this Summer and he said, "no, but he can wash my grill this Summer." Doesn't seem like a sensible response but still, it kind of works.
— Part of the charm of Sacramento was its attempt to distract the Pelicans during their free throws. It rarely worked and definitely came off as childish, but this is also indicative of a team having fun. The absolute worst at it was Koufos who was as noncommittal as he was awful at timing.
— I was told before the game by two different ushers not to say DeMarcus Cousins' name a single time. There was nothing I could really say to the man who absolutely tore the Pelicans to shreds while barely breaking a sweat. But he is the only player I've seen get this treatment. My usher made it sound like his job was on the line. Seems like DeMarcus Cousins has people bending over backwards to cater to him. The guy was rarely reprimanded for any of his temper tantrums and he was the only player Caron Butler wasn't engaging with. Every time he pouted towards the Sacramento bench the coaches just said "play through." Play through he did, dumping 40 points on the Pels.