Behind the Boxscore is the NBA recap you need to keep your wits about you. Begun in another century, loping through several websites, we turn up and down the faders on League Pass so that you don't have to. You can scroll down to your favorite team, but you're going to want to try out the album tracks.
Golden State 109, New Orleans 98
It is something else watching DeMarcus Cousins go, isn't it?
We know where he's heading, trying to make the team closest to his hometown his own. New Orleans is a franchise in desperate need of an identity in spite of trying to draft (Anthony Davis), hire (Alvin Gentry) or design (the Pelicans!) away a few attempts over the lost seasons. Media lines will be drawn and I'm lining up to participate in the failed guesswork yet again, but that doesn't mean our ongoing coverage is hallow or that we're trying to present DeMarcus' continuing efforts at establishing himself as similarly wafty.
On Friday, Cousins got under the skin of Draymond Green — a smaller guy who will bite back — on Cousins' home floor. On ESPN.
This is the sort of sh*t that people wanted Patrick Ewing to do, before and around the time he got that big contract in 1991 (six years, $33 million), and I'll put that in your pipe before reminding you that even back then Patrick Ewing had teammates he could pass to – even if Ew usually thought that something left best for left-hand lanes.
In nearly 33 minutes, Cousins contributed 35 points with 14 rebounds, five assists, six turnovers and four steals. Anthony Davis matched his 35 points in a loss, and once again Jordan Crawford was often the third-best player on the floor for New Orleans.
Kevin Durant and I wear the same type of shoe when we play basketball and I have yet another reason to be uncertain about my purchase.
Cleveland 116, Milwaukee 97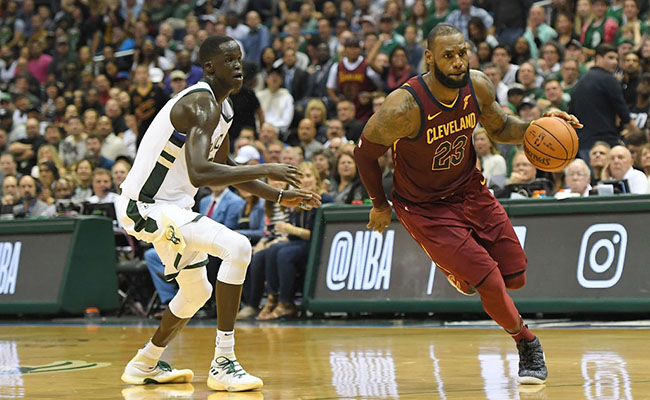 Cleveland's regular-season reputation is earned, but you still have to play excellent and precise basketball to beat this team. When the Cavs make sure the angles are straight, the would-be hopefuls are typically left reminded of their station.
The Bucks are fine, but you still have to get in the way of the annoying parts of the game if you want to take down a team as talented as the Cavaliers (that team that plays until June). The autumn parts. Incomplete closeouts or iffy, uncertain rotations are certain death if the Cavs are hitting the Reggie Miller percentages.
Milwaukee, Boston, Washington, Toronto – these teams don't have all season to figure Cleveland out. They have an evening. Or, come spring, an afternoon. It genuinely does come down to being where you're supposed to be on the court, and the Bucks weren't there on Friday in ways that weren't always MKE's fault.
Respect the (EC) champs until they fall.

Sacramento 93, Dallas 88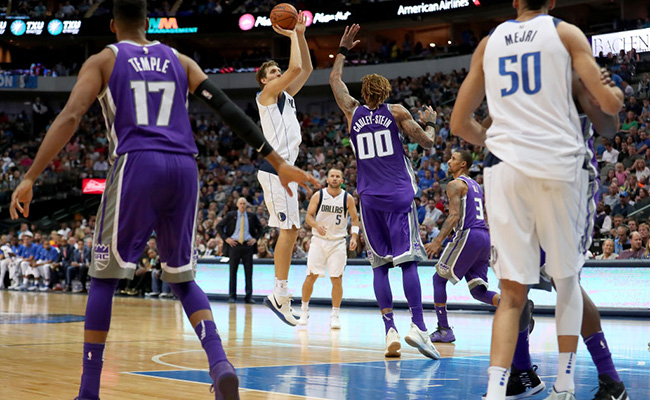 George Hill is the only one that could get away with this.
With every dish or deliberate swerve to the right side of the rim, after every coltish lunge that leaves you wanting more and more minutes, it gets harder and harder to say farewell to the sight of rookie De'Aaron Fox, as he heads back to that Kings bench.
Hill is the guy subbing in for him, and you're cool with that even before I tell you his line: 21 points on 12 shots. Turned it over five times, but his plus/minus was what you'd expect from George Hill (+14 in 31 minutes), and 19-year old rookie De'Aaron Fox's offering in that line (seven under) was what you'd presume.
Wesley Matthews missed all seven of his shots and turned it over four times in the loss.
Charlotte 109, Atlanta 91
The Hornets are supposed to beat the Hawks while playing at home. I watched so much of this game, and that's all I have for you at the moment.
Brooklyn 126, Orlando 121
The Nets couldn't really keep up with Nikola Vucevic either on the empty floorboards up top or in the low post, but as we've discovered quite often in this league – it hardly mattered for Nikola's team. Vuc put up 41 points and you know exactly how: Nik is a smart player that is able to detect needed mismatch alterations in an instant.
In this realm, he reminds of Chris Gatling. What you decide to do with this investiture is entirely up to you.
Minnesota 100, Utah 97
These two teams knew what they were up against, as the same will likely be the case on April 1 when the Jazz and the Timberwolves try to make sense of their playoff chances it what we hope will be another hearty battle along these lines.
Jamal Crawford hit the eventual game-winning three-pointer in this one, as you well know. He's never looked better, in those Timberwolves whites down to sock and toe, at least not since he wore the Chicago red. The home team, this time out, could only muster a top lead of 10 because, man, the Jazz and Timberwolves know that every game counts in this stupid conference.
Utah's Donovan Mitchell had the expected fallback in his second game, 1-7 shooting after that 10-point and four-assist NBA debut against the Nuggets on Wednesday, and these sorts of night-to-night alterations are common among Tom Thibodeau teams. It didn't matter that Mitchell shot an ugly 3-11 in that Denver introduction, it was that he acted as the cheer in Utah's comeback win, and Thibs can only tolerate so much cheer.

Los Angeles Lakers 132, Phoenix 130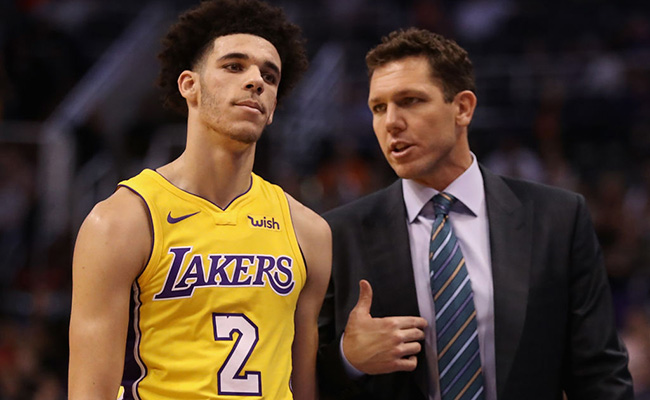 The Suns and Lakers really could have let this game get away from them. The contest was already, howdoyouthsay, lit well before tip. Just look at these damn rosters, but shouts to the kids for genuinely feeling the fear of the burr from the respective coaches back by the bench.
Should we be crediting (very young!) players for this on the first week of the season? Maybe. Moody teens, man.
I realize this is going to come off as an I don't even watch TV pout, but I spent Thursday night watching the TNT Overtime shot of Lonzo Ball and Lonzo Ball exclusively. It was cool, because between Patrick Beverley giving him the GD bidness, I got to see Ball dust himself the hell off, dance a little tighter, vault toward the open spots a little quicker, and more or less continue apace. I saw him miss some shots, but I also a fantastic NBA debut from someone that could be really, really special.
On Friday, I drove to a beach in Indiana, several do exist, and ignored every bit of chatter about the young man. On Friday night, after driving back home from a Blazers/Pacers game, I watched Lonzo put up 29 points with 11 boards, and nine assists.
If you're not cool with this kid, then I am.
Boston 102, Philadelphia 92
From the glint of the League Pass split/screen, with Damien Wilkins splayed out before me in the fabled flesh, I missed more of this than I'm comfortable with. We should all enjoy a replay.
It was charming to see the Celtics deciding that they were too full of precision and savvy to be caught up in a Friday like this – Philly still has to remain at arm's length, y'know?
The kids are quite literally stepping up, into long jumpers that I'm not entirely comfortable with, and though it's easy to quibble with the step up the results weren't bad. Especially when J. Tatum and J. Brown's bullish ways had Al Horford even lining up digs early in the shot clock to take the looks he'll need to hit in Jae Crowder and Gordon Hayward's absence.
(And, OK, fine: "Kelly Olynyk's absence," too.)

Washington 115, Detroit 111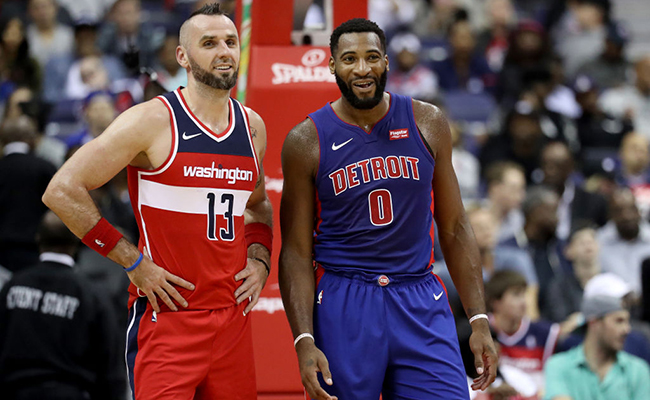 Reggie Jackson wasn't going after Andre Drummond on Friday night, when he hit the recorders when the fact that the Pistons "play a lot quicker" with Drummond out of their lineup. All teams play quicker without their centers, it doesn't make them better squads each time out, and Jackson's main quibble was with the referees.
"Personally," Jackson told the media after the loss (so as to avoid confusion), "I might be ashamed of myself if I wore stripes into the building tonight." The point guard scored 11 fourth quarter points in the loss, while Drummond fouled out with nine minutes remaining.
Don't jump the grins, with this crew, at least not yet. This has proven to be a self-aware lot and they may need until November to lose all the qualifiers before backing back into bashing. You don't need to be a point guard to enjoy the sensation of evaporated steam leaving your ears while observing Detroit's play, and you don't need to have blue in your wardrobe to be sick of this crap.
We haven't had to pay attention to a Detroit Pistons team since Flip Saunders was coaching the group. For many the biggest takeaway from 2016-17 was how little effort the Pistons put into trying to save Reggie Jackson from the onrushing scapegoating, and it has taken the group as many as two contests to at least remind me of When Ish Smith Took Over.
There's a reason you don't watch Detroit Pistons games, and brief snippets were on display on Friday – brief, because I want to watch Pistons games as much as you do.
There was still the sight of Drummond, furious in the face of an unconcerned ref and with nine other NBA players already significantly further up the court, carping because a Wizard dared make legal defensive contact while defending a crappy Andre Drummond jump hook. A shot that averages 0.000016 points per possession because it is a jump hook, and because Andre Drummond is on the hook for free throws if the refs bail him out with a foul.
Meanwhile, Reggie Jackson watches as the Washington Wizards dive and clutch with Marcin Gortat and even Ian Mahinmi out there, but Andre still wants to take the time to hike up his shorts when it comes time for his offensive contribution.
Portland 114, Indiana 96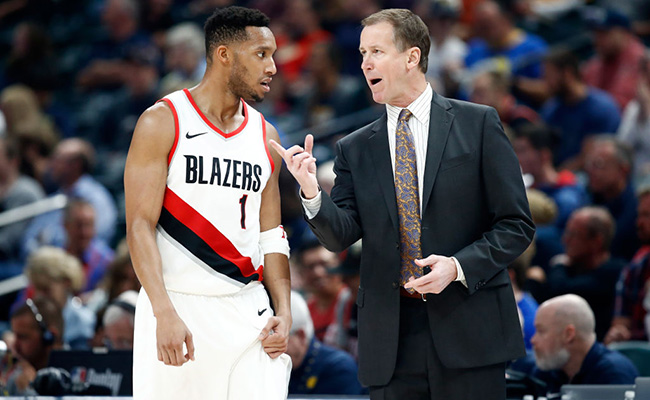 At times it feels as if the only time the PDX offense stalls is when one of the stars remembers that he only needs one screen to get off a cool, call it Carmelo-like, shot.
Even that low-per expenditure can act as a blessedly potent play for Portland had buckets to spare in this one. Working on the second date of its Ranch Dress Fest '17 (Phoenix, Indianapolis, Milwaukee in four crunch-filled days), the Blazers ran guard-arounds until it was time to unleash the scrubs.
The Pacers, meanwhile, remain a compelling watch. Nate McMillan's quiet storm must be ringing in their ears.
Somehow, maybe it's the season, but I can't take my eyes off of Victor Oladipo during these first two Pacer games. You had to pay me a reasonable salary at a fantastic website to get me to watch Oladipo during the last few seasons, and yet with the Pacers he's a joy. Aware of his limitations, he gives the ball up when it's time (knowing full well that he's not likely to do anything spectacular with it). Oladipo has grown into a sort of all-around 1980s-style terror, and I dig it: Don Nelson should trade for this guy.