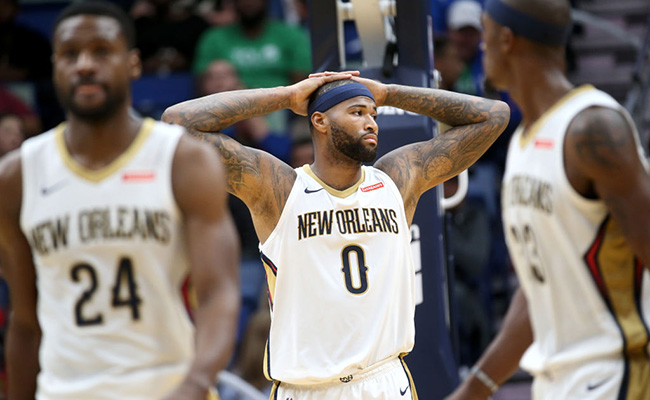 Behind the Boxscore is the NBA recap you need to keep your wits about you. Begun in another century, loping through several websites, we turn up and down the faders on League Pass so that you don't have to. You can scroll down to your favorite team, but you're going to want to try out the album tracks.
Golden State 141, Los Angeles Clippers 113
Golden State plays in threes when everyone else has to scramble for a two. As the season moves along this league will hopefully develop (with this tape in hand) better ideas moving forward as to how, exactly, the city of Los Angeles could (two times in one postseason?) make spring interesting for us as we stare down The Warrior Problem. The Clippers still looked potential laden, and very good, in the loss.
The champions looked better. Golden State moved into their sets with alacrity and didn't hesitate while considering options either personal-packed or team-sized. They're so much bigger, when they want to be, than anything else out there right now. This must be what it was like to be around for Zeppelin.
Philadelphia 115, Houston 107
Philadelphia just went into Texas and pulled out two wins. Smirk all you want at the Mavs before pointing at Chris Paul in street clothes, but that's quite the accomplishment for a team that will be accepting the candy on Tuesday night, rather than giving it out.
The 76ers, at this point, do nothing exceedingly well outside of inspiring you, Peter Vecsey-style, to go buy season tickets.
There are just moments: Joel Embiid backs his into lefty hook not to make a point but because he had to. The next defensive possession sees him recover from a turned head long enough to block a Rocket shot before Ben Simmons corrals the loose ball as a sort of palate cleanser before driving end-to-end to dunk the damn thing.
The Sixers are 3-4 now but I can't buy anything with whatever that's worth. What I do want to do is watch these guys play basketball as much as I can, for as long as they'll let us.
Embiid finished with 22 points, nine rebounds, five assists and two steals in 25 minutes, Simmons added 24 points, nine assists and seven boaards and the rookie averages 18.4 points, 9.1 rebounds, 7.7 assists and 1.4 steals. He's got another eight months of being 21.

Boston 108, San Antonio 94
It's not correct to suggest that the Spurs tried to out-bucket the cerebral enthusiasts from Boston on Monday, though it does tend to look that way in San Antonio for brief instances as the franchise tries to give LaMarcus Aldridge an autumn he'll never forget. Still, there the ball went. Down to LMA for a shot that looks good before the ball spins out to meet three gorgeous white Celtics jerseys advertising a brand that I thought Letterman took care of for us.
(We grew up thinking that a lot of stuff from 1980s New York would have gone away by now, didn't we?)
The Celtics are game for a drawn out, knotty contest. The team starts two legitimate bigs these days in Aron Baynes and Al Horford, set to counter San Antonio's traveling heft featuring Mr. Aldridge and Pau Gasol-on-a-Monday. In the kids (Jaylen Brown with 18 points and conniving defense) plus Kyrie the C's lineup had the length to hang with San Antonio's three-game-in-four-night legs. Plus:
Kyrie (24 points and six assists), despite his mercurial turn of late, seemed to come into this league with veteran legs. It's going to be so great watching him give a lick and a promise to defense, as he did on Monday, in the face of the generation of point guards that have come up around him.
Brandon Paul, at age 26, is not one of those guys. Once you get past the oddness of seeing a short-statured "Paul" outfitted in San Antonio's No. 3, it's easy to see why Gregg Popovich is in love with 26-year old Illinois product and NBA rookie, and why he's shifted him into key moments early in first and second half rotations. All Paul does is move his feet defensively and hit 7-of-11 three-pointers as an NBA player. The three-point percentage (63.6 percent, all his misses seem to rim out) will settle, the feet cannot afford to.
The rookie had 18 points, a career-high, in the loss.
Minnesota 125, Miami 122 (OT)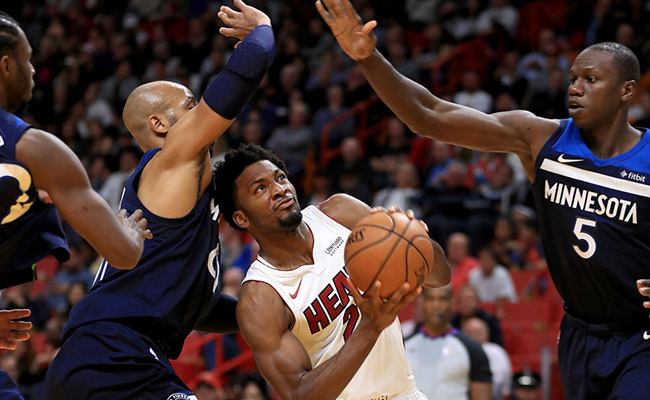 It shouldn't be an affront that the Timberwolves couldn't put Miami away during regulation, in Miami. The Heat are a playoff team and the Wolves haven't made the postseason since you prominently featured Chappelle's Show DVDs in your living room. There's something so unnerving about the Wolves, though, and watching Kelly Olynyk (23 points, three three-pointers) force Karl-Anthony Towns into working for kibble on what he probably hoped would be a wet food night in Miami.
It's not just the personnel, sometimes Minnesota tries to shoot gaps and half-ass it at the wrong angles. It makes no sense to expect a massive defensive upgrade to come in the form of a power forward (Taj Gibson) that has already played Tom Thibodeau Minutes alongside a shooting guard (Jimmy Butler) working through the same baggage – a feckless defensive position in this era, weakened further by Butler's understandable increasing tendency to take plays off on that end.
And just before you're about to send a text to your father to ask if Mitchell Wiggins was any good on D, this happens:
And just before you're about to stupidly conclude that Jeff Teague needs a Popovich-type to lead him to glory, he turns around a flighty night and puts 14 points on the Heat in the fourth quarter and overtime.

Charlotte 104, Memphis 99
Kemba Walker, I mean, you start to see him chirping when his team is down big on the road, and you know it's coming from the right place, but it's kinda fugazi because he has to be, right? Then, WITH DWIGHT HOWARD AT CENTER, the guy leads a wickedly fierce fourth quarter comeback (nine of his 27 points) in this win. Michael Kidd-Gilchrist looked as active and as appropriately-timed as his 5-of-5 shooting would suggest.
The Grizzlies will hate most of Halloween. The team was well on its way toward a 6-1 record, playing at home and leading by as many as 13 – in a disgusting Grizzlies/Hornets game, an advantage like that looks like a lock. Mike Conley had Dwight Howard scoreboard-watching like it was the last day of baseball's regular season, waiting for that dubious-to-ever-air replay as Conley took to the free throw line for one of his ten trips (eight makes), rolling his Dwight eyes after every ducat (well) earned from the never-All-Star.
Conley shot 4-18 overall, though, missing all seven of his looks from long range. Marc Gasol, struggling with a bum left ankle, missed 11 of 15 before offering this postgame:
"Trust me," Gasol said, "in 10 years, I still haven't met a player that wants to miss on purpose."
The younger Gasol has clearly never seen Jahidi White attempt a slam dunk.
Orlando 115, New Orleans 99
The Pelicans let the game get away from them, they let an opponent's good touch prevent them from exhibiting good taste of their own at the other end, and the Pelicans also happened to line up against a Frank Vogel Team.
Maybe the Magic weren't a Vogel Team last year, but they're due up to pound you this season – not so much with pounds themselves, but in exacting tones on both ends that New Orleans coach Alvin Gentry, clearly, hopes his team will someday match. Gregg Popovich remarked on as much after Orlando downed the Spurs last Friday and more and more coaches will be warning of the same in the face of tepid locker room reactions as the season moves along, especially when the Magic return home: Orlando plays in the same state as Miami.
This assertion from Orlando came at a discouraging time for Pelicans coach Alvin Gentry, who would very much like to coach an Alvin Gentry Team in New Orleans at some point. Gentry rightfully concluded postgame that his team's effort "sucked," talking defense-first in a game that saw the Pelicans' offensive interest slip as botched defensive rotation piled up. It turned out a cruel and unwatchable mix, as you'd assume.
New Orleans' next make-good attempt at .500 will be at home against Minnesota on Wednesday. Yes.

Utah 104, Dallas 89
Ricky Rubio's a veteran now, one brought in to settle a locker room, and that's why you give him credibility in the wake of obvious remarks (copping to his role in his team's turnover woes, worst in the NBA) prior to a game against a bad Mavericks team, one in which Rubio still turned it over three times alongside some other questionable shot and pass decisions.
The guy was everywhere, though, in a game he just did not want to let get away. Not with those Western standings already the way they are. Everything was pointed with Rubio, and that insistence held up in the ledger as well: Ricky hit 4-of-8 threes on his way toward 20 points with four steals and six assists. It's an interesting mix, his nose and Utah's lean toward dulling the pace of the game. To squeeze what it can out of the sight of Derrick Favors, lumbering toward the hole. Ready to let us know what he thinks of his touch.
Dallas, I believe, played 43 different guards in the loss.
Toronto 99, Portland 85
The Blazers have had a good year, it looks as if they've improved defensively in ways that I hope will outlast their current statline's ability to feast on the Suns (twice) and Pacers already this season, and the team did well to not let this thing get out of hand. Portland also wasn't ready to play in this one and threw up a bunko game from the second Toronto started sprinting.
The Raptors didn't let up, from one shift to another, as the kids sustained strong play off the bench in both halves while DeMar DeRozan (25 points) had an answer for everything, as most men do. The Toronto Raptors led by as many as 26 while Portland's Evan Turner, forever relatable, finished the night with four points on 2-of-5 shooting with five rebounds, three assists and three blocks in 28 minutes.
New York 116, Denver 100
It must feel, to those that don't get to watch Nuggets games regularly, that we run the risk of overstating Nikola Jokic's importance – especially on a possession that starts with the relatively simple task of corralling a steal off bungled Knick possession, prior to handing off a weak outlet pass that Chris Mihm could have even handled.
His pull on the court is so strong, though. With good ball movement, the strings become taut and they stretch so damn far out when Jokic lopes upcourt in a pointed mood. He wasn't anywhere near the three that Gary Harris hit, eventually, well after Jokic stole the ball from Enes Kanter, long after that Chris Mihm pass. He doesn't have to be.
The story here, one of the bigger ones of this emerging season, is clearly Kristaps Porzingis. The guy just downed LeBron and Denver's long arms in consecutive nights, arcing in 38 points at home.
The whole let's put a small dude on Kristaps bit might be done with, KP worked against LeBron and others with ease on Sunday and was swatting away at Nuggets at the beginning, middle and end of this one – making Wilson Chandler and Paul Millsap look so small before hitting the clincher over 6'4 guard Jamal Murray.
You think that's some sort of joke? A Jamal Murray dig?
Tell your old man to post up in the modern NBA, to be able to free himself for an entry pass in a world without illegal defense restrictions and in an era unfamiliar with the ease of finding one's way around brontosauruses at all three frontcourt positions, as Alonzo Mourning used to be able to do. Porzingis just dropped 38 on a startling mix of Allosaurs, Mapusaurus and Nikola Jokic.
Knicks center Willy Hernandez, per reports, could not visit on Monday with his little brother: Nuggets center Juancho Hernandez. Juancho is moaning through a bout with mono, as most his age are this time of year.
Behind the Boxscore can be read damn near daily, along with heaps of other NBA chatter, guests and good times to distract you from each morning, at The Second Arrangement. I'm at KDonhoops.