Behind the Boxscore is the NBA recap you need to keep your wits about you. Begun in another century, loping through several websites, we turn up and down the faders on League Pass so that you don't have to. You can scroll down to your favorite team, but you're going to want to try out the album tracks.
Washington 120, Philadelphia 115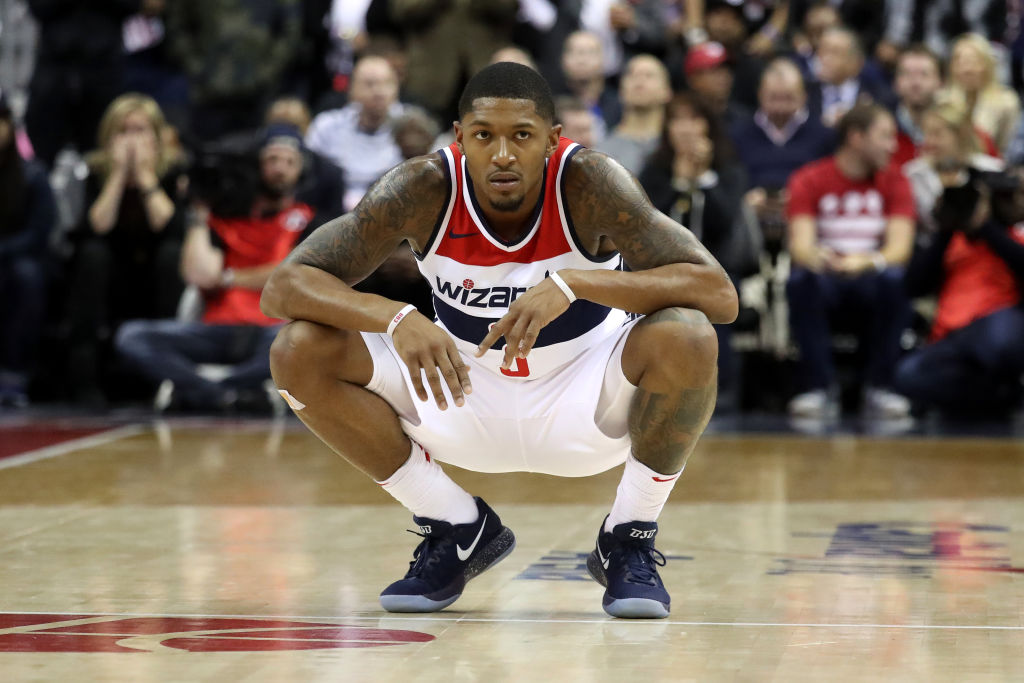 No good-to-great team seems to work harder for its bursts than Washington. The crew takes on its form after much aligning by John Wall -– the point guard that dunks a lot and blocks a ton of shots before giving way to Tim Frazier and the Scrambled Eggs. Wall had 28 points and eight assists in yet another win that took far too long to conclude for the Wiz.
(One game, and I'm already yelling at those clowns from D.C.)
Wall and Bradley Beal struggled to see the thing go down, 16-45 combined from the field, but Kelly Oubre and Otto Porter swapped well in their forward roles.
Well enough to help us get over the fact that Jason Smith still receives token starting power forward minutes with Markieff Morris out. Kinda feels like the sort of move Jerry Sloan would make, with Adam Keefe, just because Chris Morris showed up for practice with a giant new cell phone.
Joel Embiid has cornrows now, not bad at all, and he managed 18 and 13 in 27 minutes. He also took and missed four three-pointers, just in case those who switched over from the baseball game needed a 40-second scouting report to cling to until 2019. Ben Simmons looked sturdy and confident in his debut, remarkable given the distance between his NBA entrance and Wednesday evening, providing 18 points, 10 rebounds, a steal, a block and five assists in 34 minutes.
Brett Brown is the Popovich/Kerr 2020 T-shirt, but a person.

Utah 106, Denver 96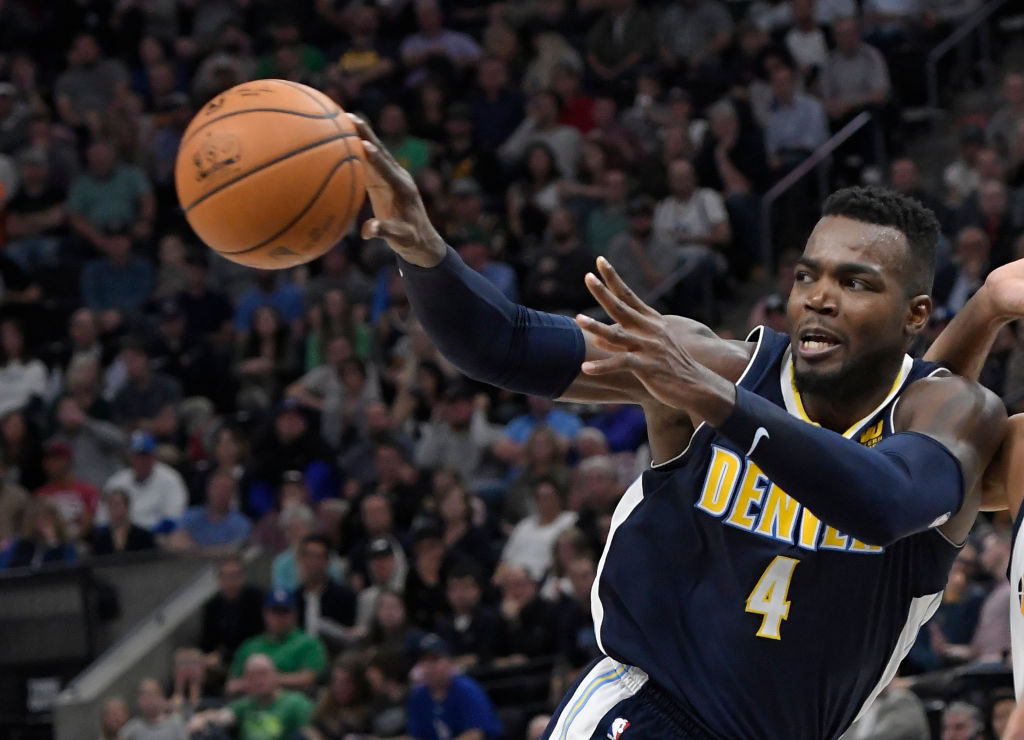 For those that may be unfamiliar with the format: BtB is culled from League Pass action, from flipping and pausing and rewinding and trying to find threads that run from night, rhythms that run well beyond typical game recaps, spat-out stat lines and play-to-play stiffness. It began at the fin de siècle, using basic cable, a VCR, and NBA.com's audio (RealPlayer!) League Pass, before I graduated to the dish in 2000-01.
This is a game that needed to take place in 2017.
For the next few days, the NBA gives away its League Pass, which means you can watch its archived games. This means, with the volume down, we can watch this glorious contest on our devices for the first or second or third time! I've already watched it one and a half times and I still can't finish this sentence. All I can ask from these two is a seven-game, opening round series.
Denver is catchy, they have obvious holes but all it takes is one quick clear and pin-down for Paul Millsap and you're swimming with this blue. They had everything in place to be the kind of story to take down Utah -– in Utah, up by 15! –- during the Jazz's opener and yet Quin Snyder's pointy tie would have none of it. The Jazz countered with law, and the Nuggets do not have a system yet in place to handle the hairier parts of playing from ahead.
Or behind, as it turns out.

Indiana 140, Brooklyn 131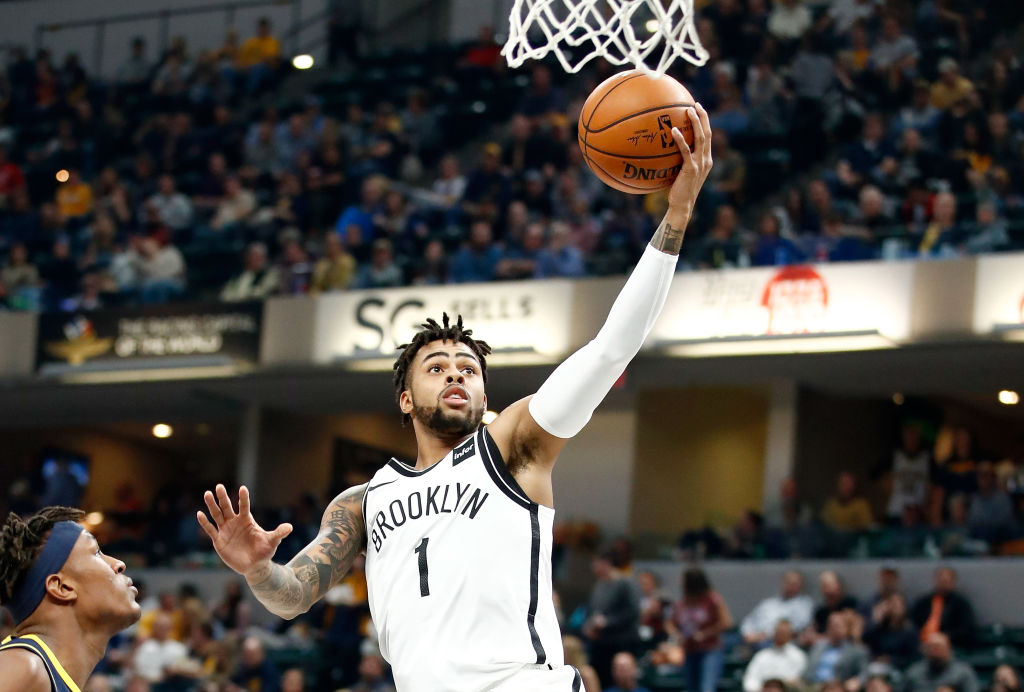 Each of these teams feature general managers that figure to have jobs for a long time, and the evidence for the goodwill was on full display in this one. There were ceilings and roofs all over the place in Indianapolis, a whole bunch of caveats in short shorts (read: Myles Turner), asking for your patience through a cold snap that is going to run far longer than 2017-18.
This was a fun night, though, because everyone involved really wanted to be at their jobs on Wednesday. The Pacers dug in despite their own hiccups getting in the way of a comfortable win, while the Nets exclusively feature roster parts that treat each minute with respect. From D'Angelo Russell (now, I guess: 30 points in his BKN debut) and all the way down to Spencer Dinwiddie's time on the court.
Also, Pacer forward Bojan Bogdanovic has to change his uniform number from No. 44 or get a toupee or perhaps both, because until he makes a significant alteration, he's going to be Austin Croshere to me.
Orlando 116, Miami 109
The Heat should probably expect, by this point, that a trip to Orlando should result in at least a chance at a win, which is what they gave themselves in the opener, and it was good to see the Heat resilience turn up in time to make this a game. Still, there are reasons to worry about Miami's defense in spite of the team's top-five finish on that side during The Westbrook Year.
The Magic gave Day One effort, and all of those that we've sneered at (Terrence Ross, Bismack Biyombo, Elfrid Payton) turned in performances alongside the rest of the group that, and I can't believe I'm saying this, may have me watching parts of Magic games when I don't have to, this season.

Portland 124, Phoenix 76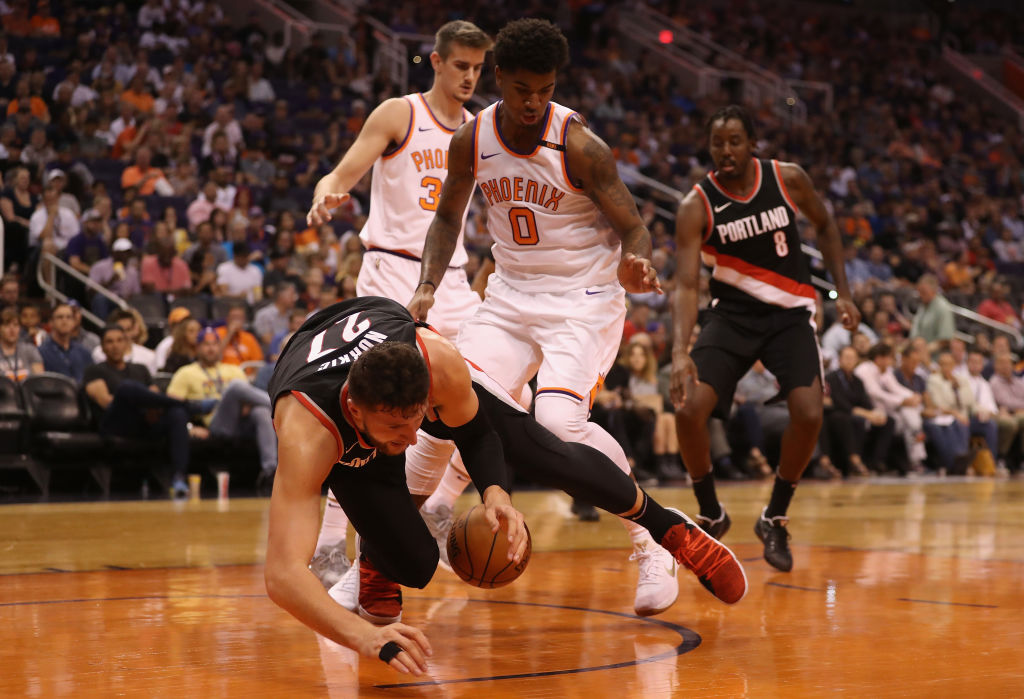 The biggest lead was 58, and it felt like it was supposed to happen. That this is what the Phoenix Suns are here for, and that's just enervating because there are too many strong and smart people involved in that operation.
The Blazers looked pissed, and beautiful. They start their season in Phoenix before moving on to Indianapolis, filling their chicken finger quota for the season in the campaign's first 44 hours, and the team played like it wants to be in November, already.
Pat Connaughton's out-of-nowhere 24 points? Those came when it counted, and he sprung well before garbage time hit. Against Phoenix, I submit, but the Suns aren't a summer league squad, and this wasn't the exhibition season.
Holy lord, that is terrible praise.
Milwaukee 108, Boston 100
We're at a point where, somehow, Giannis Antetokounmpo is a full generation older than a growing crew of NBA players. Oh, sure, they're all going to put weird designs on the interior of their blazers on Draft Night, but Giannis has a bit of broad to his shoulders. It is especially noted, even with six weeks to go until Antetokounmpo's 23rd birthday, when striding alongside younger types like Jayson Tatum and Jaylen Brown.
Giannis pitched for 37 in his season opener, 16 in the fourth quarter alone as MKE set to make points all over the place on Boston's home floor.
There is still quite a bit to figure out in Milwaukee, but if consistency somehow takes hold, this man could be a few breaks in the narrative removed from a legendary year.

Detroit 102, Charlotte 90
Dwight Howard is still doing Dwight Howard things, and I promise I wasn't trying to single out and search for Dwight Howard Things. You just tend to notice them. We're all rather irritable, these days.
He won't show defensively or fully commit on a play at the other end, he'll needlessly trail late defensively on a play, and he'll bust up the rhythm on a would-be break by glomming onto a loose ball as if he got extra points for catching it without letting it hit the floor first. He had a double-double and two blocks and missed both of his free throws.
Tobias Harris played like a young man who had been looking forward to this particular game for a long time, 27 points on 18 shots with 10 rebounds.
During one break in the action, Pistons team owner Tom Gores was spied impressively pitching giveaway t-shirts to individual customers after establishing eye contact and, presumably, a personal connection. It was notable in comparison to how he could have acted, instead of chucking the free t-shirt into the hazy crush of crowd (where a person can turn in one's self in exchange for participation in something stouter than his silhouette), as many of us in a similar role may have chosen, he used that brief instance to connect.
Listen, my decency expectations are pretty low for NBA owners. I'm just trying to find humanity. Maybe there was a pre-approved, high-interest, credit card rolled up in the t-shirt. Kid Rock was in attendance, after all.
San Antonio 107, Minnesota 99
When it's easy for a doofus like me to see where the Wolves Went Wrong, imagine how life must feel for Tom Thibodeau. He's got pimples from games that ain't even been played yet.
Tyus Jones and Jamal Crawford had to act as the weak side defenders of note on a crucial possession for Minnesota late in this loss, Taj Gibson and Gorgui Dieng can't play alongside each other (and Dieng damn near can't play at all, in this era, sadly for those of us that love things blocky), Jeff Teague barely earned his 24:54 of Thibs' time, and I just don't know what help big time shooting guards are, anymore.
Spurs looked good. Man, the Spurs looked long. This is going to be a crank of a year.

Houston 105, Sacramento 100
Willie Cauley-Stein leaves me wanting more, and it's not in a good way just yet. For a viewer that spent a whole summer waiting for him to dash around all WCS-style, I sure was snippy in the face off the big man's first game of his second season. Especially in the face of that 21-point, 10-rebound line he tagged the ledger with. I'll come around.
(I'm around on De'Aaron Fox. Put his name on any other jersey –- mid-70's Kings, Van Exel-era Lakers –- and I'm buying it.)
The Rockets sat Chris Paul in this one, as you well know because it is 2017 and you have a mobile phone, and the team's movement was crisp in his absence. Nothing overwhelming, this team did still trade 42 players during the offseason and would have traded more if Ryan Anderson's contract would have let them, but still encouraging enough to watch a night after the team played in fits under Mike D'Antoni in the season opener.
I don't know if there's a better teammate in the NBA than Nene. Every player in this league should get to line up alongside him at one point, and damn near everyone has.
Atlanta 117, Dallas 111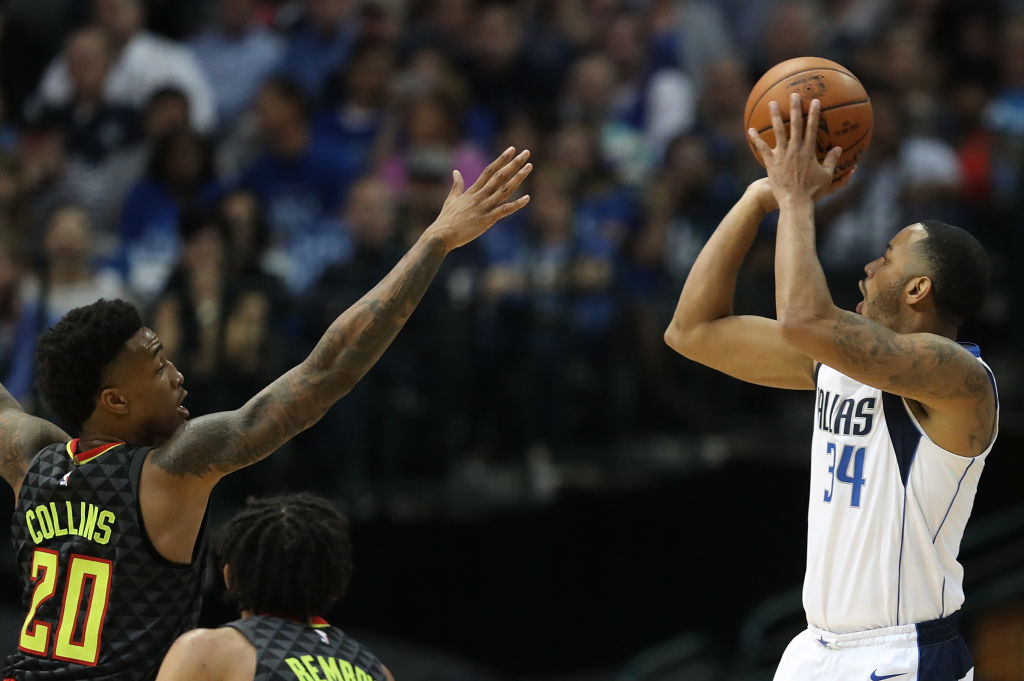 Sometimes Dennis Smith Jr. is just gonna dribble until you stop him. A game into his NBA career, I think it's been established that he is going to be one of those players that more or less decides how things are going to happen, from here on out.
(Also, if you've seen Dennis Smith Sr., you know why we will refer to the Mavericks rookie, who contributed 16 points and 10 assists in his debut, by his given name.)
I'm not convinced anyone particularly plays alongside Dennis Schröder with exceeding joy at this point in his career, but the Atlanta Hawks are a diligent and capable club that will far outclass however many wins they end up with this year. Mike Budenholzer's action is not tanking. You will enjoy watching this group, and not because your favorite team is beating them by eight points with 90 seconds to go.
Memphis 103, New Orleans 91
At one point in the game as many as every (!) player on the court wore a headband for New Orleans. For extended instances the game played out as one string of headband linked by length and the shared understanding that the similarly-sized Memphis Grizzlies were beatable at home. It was fun and it reminded me the days when Bill Bradley was a viable presidential candidate, and for a second there I wished that Damon Stoudamire, former Grizzlies assistant and current Pacific head coach, was there to see it.
The Grizzlies weren't beatable at home, as the above score indicates, because outside of the Headband Stretch already discussed, the Pelicans are a damn mess. The Grizzlies will do that to people, Mike Conley had this game at his toe tap per usual, but this was not what you wanted to see from NOLA. Great stat lines from Anthony Davis (33 and 18) and Boogie (28 and 10), but the pair combined to turn it over nine times, and they look like they were stuck trying to walk down the up escalator all night.
Memphis will do that to the best of us. TGI Friday's has liquor by the drink, now.