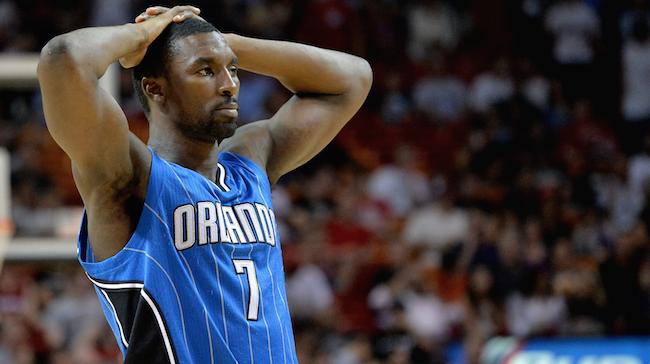 Ben Gordon is clearly on the downside of his career. But the same skill that helped the veteran scorer land a guaranteed contact with the Orlando Magic last season now has him on the verge of a chance to play for the NBA's best team.
According to Marc Stein of ESPN, Gordon will likely sign a training camp deal with the Golden State Warriors.
Former NBA sixth man award winner Ben Gordon is finalizing a contract to join the Golden State Warriors for training camp, according to league sources.

Sources told ESPN.com that Gordon, who has been trying out for the Warriors at their practice facility in Oakland over the past few days, is likely to have a deal with the NBA's reigning champions by week's end that will give him an opportunity to try to snag a spot on Golden State's final 15-man roster.
The Magic opted against picking up the team option that would have kept Gordon in Orlando for another season. He signed a two-year, $9 million deal with the team last summer, a deal that raised eyebrows throughout the league given his wholly dispiriting two-season turn with the Charlotte Hornets.
Despite Orlando choosing to let him walk, the 32-year-old Gordon indeed enjoyed a small renaissance in 2014-15. He shot a solid 36.1 percent from beyond the arc and upped his free throw rate to levels that suggest he could be something more than a designated spot-up shooter – in an injury-related pinch, at least.
Still, it's no doubt Gordon's long-range prowess is what most has the Warriors interested in bringing him to camp. General manager Bob Myers and coach Steve Kerr have made no secret of their desire to add a consistent deep threat to Golden State's bench, and seemingly did just that earlier this summer by signing sharp-shooting journeyman Ian Clark to a non-guaranteed contract. With news of Gordon's imminent signing, though, it appears the Warriors will hold an open tryout of sorts to decide which player nabs their 15th and final roster spot.
Even if Gordon makes the team, it's highly unlikely he will provide a meaningful impact for Golden State in 2015-16. But the regular season is a grind, and any player who could help the Warriors best navigate the ultra-competitive Western Conference waters is certainly worth a look. And Gordon, obviously, is someone Myers, Kerr, and company believe could help them do just that.
[Via ESPN]