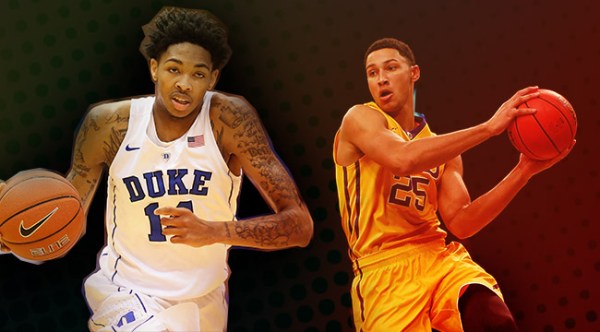 With the 2016 NBA Draft behind us, the top two picks played out predictably with Ben Simmons going first to Philadelphia and Brandon Ingram second to the Lakers. Now, with that small detail behind us… the real debate begins and it's as hot button as Trump vs. Hillary. That question being… who will have the better NBA career, Simmons or Ingram? We put two of our top sports editors on the topic to let them duke it out in honor of Dewcision 2016.
Ben Simmons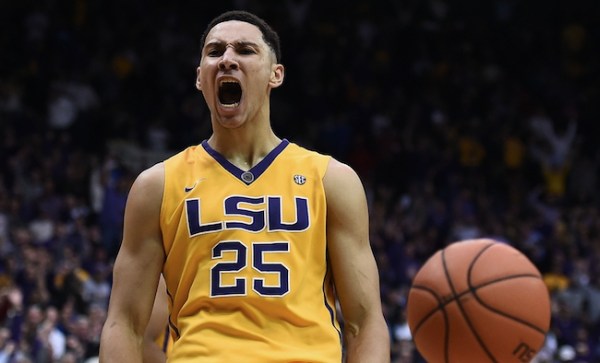 The only thing Ben Simmons can't do on a basketball court is shoot. Yes, a player's ability to stretch the floor has never been more important in the NBA than it is right now, and yes, Brandon Ingram happens to be the most accomplished shooter of any forward in the 2016 draft class.
But Simmons has the potential to check every other box with a permanent black marker. He's a terror in transition, an accomplished scorer and playmaker on the block, can initiate offense from all over the floor, and has the requisite combination of size and athleticism to guard multiple positions. The perfect point forward if you will for modern basketball… save for his biggest weakness, one that happens to be the skill young players improve upon most once they reach the NBA.
Is he a surefire superstar? Not quite. The number of draft prospects who have fit that bill since the new millennium can be counted on one hand. But Simmons will be an impactful player from the moment he steps on the floor for the Philadelphia 76ers, while Ingram's only top-tier league-ready skill might be mitigated by a deeper three-point line and the increased size and awareness of NBA defenders. And at a paper-thin 195 pounds, it's fair to wonder just how much use he'll get out of his rare height and even rarer wingspan – in both the short and long terms.
There are two elite prospects in this draft, but only one of them is "can't miss" by the literal definition of the term. Simmons will obviously be a better NBA player than Ingram next year, and that will probably prove the case over the duration of their lengthy careers, too.
Brandon Ingram
Ben Simmons can do things no 6'10 player should ever be able to with his passing and ball handling, but what he can't do is shoot, and nothing is an easier path to value in the NBA than shooting.
Brandon Ingram can most definitely shoot, and it's a hell of a lot easier for him to pack on the pounds than it is for Simmons to fix his jumper. Ingram may not be Kevin Durant, but he's long like KD, and with more bulk he can be an excellent defender. Simmons might always need a specifically tailored roster to be successful and paper over his weaknesses, but Ingram looks like a plug-and-play starter from day one.
Here's another concern about Simmons: He looked completely checked out at times as the clear best player on an otherwise-mediocre LSU team in college. His effort level wasn't there on defense, and he looked more concerned with getting triple doubles than fulfilling the needs of his offense.
Simmons will likely be in a similar position at the start of his NBA career, as the face of a moribund franchise. If those same mental issues persist, his relationship with the Philly fanbase will quickly curdle and his career could take a hard left turn.
Ingram will not be asked to lead the Lakers from the jump — that's the job of their point guard, D'Angelo Russell, and whatever splashy free agent the Buss family brings in. Ingram fits better with the team that drafted him, and as long as he keeps eating like a sumo wrestler, he should settle into a productive career relatively quickly.
If You Started An NBA Franchise Tomorrow, Who Do You Choose? LeBron Or Steph?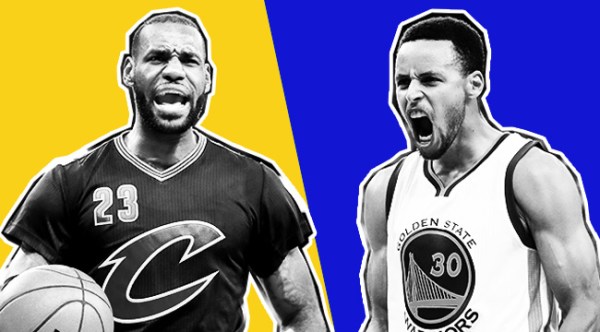 The recently concluded NBA Finals were a microcosm of the culture clash at the top of the NBA. LeBron James has been the sport's signature star, arguably the most famous athlete in America, for years now, and his return to bring Cleveland a title was the culmination of a long-building storyline. But Steph Curry and the Warriors' meteoric rise captured the imagination of NBA fans, and he's the one with the two most recent MVP trophies.
LeBron's defeat of Curry in the Finals was a message that he's not quite the old guard ready to pass the torch to the young guns, but 73-9 still happened. Both are called stars for a reason — because their teams orbit around them. So who would you put at the center of your solar system?

LeBron James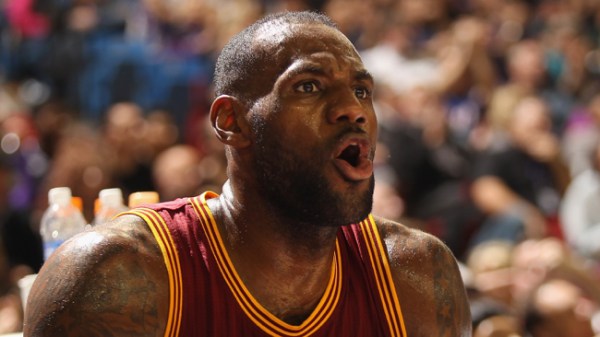 Steph Curry just won his second consecutive MVP award by unanimous vote, and he absolutely deserved it, despite the outcome of the NBA Finals. After winning the championship last year, he led his Warriors to the all-time win/loss record of 73-9 this season, and in the process, seized the crown as the greatest shooter of all time. Curry did things this past season that were absolutely mindboggling. He was must-see TV, whether he was embarrassing defenders with ankle-breaking moves, whipping no-look assists, or launching 40-footers like they were layups.
All the while, LeBron James looked on, seething. There was suddenly a lot of chatter about Curry, not LeBron, being the best basketball player on the planet. Everyone was brushing him to the side as a second-straight Warriors title seemed all but inevitable. And then the Finals happened, and LeBron reminded everyone what the best basketball player on the planet really looks like. He led the way in every major category: points, rebounds, assists, steals, and blocks. It was a Finals performance for the ages.
And even at age 31, you better believe I'd still choose LeBron James right to start a franchise with over Curry. LeBron makes you an instant contender. Have you looked at the roster some of the teams he's dragged to the Finals in the past, including last year's team that didn't feature Kevin Love and Kyrie Irving, which still managed to take the Warriors to six games? I defy you to name another player who could make that happen, let alone Curry. LeBron has shown absolutely no signs of letting up, no signs that he's lost a step athletically. The only concern has been his deteriorating jump shot, and he even had that falling when it mattered most. So, yeah.

Steph Curry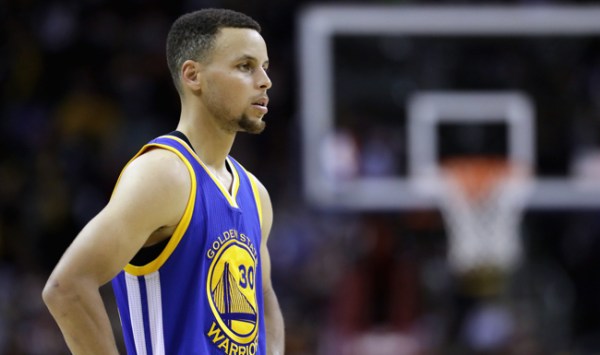 In answering this question, it's important to remember just how limited Curry was by a knee injury during the NBA Finals. Anyone who watched the two-time MVP labor through seven games absent his trademark wiggle knows that, and reporters who had access to the Warriors' locker room do, too.
Curry, basically, is a much, much better player than his performance against the Cavaliers suggested. Cleveland wasn't the first team to switch screens on and off the ball and slot a fleet-footed forward onto Draymond Green. The champions deserve immense credit for their yeoman's work defensively, but it's totally fine to admit that Curry was at least one step slow, too.
But he won't be going forward. Curry has no history of knee injuries and is three years younger and has far less wear and tear on his body than LeBron James. If either of these megastars is due a minor decline over the next several years, it's LeBron who seems the more likely candidate – and not just because of age and experience, either.
Curry's game will age like a fine wine. Father Time doesn't come for shooting and passing talent, and the Warriors superstar has more of it than any player in the world. James, on the other hand, still relies on his unparalleled combination of size and athleticism to reign supreme over the league.

LeBron could thrive in any era, but the game is clearly trending in Curry's direction – and he has both the on-court accomplishments and worldwide fanfare to show for it. Is he a better player than James? Maybe, maybe not. But Curry could single-handedly lift catapult a franchise to global notoriety and championship contention the way not even (31-year-old) LeBron could.
Who Do You Take In Game 7 On The Road In The NBA Finals: LeBron James Or Michael Jordan?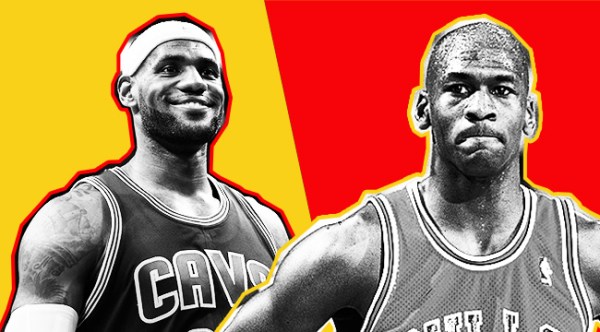 By now, the debate over the title for GOAT between LeBron James and Michael Jordan is tiresome. Just choosing "who's better" is such a broad conversation with so many criteria to choose from that it's essentially meaningless. Yet that doesn't mean we can't engage in a fun debate on something more specific.
Let's paint a mental picture for you, one that shouldn't be that hard to envision: It's been a hard-fought NBA Finals, a war of attrition, as they always seem to be. Game 7 is coming up, but your team is on the road. The crowd will be hostile, the opponent formidable, but with your one signature superstar, you know you can pull it out. So who's it gonna be: LeBron or MJ?

Michael Jordan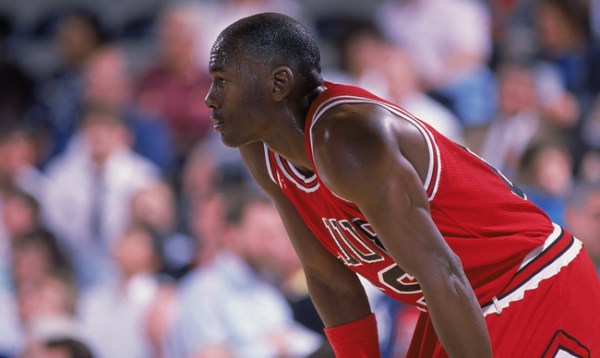 Let's get this out of the way first. Michael Jordan never played in a Game 7 in the NBA Finals, and LeBron James just wrapped up one of the greatest seven-game Finals performances in league history, including a gutsy Game 7 win on the road. I'm still choosing Michael Jordan. Every. Single. Time. In perpetuity and probably against logic and reason. But I just seriously doubt I'll ever be convinced that anybody is as good as Michael Jordan. Maybe that's just a byproduct of watching him as a child and into young adulthood and being caught up in the magic of it all. The reason Michael Jordan never played in a Game 7 in the NBA Finals is because he always made damn sure it never got to that point. That more or less renders the discussion moot in my mind.
This is certainly not a knock on LeBron James. LeBron James might very well be the more versatile all-around player on paper because of his size and his unbelievable skill-set. We've never seen an athletic specimen like him who can play and defend all five positions and has consistently shown a penchant for imposing his will on his opponents in the biggest moments. But he's not Michael Jordan. There was always an aura of inevitability to Michael, and I would never be brazen enough to bet against him in the biggest moment with everything on the line. He would always be my first and only choice in that scenario, no disrespect to LeBron.

LeBron James
Say what you will about Michael Jordan's unblemished record in the NBA Finals. How his proverbial "killer instinct" loomed even larger than his incredible physical gifts, and how opponents cowered in the face of the greatest of all time – especially in the playoffs. There's no arguing Jordan's combination of mental and physical strength; it might be unparalleled in the sporting world at large, let alone the NBA by itself.
But in a road Game 7 with a championship on the line, wouldn't you want the most versatile player in the history of basketball? One that can play and defend literally all five positions on the floor? A guy who can drop 40 just as easily as he can dominate the action when points don't come so easy?
Think of it like this: If Jordan didn't have his jumper working in Game 7 against the Golden State Warriors, would you rather have he or James? And considering that shot-making was a much bigger part of the former's game than it is the latter's, it's fair to surmise that James is more likely than Jordan to be the most impactful player on the floor in any single-game sample size.

The heart says Jordan, of course. He never lost in the Finals, after all, and James' most recent win pushed his record to "just" 3-4. Then there's this: It's Michael f***ing Jordan. But once you take a step back and assess the potential strategic influence of both players in this specific setting, James is definitely the safer bet in a Game 7 on the road with the Larry O'Brien Trophy waiting nearby.