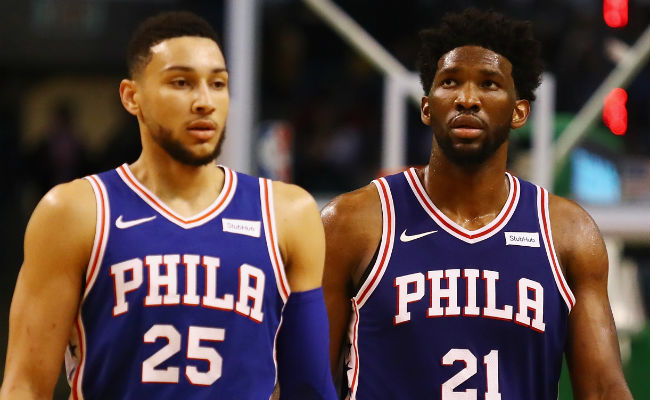 Perhaps unsurprisingly, Ben Simmons and Joel Embiid led the Philadelphia 76ers in a Game 4 win over the Miami Heat on Saturday afternoon. Simmons notched the first playoff triple-double for a rookie in nearly four decades, and Embiid was an aggressive presence all over the court for the Sixers.
The win puts Philadelphia on the brink of its first playoff series win since 2012, but Sixers head coach Brett Brown knows his team was lucky to come away with the win. It was a fierce back-and-forth on Saturday, with Miami once again taking a lead into the half. Embiid and Simmons were key, but Brown knows a fortunate win when he sees one.
Still, he had plenty or praise for his young core, explaining to the media their potential to be "great" and why they need each other to grow and thrive as young superstars in the NBA.
"I think that those two players have the chance to be great. And they are ours," Brown said. "To look at those two guys, and Joel has no right to be doing some of the things that he's doing. And I thought tonight he'd come back to Earth a little bit offensively. He did struggle offensively. But he was massive defensively. I think Ben's composure down the stretch, and I didn't take him out. You know, and he's one of these rare athletes that rarely do I say 'Oh, Ben Simmons is tired.' He doesn't seem to fatigue blatantly."
Brown has coached the Sixers through the entirety of The Process, and it's fascinating to hear him talk about coaching the fruits of that brutal labor. Having young players like Simmons and Embiid learn to win together has clearly been rewarding for him, and he's committed to helping them mature into stars.
"I think that there's greatness in both of those two players. They're fantastic teammates. They coexist well. The whole territorial side of NBA basketball, you know how you deal with fame, that in and of itself is an evolution and part of what I really pay attention to coaching. How do you grow those two guys together? And they need each other. They need each other and they understand that. And I think that those two guys were exceptional tonight. Mentally, physically, and certainly, you know, drove the win home."
It's been a tough series for the Sixers and a grind on the court, but winning these kind of games is a huge learning experience for a young team. They're getting tested, but more importantly, they're winning despite those tests.