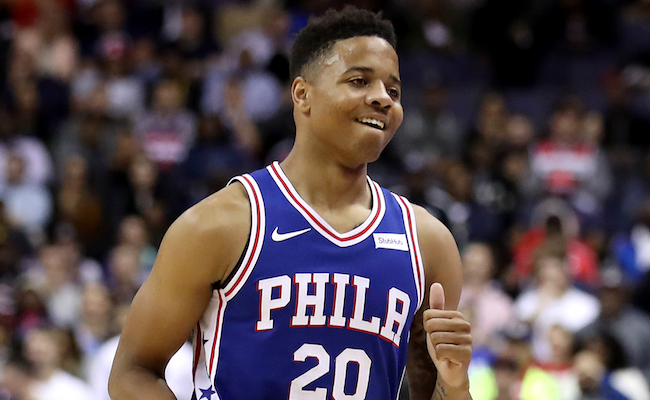 Sept. 18 was a busy day for the Philadelphia 76ers, as it came to light that former All-Star Elton Brand will be the team's new general manager after an extensive search. In the grand scheme, that is certainly the most impactful news of the day in Philadelphia but, in the same breath, head coach (and now-former interim general manager) Brett Brown had a few interesting comments about players on his roster.
One such statement focused on Markelle Fultz, as Brown revealed that the No. 1 overall pick in the 2017 NBA Draft attempted 150,000 shots over the summer.
"When I see him now come back into our gym, you look at his swagger, his cocky side, his mojo, he's seeking shots," Brown said. "He really is not bashful."

It comes as no surprise that Fultz would be working on his jumper after his well-chronicled rookie struggles, but Brown seems quite optimistic that things are going well when it comes to rebuilding his form.
"When I look at the actual form, there are times, from a posture standpoint, he's a little bit backward," Brown said, via Associated Press. "When you look at him rising up, or getting the ball in his shot pocket, sometimes his head will go back and he'll play more in a fade-type fundamental that we want to try and correct."
In the same breath, the Sixers have another former No. 1 overall pick with shooting woes in Ben Simmons. Though it has to be noted that Simmons was able to be remarkably effective even without being a threat from the perimeter as a rookie, his ceiling is sky high if the former LSU star can add utility on the perimeter. Brown made the connection between the two players, shedding a bit of light on what he might be able to unleash.
"His jump shot's not going to define him," Brown said. "At some point, it will sure help. But I have aspirations, ambitions for him where I want him to feature on an all-defensive team. I personally want to post him more. I look forward to using him as a screener and giving Markelle the ball and let him roll out of it, that Blake Griffin-sort of half-roll and go to dunk."
Brown went on to say definitively that "those two guys will play together," even if he expects "growing pains" along the way given the obvious fit concerns. While it isn't exactly stunning to see a head coach projecting optimism about his players in September, the presence of this kind of shooting work from Fultz, and even Simmons, is unquestionably a positive thing for the Sixers. It remains to be seen as to what kind of offense Philadelphia will be able to put on the floor when firing on all cylinders but the talent is clearly present.