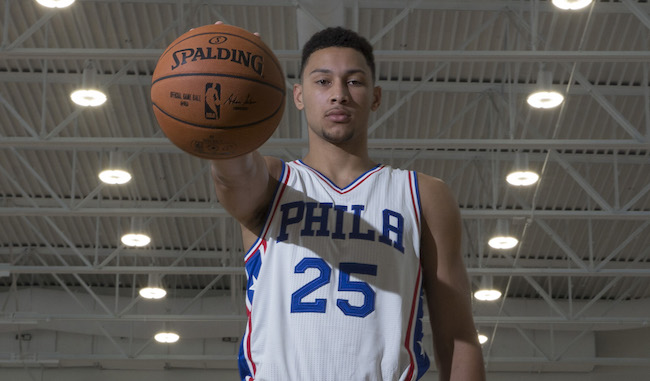 The player ratings reveal for NBA 2K18 has been a slow rollout over the past few weeks, and with a month remaining before the game's release there are still plenty of players we're waiting to learn. The process of releasing player ratings this year has been screenshots of the players from the game with their ratings being sent to the players to unveil on their own social media channels.
For the most part, players have taken their ratings in stride. Some have been excited about where they're rated, while others haven't been pleased but claim they'll use it as motivation. John Wall, to this point, has been the one that's gotten the most upset about his 90 overall rating — and Mia Khalifa got involved for some reason.
We have a new leader in the clubhouse for pettiness when it comes to the NBA 2K18 ratings reveal, as the Sixers No. 1 overall pick from a year ago Ben Simmons flat out refused to tweet out his 2K rating when approached.

Ronnie then tried to figure out what Simmons could possibly be mad about, and Simmons told him he doesn't play the game and only plays Call Of Duty, so he didn't feel like tweeting out his rating screengrab.

After that, Ronnie insinuated that Joel Embiid — who was also not pleased about his rating earlier this summer — had him worried too much about it, and Simmons again told him that he won't play the game even if he was a 99.
For whatever reason, Simmons isn't a fan of playing 2K or really anything other than Call Of Duty. It's possible that Simmons is protesting being rated a 79 last year coming out as the No. 1 pick when Markelle Fultz and Lonzo Ball each came out as 80 overalls this season. In whatever case, for those hoping to catch Simmons online in a game of 2K, that apparently won't be happening, but you probably could fire up Call Of Duty and run into him there.
(h/t Ball Is Life)