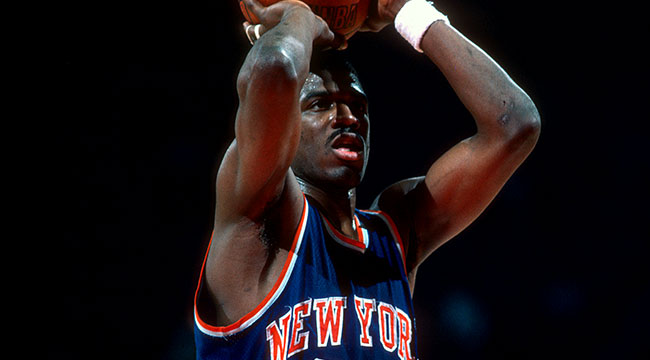 He was a four-time All-Star and four-time All-NBA player at a time where the contemporaries at his position were fellow Hall of Famers Julius Erving, Larry Bird, Alex English, Chris Mullin, Adrian Dantley, and Dominique Wilkins. Yet, in many ways, the definitive story of Bernard King is a devastating knee injury, the subsequent and monumental comeback, and a single playoff series of unconscionable greatness against the juggernaut of the 1980s in Bird and those Boston Celtics.
This week, the Basketball Hall of Famer is releasing his memoir, Game Face: A Lifetime of Hard-Earned Lessons On and Off the Court. With the help of accomplished author Jerome Preisler, King had finally decided to give basketball fans young and old the chance to get to know him beyond what they saw under the arena lights.
There are the stories we know about – the incredible battles with Dr. J and Larry Legend, his Christmas Day brilliance in 1984, the fateful night in Kansas City where King's knee shattered, the resurgence to All-Star form at the twilight of his career. Yet, King also provides insight on his upbringing in the Fort Greene section of Brooklyn, a tumultuous three seasons as a star for the University of Tennessee, and multiple times of both personal and professional rebirth.
Memoirs are typically promoted with a salacious tell in mind – some boastful claims about one's off the court life, a rivalry soaked in a deep-seated personal hatred of someone, or an account of a night gone horribly wrong. With King, however, it's a tome about an introverted kid from the housing projects who willed himself through every test that came his way.
So when asked why was now the time to tell his story, King said that he chose to wait until time had passed, notably when his daughter Amina became a college sophomore, to speak his truth about the personal travails and triumphs.

Jason Clinkscales: You used to read a lot of psychology books as a kid, even through high school. It's not common for sports figures to talk about the field, though they certainly understand its impact. So why is so important for you to emphasize the psychology of being an athlete throughout the book?
Bernard King: I'm an introspective person and as such, I've found that I was able to learn a lot about myself through psychology books; learn about life and how to interact with other people in certain spaces. It made me a very analytical individual and that's how I approach my life as a whole.
Your time at the University of Tennessee is a source of great pride and much pain. There are the highs of the famed 'Bernie and Ernie Show' (Ernie, being former teammate and current Washington Wizards general manager Ernie Grunfeld). Yet, they are muted by some stark lows – a sense of isolation that came not only from your own upbringing but from racial animus in your time at Knoxville. While you may not have set out to tell your stories with overt racism to connect to current times, what do you think of how current athletes choose to address those harrowing moments?
[Those moments] are magnified to the extent, not by the problem being greater, but magnified because of social media. I was a private individual that was introverted in many ways. However, I think that the landscape has changed, and a great many players today have taken the position in a very public way, addressing a great many social issues that perhaps some players may not have done so in the past.
Moving to more positive moments in college, your arrival in 1974 helped bring a faster-pace of play at Tennessee. Essentially, in your hoops career, you were a part of various changes to the game at both the collegiate and professional levels. What do you make of the game's seemingly non-stop evolution as someone who was a part of previous generational shifts?
In college when we were in Tennessee, Ernie and I, we played the style of basketball that other teams could not. And the reason for that they didn't have the skill sets that Ernie and I had, and so consequently the coach [the late Ray Mears] was able to use us in different ways that many coaches couldn't use their players.
I think the game has always evolved. When I entered the NBA, it was a low-post game, the center position dominating the offensive game. Then it started to move away from the basket, the emergence of the small forward position that I played through the 80s that came to be the dominant aspect of basketball. And then it transitioned into the guard predominantly controlling the game itself. So the game has always changed and we're seeing that again today. And so I've always loved each style of play because it allowed me to change my game and make sure that my game was updated within this system of the entire league or my particular team, and many teams tend to emulate the best team in the league.
What a lot of people don't see is that the style of play that has emerged with the (Golden State) Warriors is more of a European-style of basketball. You think about the influence of all the European players in the NBA and this style that they came in with. You think about Dirk Nowitzki and the European players who played a different style of basketball. And you mesh that with the American player and that's indicative of really great basketball.
https://www.youtube.com/watch?v=JxUCTeR0klY
That 70s period through the 1980s had yourself, Erving, Bird, 'Nique and others who were Hall of Famers and/or perennial All-Stars at small forward. How do you think that collection would stack up against small forwards of this current era, which is also stacked with future Hall of Famers and perennial All-Stars?
How would it stack up? We're talking about some of the greatest players to have ever played basketball in history. And when you talk about great players of any era, those players are great players because they have exceptional abilities that transcend their position and transcend the game in some ways. And those skill sets that those players utilize on a nightly basis can be used in any period of basketball.
I played in the 70s, 80s, and 90s, and all of the styles were different. Yet, I was an All-Star in the 80s and 90s. I learned that you have to adjust the style of play, you have to grow. And so I look at the players at that position being multitalented because this game demands that. I made sure that during the course of my career, I grew each and every year. It may not have reflective itself in the point total that I scored, but it reflected itself in the efficiency that I had as a player.
You spoke very fondly of your two seasons in Golden State where you had a personal revival after a low personal period in Utah. (Though it was only given out for six seasons, King was the first winner of the Comeback Player of the Year award after the 1980-81 season.) Though both of those Warriors teams barely missed the playoffs, the franchise also holds your time in high regard. What do you think of the Dubs today and how closely do you monitor them?
I would love to be out there and make $200 million right now! (Laughs) But I truly love watching them play. I was honored by them after my induction into the Hall of Fame; they were kind enough to fly me and my wife out to California for that. It's a franchise that has changed the landscape of the NBA. You look at that team and its multiple components that allow them to play in a different way and to do it not only effectively, but in a level that hasn't been seen before. You look at Steph Curry and what his capabilities are, and at Draymond Green and his impact on the game. There have been other players at those positions with a similar impact, but not with their style of play. It's pretty amazing to watch and you see the league has transitioned to that style of play.
You know, the game has really evolved… and for me, I would fit in very nicely. (Laughs)
https://www.youtube.com/watch?v=s5XqzFDWkeg
Without a doubt. Now, with that time in the Bay, your free agency at the time wasn't exactly smooth. So another theme that stood out in the book was your understanding of the NBA as a business. The jostling for your services between the Knicks and the Warriors at the time sort of mirrors what we've witnessed in the last few offseasons. What do you think of this era of free agency in terms of player movement, or better yet, player power?
I was at the forefront of free agency. The year I joined the Knicks was only the second year of total free agency, where you could determine where you wanted to go and the respective team had the right to match. Today, you saw that very strongly with Kevin Durant leaving OKC to go to the Warriors, but you also saw that in Moses Malone, when he became a free agent and how that changed the landscape of the NBA when he teamed up with Dr. J. So they talk about these super teams… think about those Lakers with Magic Johnson and Kareem Abdul-Jabbar or Larry Bird, Kevin McHale and Robert Parish with the Celtics. Well, that's the same type of team you're seeing today, so this is not anything new.
But players having the impact that they have from the league today by being able to join together and forming a trio of guys that will go on to win a championship? That's what's needed today. You need three Hall of Fame-quality superstars playing together today to win an NBA title. That's truly the bottom line. And it's going to be interesting to see what happens with Oklahoma City this year with that grouping of players.
What I like about (modern free agency) is that the players will always receive a tremendous percentage of the gross revenues that the NBA has. Every dollar that is generated by the league worldwide, the player has a hand in it. Those monies are spent on salaries, in free agency. So those blessed to be born at the right time (laughs), that's the beauty of it. So the awareness of the business side, as it relates to players being compensated to unbelievable heights along with what they do off the court with their brands, is quite astounding.
Speaking of OKC, of course, it leads to the guy who mimicked your game and also played for the hometown squad in Carmelo Anthony. What's the relationship like between the two of you?
Carmelo considers me his basketball idol and spent many, many hours practicing my moves and making them his own. We've known each other for many years, and he's a great basketball player, but more importantly, he's a great human being.
And I take it that you're really glad to see him get a shot with a contender.
You know, I am. But I'm also glad he had a chance, an opportunity to play at Madison Square Garden as a New York Knick. That's something you would never forget for the rest of your life, that you were able to fulfill a dream to be able to play for New York City, put on the uniform of the Knicks and play for them on a nightly basis. I was very happy about that for him, and I'm also happy for what's ahead for him.