"You can never have enough shooting in today's NBA."
That is a prevalent catch phrase at the moment, and that is because it happens to be true. While it is (very) nice to put shooting on the floor at every position, many NBA teams can't achieve that as currently constructed and that places increased emphasis on other parts of the roster. That brings us to the shooting guard class of the 2017 NBA Draft.
It would be aggressive to say that this is a strong group and not everyone that qualifies under the provision of this position is a knock-down shooter. With that said, it becomes increasingly difficult to function at this spot if you are not a long-range threat and that is the backdrop of everything here. As noted in our breakdown of small forwards, many of these players are interchangeable but, in the end, we only include them once in our preview series and the decisions have been made.
Now, let's roll through the players in question, including a few honorable mentions.
Honorable Mention (In Alphabetical Order)
Sterling Brown, SMU – Brown isn't a great athlete (to be kind) and his offensive skill set is limited. What he can do, though, is knock down threes and defend adequately. That is the recipe that many teams are looking for in the second round.
Tyler Dorsey, Oregon – Dorsey's offensive profile is very interesting in that he's something of a combo guard that can provide real value as a floor-spacer. The issue is that his defense is a trouble spot, with only a 6'5 wingspan and a presumed inability to guard point guards. He'll get a look in the second round, though, and the offense might play.
P.J. Dozier, South Carolina – It is (very) hard to nail Dozier down positionally so we'll split the difference and slot him in here. His defensive profile and ability as a creator with the ball in his hands are intriguing but the big question is whether he can shoot consistently. If he can, he's an NBA player. If not, we'll see.
Frank Jackson, Duke – Jackson is an out-of-this-world athlete that has flashed the ability to create off the dribble and score in bunches. Given his size (6'4), many see him as a point guard but Jackson has a 6'8 wingspan and doesn't exactly play with a distributor's mentality. He's a boom-or-bust prospect but, given his tools, Jackson could theoretically slip into the first round if a team falls in love.
Davon Reed, Miami – Reed measured a 6'6 with a 7'0 (!) wingspan at the NBA Draft combine and that is a nice trait to have. He doesn't seem to be a favorite among pundits but Reed can really shoot (40 percent from three on six attempts per game) and his handle is impressive.
5) Josh Hart, Villanova
Hart is the rare combination of a player that is very well regarded by basically everyone and still seemingly slept on in the NBA Draft. Make no mistake, there are plenty of dynamic college players that naturally don't "fit" in the NBA but Hart isn't that. He is a capable shooter that creates well for himself and others.
On the defensive end, Hart won't be a game-changer but he is physical enough to get by and quick enough to be versatile in slowing down the opposition. There are questions about his pure size (6'5 with a 6'8 wingspan) but Hart is simply a natural shooting guard rather than a positionally versatile wing. It will be interesting how he transitions to a full-time supporting role at the next level but he is an incredibly safe pick that could be justified in the late first round.
4) Derrick White, Colorado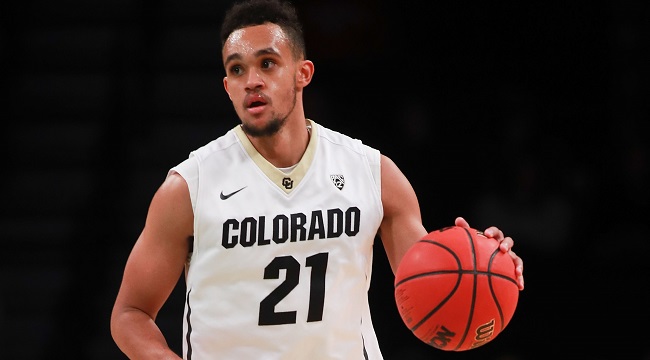 Derrick White's story is absolutely incredible. Despite being a "senior" coming out of Colorado, the 6'5 guard played only season in the Pac-12, namely because he was actually a Division II player beyond that. It cannot be overstated how crazy that transformation is, especially when considering he is a legitimate first-round NBA Draft talent.
The jury is out as to whether White is a pure shooting guard or whether he will trend toward the point in the NBA. That isn't exactly a bad thing, though, given that he has a 6'8 wingspan and is capable of switching defensively thanks to a very high basketball IQ. With his background, you might assume that he's not a big-time athlete but that isn't necessarily true.
If anything, White's testing went quite well and he is probably an above-average athlete for the position. In truth, there aren't a ton of pure weaknesses in his game, especially if he shoots as well as some believe that he will. White's upside isn't tremendous but there is a reason he is rising so quickly on draft boards everywhere.
3) Donovan Mitchell, Louisville
It will be a surprise to some to see Mitchell below Kennard (we'll get there) and it is a pretty close race. Mitchell is a vastly different player in that his value, at least for me, comes from the defensive end of the floor. He brings incredible length (6'10 wingspan) with a point guard-sized body (6'3) and the tenacity that he can bring on and off the ball will be suffocating in some circumstances. That package also brings versatility to the table that NBA teams really value in the backcourt.
Offensively, it is more of a mixed bag and that is the pivot point in his evaluation. If you believe that Mitchell can be an average (or better) NBA shooter, this is too low for him. He made 35 percent of his threes last season at Louisville and isn't a broken shooter by any means. With that said, it is tough to trust the stroke and Mitchell absolutely needs the ball in his hands to succeed offensively right now. The problem is that he might not be efficient enough to make that a viable game plan from a team perspective.
Mitchell's upside is absolutely tremendous but Kennard's safety is just a tick higher based on a league that values floor spacing more than ever.
2) Luke Kennard, Duke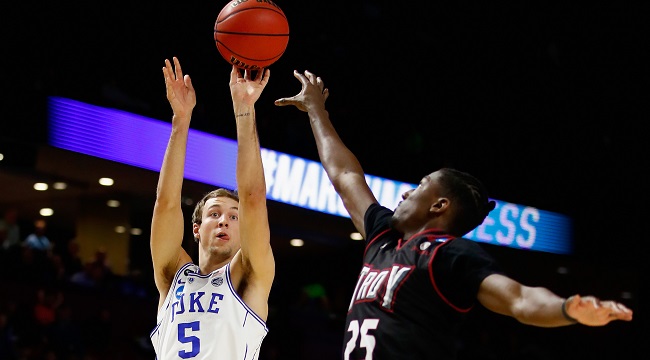 Despite the presence of top-tier talent around him, Kennard was the best college player at Duke this season and I've been on the bandwagon for months. Before getting to his NBA value points, there is tangible concern about Kennard's defense and it comes for a reason. The two-year college player measured with a "negative" wingspan in that he was nearly 6'6 in height with only a 6'5 wingspan. That isn't a stock-shifting concern for a player that already had defensive hiccups but it certainly doesn't help.
In fact, there is a possibility, or even likelihood, that Kennard never reaches even an average level on that end of the floor.
What he can do, though, is make up for those limitations with basketball IQ and off-the-charts skill. Kennard is the best shooter in this draft among legitimate first-round prospects and that manifested with 44 percent shooting from three last season. He isn't only a catch-and-shoot player, either, as Kennard displayed incredible efficiency with the ball in his hands as a pick-and-roll creator with the ability to shoot off the bounce.
That part of his game might be mitigated a bit in a supporting role but Kennard is fully capable of creating shots for others (and himself) and that is a huge asset to go along with the floor spacing that will earn him an NBA paycheck.
1) Malik Monk, Kentucky
It feels strange to rank Monk so highly, if only because I am used to downplaying his NBA potential. For me, Monk is not the unquestioned top-10 selection that some might suggest and there is a real possibility (at least in my mind) that he is a career NBA role player as something of an offensive-minded third guard. In this class, though, that profile is good enough for the No. 1 spot among pure shooting guards.
Monk is very safe in that his floor should still be a functional NBA player. There are rightful concerns with his frame (6'3 with a 6'6 wingspan) but Monk can get his own shot and has displayed a repeated propensity to convert tough looks from the perimeter. Just how good he is as a pure shooter, though, is up for debate and guys like Kennard are better in that regard. Moreover, the defensive issues is where the red flags fly for me, as he likely needs to be paired with a bigger, physically gifted point guard that can defend wings so that Monk can "hide" on point guards that are more similarly sized.
There might be a season (or three) in which Monk fills up the stat sheet from a scoring perspective in the NBA but the fear would be that his only high-end contributions come in that way.