As the NBA continues to evolve, there's been an ongoing trend toward positionless basketball. We've seen that reflected in the way All-Star selections are made today, as the ballot now simply consists of "frontcourt" and "backcourt" players.
It's become harder and harder to pin down certain players to one particular position. This is especially true for tall, lengthy wings who regularly log time at point, shooting guard, and small forward.
That gave us a unique challenge as we were putting together our list of the NBA's top shooting guards. Regardless, we did our best to confine the ranking to those players most closely associated with that position, along with a couple who are in that tweener area that is a bit more difficult to define.

10. Zach LaVine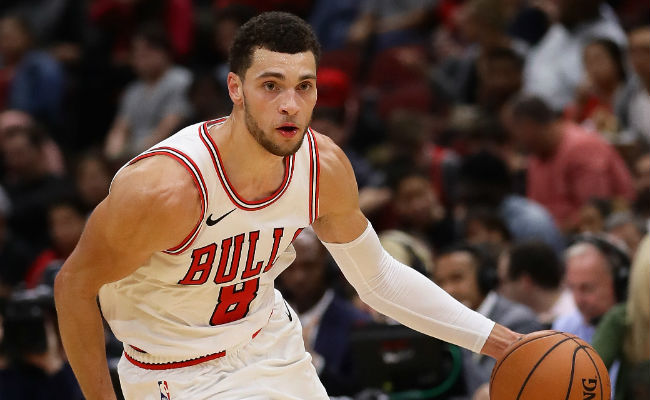 Even before the Timberwolves traded him to the Bulls for Jimmy Butler, LaVine proved there's more to his game than just his jaw-dropping aerial feats. LaVine has the full offensive repertoire, able to take opponents off the dribble with his handle and finish at the rim and pose a threat beyond the three-point line. His run of consecutive 30+ point games to start the season was a testament to that, even if it was ultimately overshadowed by the Bulls' failure to win basketball games. If the day ever comes when Chicago puts it all together, LaVine will cement his status as one of the league's most potent two-guards.
9. Devin Booker
It's hard to know exactly how to gauge Booker's talent and potential, given that his numbers are likely inflated in the context of ultimately meaningless basketball games. The Suns' record complicates things tremendously. Still, there are only a few players on the planet capable of scoring 70 points in an NBA game regardless of the circumstances. Booker is undoubtedly a skilled and versatile scorer, but he's never had the opportunity to prove himself in a game that matters. Until then, it'll be hard to put him on the same level as the truly elite guards on this list, even if we're confident he can get there some day.
8. Donovan Mitchell
After an absolutely stellar rookie campaign that included a dunk contest trophy and a second-round playoff appearance, Mitchell suffered through the dreaded sophomore slump in the early part of this season. But he's come alive lately as the Jazz have strung together a nice little run, winning enough to put themselves back in playoff contention. Mitchell's resurgence has been the engine driving this. He's scored more than 20 points in each of those eight wins and has been vastly more efficient from the field overall, demonstrating once again an overall talent that is well beyond his years.

7. Bradley Beal
These are dark days in Washington, especially after John Wall underwent season-ending surgery. The Wizards were a train wreck even before that, and there's a pervading feeling that the front office might make a move before the trade deadline and usher in their inevitable rebuild. Whether or not Beal's name pops up in these circumstances remains to be seen, but Beal is healthy and in his prime as an elite offensive talent. He's an excellent basketball player whose name deserves to be included in any discussion of the best 2-guards on the planet.
6. CJ McCollum
Damian Lillard and McCollum are one of the most potent scoring backcourt duos in the NBA, and like last season, they're high in the West's pecking order, consistently performing at a high level in the regular season. McCollum has been a reliable second option for Portland over the past four years, capable of carrying the load offensively when Dame has off nights and consistently proving his mettle in crunch-time situations. CJ has the full package as a scorer, regularly embarrassing defenders in one-on-one situations with a range of dribble-drives, step-backs, stop-and-pops, you name it, all while co-existing and thriving alongside another high-volume scorer.
5. Victor Oladipo
Oladipo was a revelation in Indiana last season, the feel-good story of a castaway who made his doubters look downright foolish as he returned to the state in which he played his college ball. He made his first All-Star appearance, was the runaway winner for the Most Improved Player award, and led Indiana to a thrilling seven-game series against the Cavs in the opening round of the playoffs last spring.
But a knee injury cost him 11 games earlier in the season, and Oladipo recently suffered a knee injury that will end his 2018-19 campaign. Regardless, Oladipo led the Pacers to a high seed in the East when he was on the floor, and we can't wait to see what he does when he gets back.

4. DeMar DeRozan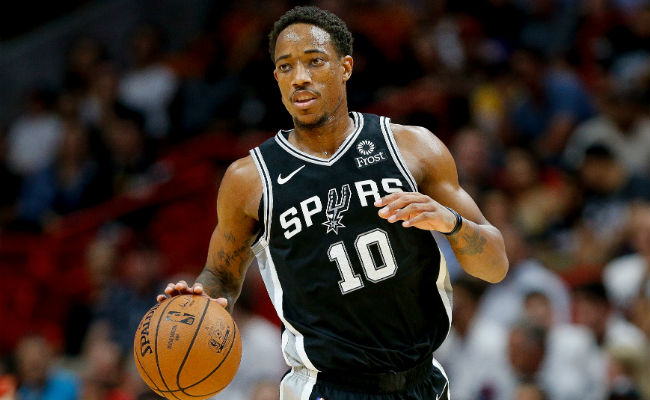 Losing Kawhi Leonard was a big blow to the Spurs, and after a sluggish start to the season, fans feared this might be the year San Antonio finally ends their phenomenal streak of consecutive playoff appearances. But the Spurs are still the Spurs, and after a recent surge, they're still a threat to make the playoffs once again.
DeRozan has been the primary catalyst for that. He's no Kawhi, but he's still a great basketball player. His individual numbers have declined this season as he's adapted to San Antonio's system, but as with LaMarcus Aldridge, Gregg Popovich has found creative ways to exploit his gifts and use them to their advantage. Despite his career-long struggles from behind the arc, DeRozan remains one of the league's very best isolation players.
3. Jimmy Butler
Butler has built quite a reputation for himself. Depending on who you ask, he's either a fiery and demanding leader who refuses to coddle those who lack the mental toughness to elevate their game to his level, or a prickly prima donna who alienates everyone around him with his brash and boorish manner and whose tyrannical leadership style lacks the nuance, self-awareness, and flexibility required to effectively bring people together.
Yet, for better or worse, Butler tends to make teams better. That was true in Minnesota, and now it's true in Philadelphia. The question still remains as to whether the positives ultimately outweigh the negatives — it took almost no time at all for him to reportedly disrupt the equilibrium with the Sixers. But purely from a basketball perspective, there are few shooting guards in the league who are as tenacious as he is on both ends of the court.
2. Klay Thompson
Thompson sometimes has a tendency to blend in with the scenery in Golden State. That's easy to do when playing alongside Kevin Durant and Steph Curry, especially in the first half of this season as he's endured one of the worst shooting slumps of his career. But Klay also tends to break out of his slumps with the force of a hydrogen bomb.
That's what happened earlier this month when he dropped 43 points in a win over the Knicks despite taking just four total dribbles, then again on Jan. 21, when he made 10 straight three-pointers en route to 44 points against the Lakers. He's an enigma for defenders, one of the deadliest and most unique offensive players the league has ever seen, capable of the type of scoring outbursts that demoralize opponents and subsequently etch his name in the history books. He's also one of the league's best two-way talents, alongside the likes of Jimmy Butler, Paul George, and Kawhi Leonard.
1. James Harden
Harden has been a blast during his historic run, scoring points at will without the need to get assisted buckets. There are a couple of ways to interpret that. The optimistic take is that he's simply doing what's necessary to put the Rockets on his back without Clint Capela, Chris Paul, and Eric Gordon in the lineup and, in the process, putting on a one-man show that will cement his status as one of the most unstoppable individual performers in NBA history.
From a different angle, it's a bad omen for a team that relies too heavily on isolation basketball, that is putting far too much mileage on its best player during the regular season, and that lacks the type of depth necessary to pose a real threat to the Warriors. Regardless, Harden is arguably the best offensive talent in the game today, and thanks to his recent run of form, he's inarguably the best 2-guard on the planet.