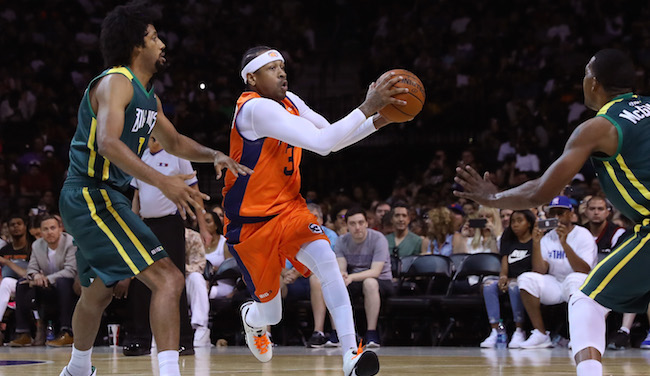 After months of hype, the BIG3 debuted on Sunday afternoon at the Barclays Center in Brooklyn, New York in front of a full house of fans looking to see a glimpse of some of their favorite NBA stars of old back on the court. We won't get to see the full action from Sunday until Monday night on FS1, but we caught some glimpses of action from those in attendance along with plenty of reports of what went down in Brooklyn.
The center of attention, as was to be expected, was Allen Iverson. Iverson's team, 3's Company, won its first game 61-51, but Iverson played very little and said after the game that he wasn't planning on playing much in games all year as the player/coach of the team and wanted fans to understand that coming in. Iverson heard plenty of "We Want A.I." chants and did give the fans one bucket to cheer about, but hopes those chants don't follow in every arena (which seems like wishful thinking).

Iverson might not have played particularly well in his return to competitive hoops, but he emerged unscathed, which is more than can be said for a pair of other former NBA players. Both Jason Williams and Corey Maggette suffered leg injuries during Sunday afternoon's games, in what was an understood risk for a league of aging players.

The good news is that Williams is expected back in a few weeks and was reportedly able to run back at the locker room, while Maggette at least joined his teammates on the floor to celebrate their win.
Injuries are an implied hazard of a basketball league that is being played by guys mostly in their late 30s, but the prognosis for Williams, at least, sounds good. As for that celebration that Maggette joined, it was for the game-winning three-pointer hit by DeShawn Stevenson to give he and Maggette's team, Power, a first week win.

All in all, it seemed like a successful first day of BIG3 action as fans were treated to a pair of nail-biters early and got to see some of their old favorites from the NBA back in action.
Here are the full results after Week 1 in the BIG3:
3-Headed Monsters 62, Ghost Ballers 60
Power 61, Tri-State 58
3's Company 61, Ballhogs 51
Trilogy 60, Killer 3's 45