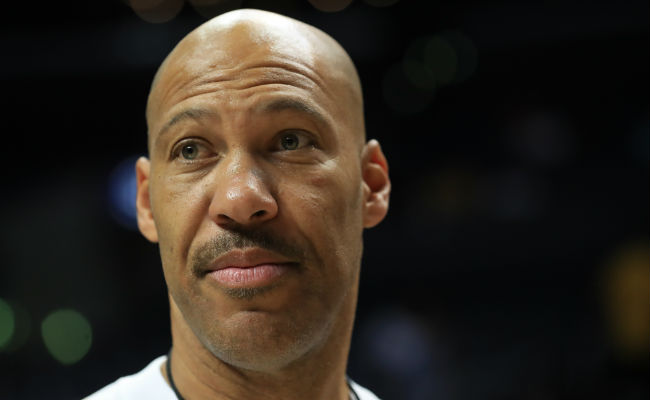 LaVar Ball has his hands in about a million different pots. He's orchestrated a feud with the President of the United States, moved his two youngest sons to Lithuania to try and jump start their professional basketball careers, and certainly seems like he wants to get the head coach of the Los Angeles Lakers fired.
As it turns out, all of these actions may have came at the expense of Ball's infamous business, Big Baller Brand. TMZ caught up with Blair Looney, the CEO of the Better Business Bureau in Central California, who painted a picture of a business that could not operate any worse than it is right now.
Looney revealed that Big Baller Brand has an F rating from the Better Business Bureau, stemming largely from a number of complaints about the way the business operates.

"In April of 2017, Big Baller Brand had started to receive complaints, and we have to date 33 complaints on fire and 41 negative consumer reviews," Looney said. "That established what we concern as a pattern of complaints. So we reached out to Big Baller Brand in November of 2017 and then again on December 19th of 2017 with a request that they voluntarily address these complaints so that we can help resolve these issues on behalf of the consumers who filed the complaints."
Looney said that Big Baller Brand never responded to any inquiries into the complaints, saying they engage in "substandard normal business practices for anybody."
The 33 complaints and 41 negative reviews can be read here. Some of them paint a picture of a company that seems like it was started by a dad who hasn't paid any attention to it and doesn't take it especially seriously, like this one that includes an anecdote about calling and having a question about a late order.
This company does not offer refunds. I purchased 2 items and was told there would be a 1-2 week delay. I have been waiting 6 weeks now, and when I asked why it was taking so long, I was called a "small baller". At this point I believe they have decided to steal my money.

A number of the reviews are like this, calling Big Baller Brand fraudulent or a scam, with some even calling for the company to be shut down. In one review, a user wrote about their experience trying to exchange a shirt that was the wrong size, which didn't exactly go over well.
We ordered a medium shirt. They sent us a small shirt. We told them they sent the wrong size. They told us they delivered the shirt. Once again we told them they sent theOnce again we told them they sent the wrong size. They told us they delivered the shirt. They can't figure out that they sent the wrong size shirt. We are going to dispute the credit card charge.
All of the complaints seem like they'd be pretty easy to fix, but as Looney tells it, Big Baller Brand doesn't have any interest in helping those who purchase their products. As the reviews and complaints of the company show, he appears to be right.