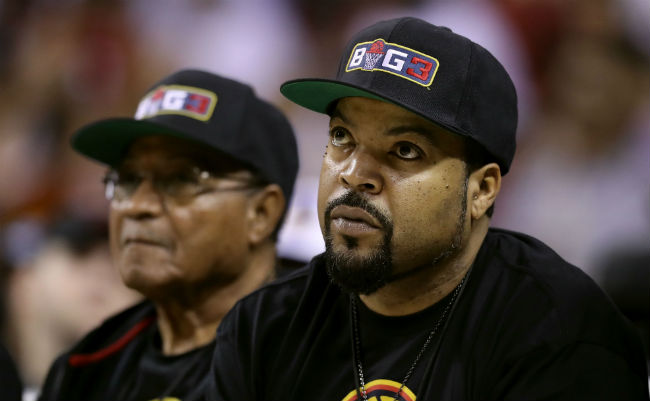 When Ice Cube announced he'd be introducing 3-on-3 professional basketball to the world, many doubted the business model. After all, bringing players from all types of backgrounds and ages in order to play in a new, unseen format, was something that had never been done and came with plenty of risks.
However, nine weeks into the 10-week season, and the BIG3 has to be considered a success in its inaugural season with a growing fan base, steadily packed arenas, and most recently was been renewed for a second season with Fox Sports.
From the beginning, Ice Cube and company said that the league was for players who could still play competitively. It wasn't about creating an all-star game or just a retired players league, although those names helped legitimize the brand, this was about giving guys an opportunity to play ball at an extremely high-level.
The Killer 3's, with Chauncey Billups and Stephen Jackson, were one of the early favorites to win the league due to their name recognition, but ended up in last place. That proved the league would be about more than just the names, and that there would be legitimate competition
Rashad McCants was the number one overall pick and has been the difference maker for the league's only undefeated team, Trilogy. As a an MVP candidate, losing out on that award to Rashard Lewis, McCants is out to prove that he shouldn't have had his NBA career taken away.

"The BIG3 has resurrected, restored, and instilled a new life into existence that was not offered anywhere else in the world," McCants told DIME. "It has helped me shine a new light on my past present and future endeavors. I'm extremely grateful and honored to be apart of such a new legendary and instrumental platform."
On top of the competition level, there is an extreme level of humbleness, comfort and comradery between these players. They're pioneers of this new endeavor, but they all missed playing in one aspect or another. In other words, it's given many players peace and happiness back. What was once something they played for fun in their backyard has become something they can't live without. The travel, the locker room, the game-day routine and something to stay in shape for, it's all been part of their life for so long that they want that to continue.
Many of the players, especially those names you would know from their NBA days, aren't doing this for money. Guys like Brian Cook, Rashard Lewis, Rashad McCants, Marcus Banks, Ricky Davis, Jerome Williams, Kenyon Martin and others have put on free basketball clinics, given back to the community and given away hundreds of tickets to kids, so they can have what some of these players didn't.
Of course, the BIG3 has played into the nostalgia factor and giving fans a chance to see some of their favorite legends again, either on the court or the sidelines with the likes Allen Iverson, Gary Payton, Dr. J, Clyde Drexler, and others. That nostalgia play brought along a few moments of disappointment, mainly surrounding Iverson's participation as a player, but even just having them out there coaching brought legitimacy and excitement to the league.

In a hotel lobby in Seattle, Gary Payton was signing autographs for fans and taking pictures with each one. The smiles on the faces of many, along with the priceless value of meeting one of the biggest basketball icons in Seattle history.
But, it's not just Payton. So many of th players and coaches have devoted their time, energy and effort to give back to the fans, the cities, and the basketball community. They stay early, leave late not just to workout, but to spend time showing genuine appreciation to the fans and their fellow teammates. It's truly a one-of-a-kind viewing experience when you see Charles Oakley elbowing Al Harrington in a game and then afterwards, see them having playful banter about it.
As we gear up for their final week of the inaugural BIG3 season, there are just two games and only one is for the big trophy, designed by the creator of the Kentucky Derby trophy, that was unveiled to the public this past weekend.
Undefeated Trilogy with McCants, Al Harrington, and company face off against Payton's Three Headed Monsters which features Rashard Lewis and Mahmoud Abdul-Rauf. Both teams are deserving, but only one can win in the final game to 50 points.
We don't know who will win this game but one thing is for sure, the BIG3 has revitalized summertime hoops.