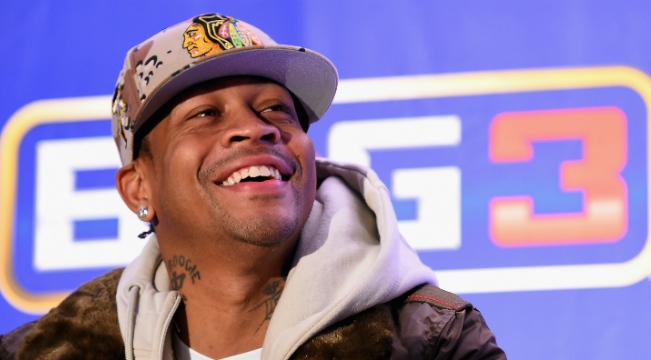 It's official: BIG3 will have its own fantasy league, because BIG3 is awesome. The half-court 3-on-3 league announced on Saturday that you will be able to participate in BIG3 Fantasy during its inaugural season over the summer of 2017. The news came out via the official BIG3 Twitter account, which brings you to a website where you can sign up.
So this is spectacular. Before more info comes out about the league, we recommend following these rules for assembling the BIG3 team you are absolutely going to create:

Allen Iverson is a high-risk, high-reward pick – Your first though will probably be "I need to get A.I." Yes, he is going to get buckets, because he is Allen Iverson. But from an efficiency standpoint, he is a potential risk. Sure, in a head-to-head league, you'll win scoring every week, but you may lose field goal and three point shooting percentage if he's off his game.
If you need rebounding, Reggie Evans is your guy – Evans is going to be a fantastic pick. He's been out of the league for two years, but he's always been a bully down low. Evans was tearing down boards against the best NBA players on earth. It's not a stretch to say he'll be able to do that in BIG3.
Take Rashad McCants earlier than you wanted to – McCants is 32 and, when he was on his game in college and in the NBA, he could really play. Odds are he will get buckets. Acquire him and prosper. (Also if it is not a draft and you have to purchase players, whatever McCants costs, take him.)
The biggest sleeper is Kwame Brown – I know, I know, Brown's name is synonymous with being a punchline. But Brown looks to be in great shape and is motivated to make people pay for passing on him in the league's draft. Get buckets, Kwame Brown.
Get Jason Williams – Get Jason Williams. This league was made for him.
Thus far, we don't know too terribly much about the fantasy league other than this happens when you throw your email in to sign up on the official website.
This means we have no idea exactly what the league will be. Will this be like your standard fantasy league, where you do a draft and have to strategically set a lineup every week? Or will it be the kind of league where you have a budget to spend on a pre-set number of guys who just represent your squad? Will you get to do head-to-head stuff in a 10-person league with your friends, or is it set up so that you're competing against everyone else who signs up in a points-style league?
Really, who cares, because this is going to be so much fun. Everything about BIG3 – from the rosters to the concept of the entire thing to the fact that it's touring the U.S. – has made the league seem like it legitimately wants its fans to have fun. A fantasy basketball league is even more proof of that.