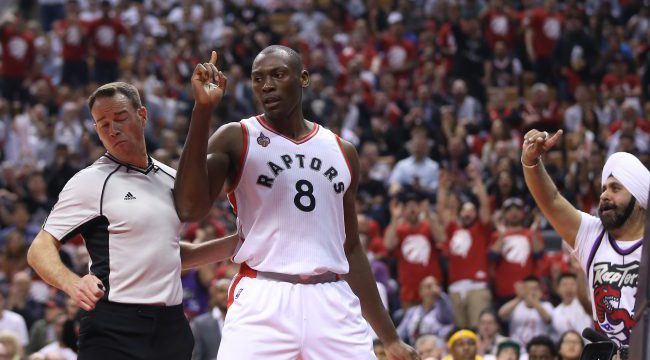 It's July 1, 2016, and Bismack Biyombo just did a bellyflop into an enormous pool of money. The former 2011 lottery pick has drawn a longing gaze from teams around his league with his high level play in this year's playoffs. If he likes money, Biyombo will decline his player option this offseason and test the open market.
Just last season, the Charlotte Hornets declined their team option on Biyombo and let him walk in free agency. With the rising cap, Biyombo could flirt with max money in July. An NBA executive gave Sporting News a number to keep an eye on this summer.
"For someone like (Biyombo), I think when you look at a guy like Tyson Chandler and what he got from Phoenix last summer (four years, $52 million), that's where you start for a contract," one Eastern Conference GM told Sporting News. "But you factor in the cap spike and it's probably going to be high, I'd say, $16-17 million. It'll be a heck of a $17 million-per-year gamble."
The Raptors thought Jonas Valunciunas would be the 2011 lottery pick leading them to the conference finals, but here they stand with Biyombo propping up their fort with weak side help and tenacious rebounding. That $17 million figure may be a bit too much for the Raptors this offseason, but whoever throws a cash parade at Biyombo this summer will be counting on him to sustain this incredible playoff run. That may not be a bad bet to place on a 22-year-old center.