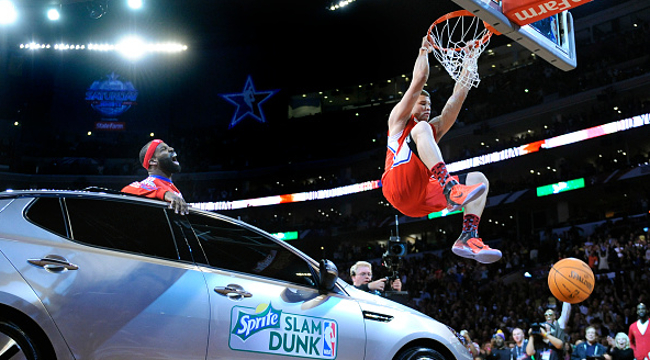 Early in his career, Blake Griffin was one of the most exciting dunkers to come into the league in years. His first couple of seasons had a sort of Toronto-era-Vince-Carter feel to it when he was putting on an aerial display on an almost-nightly basis and altering how we would remember the careers of some of his most brutal posterization victims. All that led up to the much-anticipated 2011 Dunk Contest, which we were all certain would be the most jaw-dropping performance since the aforementioned Vince Carter at the turn of the century.
But that's not what happened. Instead, what we got was an over-hyped, overwrought marketing ploy that culminated in the Clippers forward leaping over the hood of a Kia (the official car of the NBA) for an utterly-mundane two-handed jam. The whole thing had the stench of one big advertising orgy dreamed up in a boardroom by weaselly execs eager to climb the corporate ladder.
Griffin, for his part, is now claiming that wasn't his original plan for the contest. In an interview with Barstool Sports' Pardon My Take podcast, he explains how it eventually went down:
"I wanted to jump over a convertible, but I wasn't allowed to. It had to be a Kia Optima," Griffin said. "I wanted to have Baron Davis and some of my teammates roll out in a convertible, and then just toss it straight up and jump over the whole thing, instead of just the hood.

"I don't know if you guys have stood next to a Kia Optima, but it's a pretty tall vehicle, and there's no way I was going to make it over the entire thing, over Baron Davis in the sunroof. So I opted for the hood, and then everyone was pissed that I jumped over the hood, like, 'that was super easy,' so it was just a lose-lose situation for me."
Jumping over the top of a convertible is at least a little more impressive, but most would argue that props, in general, are what have made the dunk contest such a circus over the past decade-plus. And it's doubly gross when it incorporates such blatant, unapologetic product placement. Thankfully, we had Zach LaVine and Aaron Gordon restore some of its former glory this year. It was a stark reminder that skill and creativity trump novelty any day of the week.
(Pardon My Take; h/t SI.com)