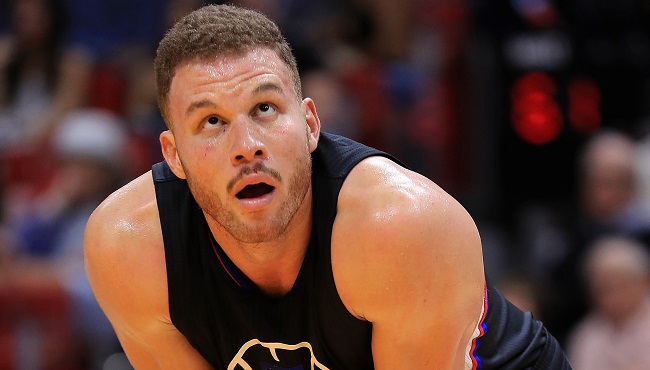 At the age of 28, Blake Griffin isn't far from his prime and, if things go well from a health perspective, the All-Star power forward could play at a high level for several more seasons. With that in mind, both Griffin and the Los Angeles Clippers have interesting decisions to make this offseason, as the veteran hits the market as an unrestricted free agent.
Conventional wisdom would dictate that the Clippers, who can offer the biggest financial package and the comfort of living 12 months a year in Los Angeles, have the inside track toward retaining Griffin this summer.
However, Adrian Wojnarowski of The Vertical shared on his podcast Wednesday that the Boston Celtics are perhaps the biggest threat to lure Griffin away.
(h/t MassLive for the transcription)
"Blake Griffin, and I think the Clippers may think this too, and certainly some other teams, Boston is really the danger for Blake Griffin. I think Boston's two primary free-agent targets right now are Gordon Hayward and Blake Griffin. Now they're not going to get both of them, but they're both players who would potentially have interest there, and who Boston I think looks at in different ways with their future."
It would appear likely that the Celtics, who have been tied heavily to a Gordon Hayward pursuit, could provide Griffin with the best chance to win a championship over the life of his next contract. If Boston were to strike out on Hayward, Griffin would make a great deal of sense as a backup plan, even if he would be on the older side of a timeline that includes a deluge of long-term assets.
Wojnarowski also illustrated the potential set-up for Griffin in Boston and how his relationship with long-time Celtics great Paul Pierce could swing his feelings in that direction.
"So the one thing to know about Blake Griffin, he was (in Boston) when Paul Pierce came in with the Clippers for his last game in Boston, Blake was obviously there with the team. He saw how Boston reacted to Paul Pierce and what it means to have been a great player in Boston. Now, Blake doesn't have enough left in his career to be beloved and be the all-time Celtic that Paul Pierce was, but it does give you a sense – and I know it gave Blake a sense, it did not go unnoticed with him – about how that building and that city and the way they loved Paul. And I'm sure Paul being around the last couple years with him, I'm sure they discussed it."
Unless Steve Ballmer and Doc Rivers elect not to offer Griffin a five-year max contract, the most likely outcome for the All-Star's free agency will be the thoroughly uneventful result of remaining in place with his current team.
With that said, it could make sense for the Clippers to take a more measured approach long-term and, if they do, the door could crack open for the Celtics or another earnest team looking for an infusion of proven talent at the power forward spot.