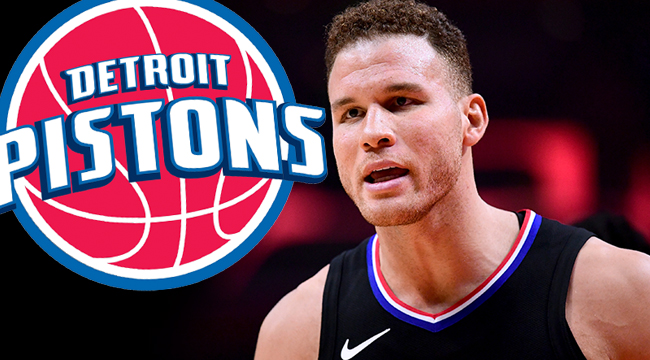 In the internet age of trade rumors circulating everywhere, it's not often that you get shocked by a swap. But that happened on Monday when Adrian Wojnarowski dropped the Wojiest of all bombs, declaring that the Los Angeles Clippers had dealt Blake Griffin to the Detroit Pistons.
The details are: The Pistons will get Griffin, Brice Johnson, and Willie Reed, while the Clippers will receive Tobias Harris, Avery Bradley, Boban Marjanovic, and a pair of draft picks. A first rounder, and a second rounder, with the former being protected 1-4 in 2018, 2019 and 2020. Beginning in 2021, the pick is unprotected.
Bradley was on his way out. Harris has been putting in a very nice season, but a lot of his numbers are fungible, meaning that they're a product of just being on the court. He's a good player, but he's not a difference maker.
The limited protections could come back to bite the Pistons hard, but assuming they have a good chance to at least get back into the playoff picture in the floundering Eastern Conference with Griffin, it doesn't matter if it's lottery protected or top-four protected. Of course, if they don't make it to the playoffs, it's doubtful that they'd close enough to the top of the draft to have that pick go towards a home run. The odds that pick turns into a rotation player are small, and it's not like the Pistons have been hitting home runs with their draft picks, anyway.
Griffin is a difference maker. He's a top 20-to-25 talent, and higher if healthy. While Griffin's contract is large, it's not like Harris was on an especially cheap deal. The bigger factor is the long-term cost of Griffin as Pistons will have to worry about the fact that he's owed $141 million over the next four years while Harris has one year remaining on his deal for $14.8 million. However, in a market like Detroit, landing a top 20 caliber player in free agency doesn't usually happen so this was a rare chance to land a star long term.
To appreciate the trade, though, one has to view it in light of the new partnership with Andre Drummond.
There's an easy comparison to make here as Drummond is a similar, though, not identical payer to DeAndre Jordan, with whom Griffin has spent the majority of his career. They are both outstanding rebounders and rim-runners who don't generate a lot of post-up points. They're both more pick-and-roll centers than of the pick-and-pop variety. In fact, the two have combined for 31 made field goals from outside of five feet this year (with 23 of those from Drummond and eight from Jordan).
Statistically, they're pretty similar in essentially the same amount of time on the floor every game, but you can argue that Drummond is slightly better.
Andre Drummond vs. DeAndre Jordan

| Rk | Player | Season | Age | G | GS | MP | FG | FGA | FG% | 3P | 3PA | 3P% | 2P | 2PA | 2P% | eFG% | FT | FTA | FT% | ORB | DRB | TRB | AST | STL | BLK | TOV | PF | PTS |
| --- | --- | --- | --- | --- | --- | --- | --- | --- | --- | --- | --- | --- | --- | --- | --- | --- | --- | --- | --- | --- | --- | --- | --- | --- | --- | --- | --- | --- |
| 1 | Andre Drummond | 2017-18 | 24 | 46 | 46 | 33.1 | 5.8 | 10.7 | .544 | 0.0 | 0.1 | .000 | 5.8 | 10.6 | .550 | .544 | 3.0 | 4.9 | .625 | 5.0 | 10.1 | 15.1 | 3.8 | 1.5 | 1.4 | 2.8 | 3.3 | 14.7 |
| 2 | DeAndre Jordan | 2017-18 | 29 | 44 | 44 | 32.1 | 4.9 | 7.3 | .668 | 0.0 | 0.0 | | 4.9 | 7.3 | .668 | .668 | 2.1 | 3.6 | .591 | 4.3 | 10.5 | 14.8 | 1.2 | 0.5 | 1.0 | 1.7 | 3.0 | 11.9 |
It's also important to consider that Drummond has never played with a player like Griffin, who boasts the best playmaking abilities of any power forward in the league outside of Golden State — currently, Griffin has more assists than any power forward in the NBA not named Draymond Green. Having a frontcourt partner capable of setting him up and drawing attention away from him could help Drummond unlock even more of his offensive game.
Let's look at how the Pistons' three-point shooting might be different. On the surface, it's a net negative: Griffin hits 1.9 threes a night at a 34.2 percent clip. Harris, meanwhile, is a 40.9 percent shooter from downtown who connects on 2.4 threes per game.
But digging deeper, the Clippers averaged 11.4 3s per 100 possessions with Griffin on the court this season compared with 9.1 while he sits. That's not a coincidence since 2.38 of his dimes go to teammates behind the arc. Compare that with 1.11 from Harris. Basically, Griffin is a worse shooter from deep than Harris, but his teammates benefit form his being on the floor more. Look for guys like Reggie Bullock and Luke Kennard, who are in line to play more with Bradley gone, to benefit from this.
Court-stretching has another aspect: the rim. Courts aren't really stretched, defenses are. The thinner they get, the easier it is to get shots at the rim, which is ultimately the goal. The best shots in basketball are dishes to the cylinder. A three-point shot is worth about 1.09 points on average; one at the rim nets a return of 1.31. The Golden State Warriors, with all the talk of the Stephen Curry, Klay Thompson, and their 3-point shooting, annually lead the league in assisted shots at the rim. According to NBA Miner, that is true again this year.
Griffin has 1.97 assists to layups or dunks, compared with Harris' .59. Furthermore, while Jordan was the recipient of just 5.6 percent of Griffin's passes, he was the beneficiary of 18.4 percent of Griffin's assists. Additionally, Griffin assisted Jordan 0.8 times per game compared to Harris supplying Drummond just 0.3 times per game.
To repeat, Griffin has played with someone Drummond, but Drummond has not played with someone like Griffin, a frontcourt player who is good at making his life easier.
The Pistons are in dire need of a playmaker, and Griffin is one. Fifty-four percent of his field goals are unassisted, whereas Harris' field goals are unassisted at a 38 percent clip. Between that and his passing, the Pistons got what they needed the most, and it should help the other half of their frontcourt equation.
By creating shots for himself and others, Griffin should, theoretically, make Drummond a better version of Jordan, stretching the court to a limited degree with his shooting and to a greater degree with his passing. When the court is spread, he'll be able to do a better job than Harris has of finding Drummond inside.
The drastic slide the Pistons have had since Reggie Jackson went down shows how desperate they are for a playmaker of any sort. While Griffin is a high-end secondary playmaker, he's not an elite one. They're not going to be at full strength until Jackson returns from his ankle sprain, but they will be better with Griffin, who should provide a stop-gap until Jackson returns.
Once that happens, and Griffin can be put in the secondary playmaker spot, the Pistons should be positioned quite nicely to make a run at the postseason.