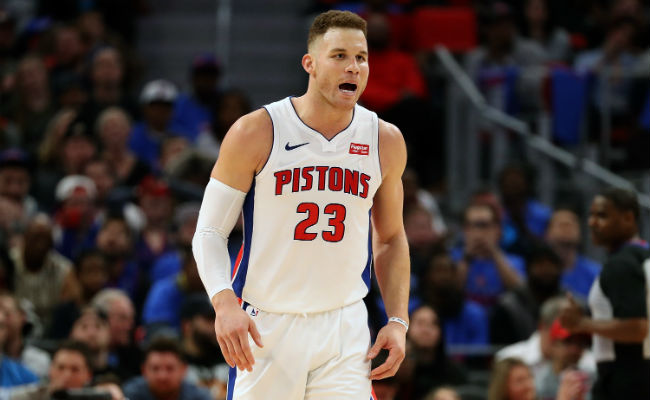 The Detroit Pistons probably didn't stand much of chance against the Milwaukee Bucks in their first round playoff series in the East regardless, but their odds sit near zero percent without Blake Griffin. That outcome manifested itself in the Pistons 35-point loss in Game 1 as Griffin sat on the bench in a suit and watched, and now reports are trickling out that Griffin could miss the entire series as he continues to nurse his sore left knee.
That news essentially ensures a Bucks sweep, and is a disappointing end to what was a career year for Griffin. But in some comments to the Detroit Free Press, Griffin hinted that the decision to keep him out of the lineup is coming from the top of the organization.

"If it was pain, I would easily play with pain," Griffin said. "If it was just my decision, I would have played."
Griffin's knee has been giving him issues ever since he hurt it near the end of the regular season. He was in and out of the lineup, and even when he returned, the effect it had on his game was visible. He only played 18 minutes against the Memphis Grizzlies, then sat out against the New York Knicks in the regular season finale in a game the Pistons had to win to get into the playoffs. They won without him, but it's clear Griffin's knee is a major concern to both the coaching staff and the front office.
"You sacrifice your body throughout the year," Griffin said. "You play with little injuries here and there to get to this point so obviously I'm very frustrated. I feel like I'm leaving my guys out there, but I have to do what our organization, our training staff, our doctors think is best."
Griffin's knee, as well as his relationship with the team's higher-ups, will be something to monitor throughout the offseason.