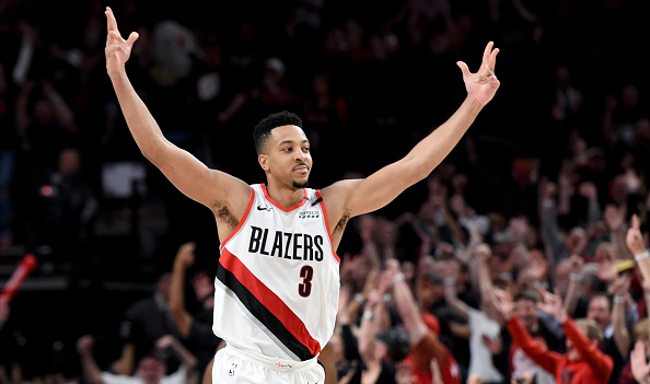 It was a wild, frustrating, and totally electrifying Game 7 in Denver on Sunday, but eventually, the Portland Trail Blazers were able to emerge victorious with a gutsy 100-96, earning their first trip to the Western Conference Finals since 2000.
They did it by overcoming a 17-point deficit after Denver came out scorching hot in the first quarter, climbing all the way back to win on the Nuggets' home floor and keep their magical postseason run alive.
With his superstar teammate struggling all game, C.J. McCollum put in a legendary performance, finishing the game with 37 points and knocking down what ended up being the dagger with under a minute to go.
https://twitter.com/DimeUPROXX/status/1127696139631902721
McCollum almost single-handedly kept the Blazers' season alive as he led a furious second-half charge, scoring 14 points in the third quarter to cut the deficit to one going into the fourth. And he wasn't just doing it on the offensive end. McCollum came out of nowhere for this massive chasedown block on Jamal Murray late in the fourth quarter with Portland clinging to a narrow four-point lead.
It was just that type of night for Murray, who had his worst shooting performance of the series as he went 4-of-18 from the field for 17 points and missed all four of his three-point attempts. Nikola Jokic was spectacular once again, putting up 29 points, 13 rebounds, and four blocks, but it wasn't enough as Denver wasn't able to capitalize as the Blazers shot themselves into a huge hole in the first half.
It was shades of the Game 5 blowout when the Blazers simply couldn't buy a shot in the first quarter, going 1-of-17 from behind the arc by midway through the fourth quarter. Lillard by himself was 1-of-12 up to that point, but knocked down a couple of big threes in the final period and finished with a modest 13 points as he deferred to his back-court mate, who had the hot hand all afternoon.
https://twitter.com/DimeUPROXX/status/1127694018358456320
Early on, it looked like Denver might be galvanized by having already survived a Game 7 in the first round against San Antonio, but suffered through a horrid shooting stretch of their own as they missed 16 straight three-pointers at one stretch in the second half as Portland clawed their way back.
Still, the win is somewhat bittersweet for Portland, as Rodney Hood had a scary moment in the third quarter when he went down with a leg injury and had to be helped to the locker-room. He was later diagnosed with a hyper-extended left knee and was unable to return. There's been no further word yet on the severity of the injury or how long he might be out.
In the meantime, the Blazers will go on to face the defending champion Warriors in the Western Conference Finals, which is set to tip off Tuesday night at 9:00 p.m. ET.