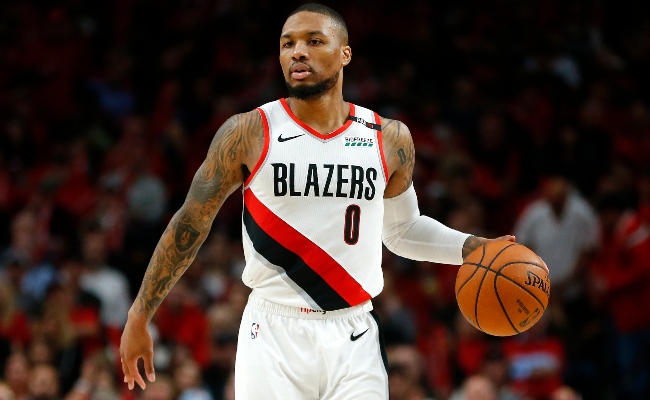 PORTLAND — After another Steph Curry explosion and another squandered lead, the Portland Trail Blazers watched their season come to an end on Monday night as the Warriors outlasted them in overtime, 119-117, to earn their fifth straight trip to the NBA Finals.
But in a playoff run filled with stunning, surreal, and unforgettable moments, Portland still had a few tricks up its sleeve, this time from Meyers Leonard, who had the performance of his life before the Warriors closed the book on their Western Conference Finals series. Leonard, who in the previous game served up an appetizer of what was to come, went absolutely berserk on Monday, equaling a career-high 25 points in the first half while shooting a blistering 4-for-5 from three to set the Moda Center crowd ablaze.
He finished with 30 points and 12 rebounds, putting the exclamation point on his performance with a vicious one-handed tomahawk jam over Draymond Green late in the fourth quarter that nearly knocked the Earth off its orbit and made us all believe, albeit briefly, that the Blazers might keep their magical season alive. That was not to be, because the Warriors do not believe in magic, instead opting to be the harbingers of the crushing finality of real life for basically the entirety of their run.
Despite the outcome, it was personal vindication for Leonard, who's been in and out of the Blazers' lineup all season, particularly in the playoffs as the team leaned heavily on the more favorable matchups afforded by Enes Kanter and Zach Collins. But as Terry Stotts, to his credit, continued to make adjustments against the Warriors' onslaught, Leonard finally got his opportunity, and he may have salvaged a career that had been looking bleaker and bleaker with every "DNP — Coach's Decision."

"It's definitely bittersweet for me," Leonard said after the game. "I'm thankful for the staff for them having faith in me and confidence in me to step in in Game 3 and 4 and do my best to help us win. I just went out there and played confident. Teammates such as Dame, on down the line, tell me to be aggressive and do what I do. For me, personally, it was incredible, honestly, to be out on the floor, to feel that feeling, but now we have to find a way to take another step."
To take nothing away from his night, it doesn't bode well when you have to rely on Meyers Leonard exploding in a closeout game in the postseason, and even with his 25-point first half, the Blazers still only led by four going into halftime. Leonard was like a loose firehose in Game 3, giving back nearly as much on the defensive end as he contributed in points, and that remained at least partially true in Game 4, as he repeatedly failed to get back in transition as the Warriors waltzed their way to several easy layups on the break and goaded him into costly fouls.
The playoffs are about matchups. They're also about picking your poison, and the Warriors were perfectly content to let Leonard beat them. They lived with the results in Games 3 and 4 and still managed to win. But in some ways, it really didn't matter, as his delirious outburst offered the Blazers and their fans one more storybook performance in an enchanting season that's been filled with them.
As the latest in a long Blazers tradition of big, lumbering centers, Leonard has often looked over-matched against the rest of the league's endless parade of swifter and more agile athletes at his position. His contract has been a baby albatross ever since he cashed in on a modest breakout season in 2016, and he's still owed more than $11 million next year before he hits the free agent market in 2020. Whether he plays out the next year in Portland or if the team can capitalize on his relatively high value and move him — Leonard's name has popped up in trade rumors in the past — remains to be seen.


One certainty is that the team will keep its core intact, for now. C.J. McCollum and Jusuf Nurkic are both under contract for the next two seasons, and a report emerged late Monday night that Damian Lillard is expected to sign a supermax extension this summer, assuming that he makes one of the three All-NBA teams, which seems like a foregone conclusion. That deal would reportedly be worth somewhere in the neighborhood of $191 million and would keep him in Portland until he's 34.
Beyond that, the Blazers don't have much flexibility this summer. They'll be capped out and several key rotation players — Enes Kanter, Seth Curry, Al-Farouq Aminu, Rodney Hood — will all hit unrestricted free agency. They'll have a mid-level exception worth about $5.7 million, which offers little wiggle room, and the burning question is who they should prioritize and just how sentimental they're feeling after this postseason run.
It's probably for the best that the front office will have more than a month for quiet reflection before making these decisions. Right now, they shouldn't let this sweep tarnish everything that led up to it. It's been the Blazers' best season in almost 20 years. It gave us Dame's series-clinching shot against the Thunder, a quadruple-overtime thriller, a gutsy Game 7 win against the Denver Nuggets, Rodney Hood's redemption tour, Can Play Kanter, the Meyers Leonard Experience, and more.
The city and the organization have plenty to be proud of and plenty of reasons for optimism about the future.

"This version of the Blazers over the last few years has been one of my favorite teams to watch," Warriors coach Steve Kerr said after the game. "I have so much respect and admiration for Terry and his staff and the players. Damian and C.J., what they do as leaders and as a back-court together, it's amazing to watch. I know the city loves its team, and they should love this version of them as any of them because they're a great group."
Last year's playoff disaster sent the team's stock plummeting and made their No. 3 finish in the West feel more like an aberration than a team blossoming into a contender. It squandered the goodwill they had amassed and amplified the skepticism – about Dame and C.J.'s long-term viability, about Stotts' stewardship of the team, and about the front office's managerial acumen.
That criticism was valid, and what followed was another lackluster offseason that resulted in them running it back this year with virtually the same squad and a bleak prognosis for the future, with ESPN, for instance, predicting they'd finish 10th in the West and miss the postseason altogether. So their run this year should undoubtedly be a wildly-gratifying experience.
Still, the Western Conference Finals made clear that, despite how incredible they've both been at times, they still have another plateau to reach. They'll continue to have their doubters along the way, but Dame and C.J. — they of the small schools and multiple All-Star snubs — feed off the doubters. Real or imagined, it's a source of righteous fury, and it's what has catapulted them to this point in their parallel careers.
If you were to chart their progress, you'd see an upward trajectory. We'll find out whether that trend holds when they come back and do it all again next year.