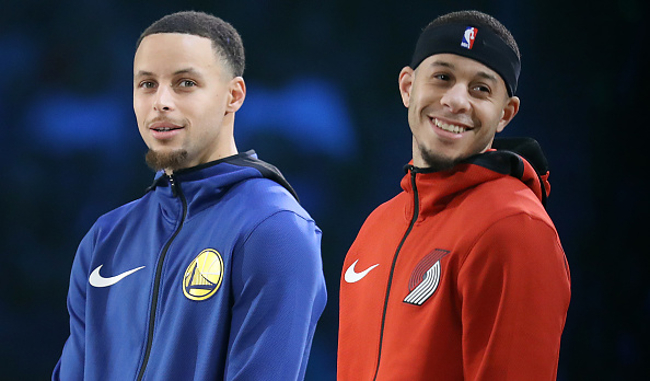 You don't have to dig too deep to uncover all the tensions smoldering just beneath the surface of this Western Conference Finals showdown between the Warriors and Blazers. Fortunately for us, neither of these teams is above taking petty jabs at their opponents and stoking the already-existing animosity that is just waiting for any excuse to burst into flames.
Don't be fooled by the Blazers' nice-guy act. Through the first two rounds, they've proven that they want all the smoke. Like any good borderline-sociopathic competitor, they feed off your negativity. And the Warriors? Well, the Warriors will always be the Warriors. You're talking about a team that mercilessly teased Rudy Gobert for daring to express human emotion and doubled-down so hard on Fergie's national anthem disaster that they had her ex-husband apologizing to them.
So don't expect a friendly sporting event. Things will inevitably get heated, and that's just the way we like it. These are the individual matchups that could produce fireworks that we're most looking forward to when Game 1 gets underway Tuesday night in Oakland.

Curry vs. Curry
Let's start with a relatively innocuous one. By all appearances, Seth Curry has always played the gracious and supportive sibling to his biological Splash Brother. But he's also human, and the emotional toll of living in the shadow of his more talented and successful older brother has to be a steep one. Here's our prayer to the basketball gods that we'll get to see all those years of envy and resentment calcify into a few glorious head-to-head shootouts between NBA brothers. Equally as compelling will be the Shakespearean dilemma of the Curry parents as they try to determine how to divide their loyalties this series.
Kevin Durant vs. C.J. McCollum
Durant openly mocked C.J. to his face — on his own podcast, no less — when he said that the Blazers are capable of winning a title. They took a few more shots at each other on Twitter after the fact, although both have since tried to brush it aside.
But now, that conversation will take on a whole new life as one of them will ultimately be proven right, and it's guaranteed that the winner won't be tactful about it. Just how much of their shared antipathy spills over on the court remains to be seen, particularly in light of Durant's injury and the uncertainty surrounding his return.
Kanter vs. KD
This particular feud started basically the moment Durant signed with the Warriors, and it's raged on in one capacity or another ever since.
Kanter's clannish devotion to his teammates is one of his most endearing qualities, and it's resulted in plenty of minor(ish) dust-ups with opponents over the years. With the stakes this high, we're bound to see some chippy play between the two at various points, as there is absolutely no way Kanter will let this go by without some sort of retribution on behalf of all his former teammates in OKC.
Jusuf Nurkic/Draymond Green
The Blazers' injured center claims he wants to return this postseason, but given the severity of his leg fracture, that's an overly optimistic take. But that doesn't mean Nurkic can't start stir the pot from the sidelines. Nurk is an antagonist of the first order, whether via Twitter or in person, so expect some fireworks from the salty Bosnian at some point.
The same goes for Draymond. The Warriors' resident browbeater will seize any opportunity he can to get under the Blazers' skin and get inside their heads. With his winning combination of pestering defense and interminable trash talk, it likely won't take long for something to erupt between these two squads as they duke it out for a chance at an NBA Finals appearance.