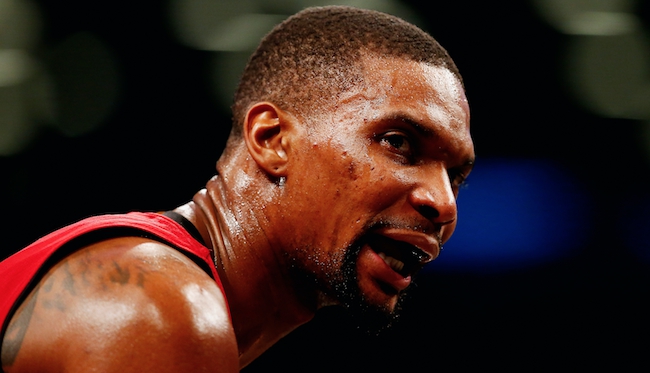 The Chris Bosh situation continues to be a very delicate, and no one seems to be entirely sure how to handle it moving forward. Bosh, of course, wanted to play in the playoffs this year, but the Miami team doctors convinced him to sit them out. Now, with his future uncertain, he may be forced into retirement if he doesn't get cleared to play next season. However, despite the risks, the latest news says the Heat are apparently counting on Bosh coming back next year.
But his blood clot issues are already serious. If he does play again, there's a serious medical risk that, in an extreme circumstance, could end in death.
Hank Gathers didn't have the exact same health issues as Bosh does, but the former Loyola Marymount star did have an irregular heartbeat and his insistence on playing, despite the medial ailment, is what eventually led to his collapse and death during a college basketball game in 1990.
Bo Kimble was a teammate of Gathers and saw him die on the court. The former Knicks and Clippers player is urging Bosh to stop playing basketball before the same thing happens to him.
TMZ caught up with Kimble and the 11-time All-Star said Bosh should stop trying to come back to the NBA and instead pursue other interests.
"There are so many other things he could do with his life. Hank Gathers had the same thing, Hank could have been a comedian, and actor or did speaking engagements. It's not worth the risk. I would just say absolutely not, don't do it.

If Hank had the ability to do it again he wouldn't have paid the ultimate price … I am sure [Bosh] has children and they are going to need their father around as much as possible."
To add another layer to the Gathers-Bosh comparison, one of the players on the floor that fateful night for the Portland Pilots, the team Loyola Marymount was playing when Gathers collapsed, just so happened to be current Heat head coach, Erik Spoelstra. By virtue of being there first-hand to witness Gathers' death, Spoelstra knows more than most just how serious the consequences can be when trying to play through a serious medical condition.
Ultimately, the decision of whether or not Bosh plays again will be up to him and the doctors, but he would be wise to at least listen to people like his coach and Kimble who witnessed up close what the worst-case scenario can look like.
(Via TMZ)