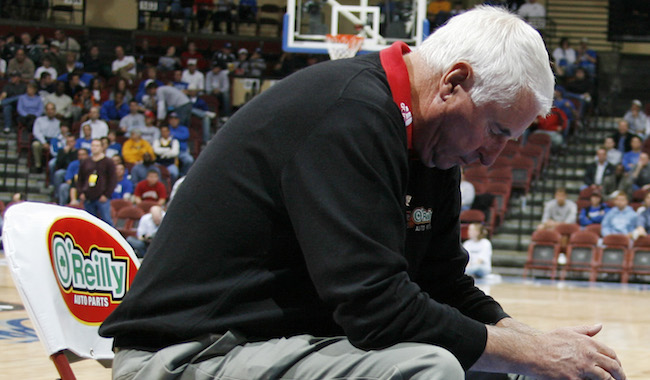 Former Indiana and Texas Tech basketball coach Bob Knight is, for the most part, out of the limelight at this point. The 76-year-old is no longer employed by ESPN after a brief run as a college basketball analyst, and since then, Knight's name isn't in the news quite as often as it once was.
However, a report from the Washington Post will change that in a hurry, and the details are both jarring and bizarre. Knight was reportedly accused of groping four women who were employed at the National Geospatial-Intelligence Agency in 2015, and the backdrop of the investigation surrounds a speech he gave on July 10, 2015.
Knight was asked to give such a speech under unusual circumstances, as the spy agency's chief, Richard Cardillo, is a long-time friend of the former coach. The invitation to give the speech was met with peril, and in the end, it appears that the worry was at least reportedly justified.
The allegations toward Knight include inappropriate touching of a woman on the side of her chest and another, woman alleged that Knight groped her buttocks. Beyond that, his actions were also allegedly verbally inappropriate, as one woman indicated that he crossed the line when complimenting her legs.
According to the report, the FBI then placed Knight under investigation for one year before an interview in 2016 that ended with Knight issuing a denial of any wrongdoing or culpability. The Washington Post report also brings word from both Knight's attorney and his wife.
"There is absolutely no credible evidence to support this in our opinion, these allegations," said James Voyles, an Indianapolis lawyer who represents Knight. The FBI agents, he added, "reported to their superiors that there was no basis for any further action, period."

Knight, now 76, did not respond to requests for comment. In a text message to The Post, his wife, Karen Knight, said: "Bob did nothing wrong and there is NO evidence to prove that he did. Case closed."
The case was closed shortly after meeting with Knight in 2016, and that remains the status of the case today.