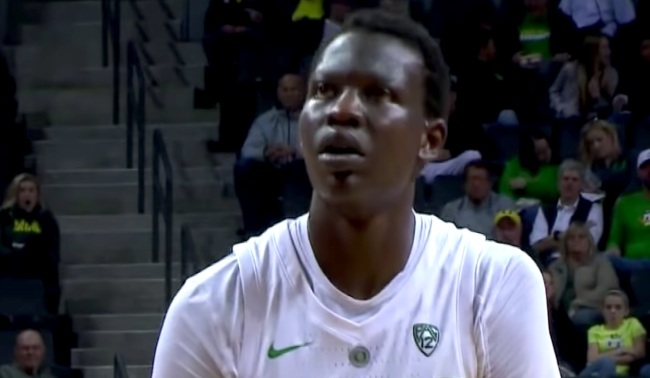 So much of the attention during the 2018-19 college basketball season is on the Duke Blue Devils. This is rightly the case, as R.J. Barrett, Cam Reddish, and Zion Williamson are three exciting talents on the same team, plus all of them are in the running to go No. 1 overall in the 2019 NBA Draft.
But in terms of uniquely skilled freshmen with hopes of going high in the Draft, Bol Bol deserves a ton of attention. Manute Bol's son is a true freshman for the Oregon Ducks, and while this sounds hyperbolic, there aren't many people like him who have ever played the game of basketball.
Bol stands at 7'2 but has the skill set of a guard. When he's cooking, it's breathtaking to watch, and on Thursday night, he showed what he can do on both ends of the floor on one possession. The Ducks are taking on Iowa in the 2K Classic at Madison Square Garden, and despite trailing early, Bol did this.

It's absolutely insane that he can erase a three-point attempt, dribble the ball up the floor, then hit an off-balance jumper in transition. Players with skill sets like this don't come around very often, so the fact that he needs to bulk up and become a more refined basketball player may not be a major knock against him, because the fact that he can already do so many things is encouraging.
Oregon suffers from the issue that a lot of west coast teams suffer from when it comes to getting to check them out, but whenever Bol takes the floor, the Ducks will be required viewing this season.