In the span of 24 hours, the Boston Celtics beat the Washington Wizards to move on to the Eastern Conference Finals and won the 2017 NBA Draft Lottery thanks to a 2012 trade with the Brooklyn Nets. It was the absolute best-case scenario for the Celtics, as they are in the unique position of being one of the best teams in the league that also gets to add a superstar this summer for next to nothing.
Well, kind of. Yes, Boston is in a great position, one where it can do any number of things that dictate the course of the rest of the draft: it could take someone at No. 1, it could trade down, it could work out a deal revolving around the pick and get a more established player. There are options.
The Celtics also have to do all of this while also considering what Isaiah Thomas' future looks like with the franchise. Thomas is one of the best values in basketball right now – he has one more year on his contract worth $6.2 million and was the driving force behind the Celtics having the best record in the Eastern Conference this season.
He is also a 5'9 point guard who is going to turn 30 during the first year of any extension he would sign. To many, Thomas is the kind of guy who you just do not take a chance on, an undersized scoring guard who is a defensive liability and is getting older. To Boston, he was the heart and soul of a spectacular season and the leader of a team that has a pretty bright future, even if its cap situation is a bit tricky – in the next two years, Thomas, Avery Bradley, Marcus Smart, and Kelly Olynyk will all hit free agency, so the franchise will need to pay them. (This, of course, assumes Boston wants all four guys back.)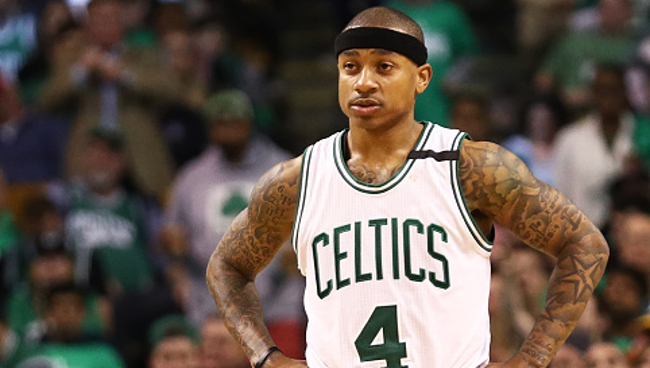 This also leads to the inherent concern (if you want to call it that – I want to call it that) with the No. 1 pick. The two best prospects on the board are Washington point guard Markelle Fultz and UCLA point guard Lonzo Ball. While Celtics GM Danny Ainge has specified that the team has not narrowed its focus onto one or two guys yet – which sounds weird, but they're still in the postseason so they get a pass – it's hard to imagine anyone save for Kansas forward Josh Jackson (or, if you're really high on Duke's Jayson Tatum, him) breaking into that conversation.
Fultz and Ball have plenty of differences, but both dudes are guards whose offensive game is way more advanced than anything they can do on defense right now. Both thrive with the ball in their hands, Fultz with his ability to score from all over the court, Ball with his ability to drill threes and put his teammates in positions to score before they even realize they're open.
The problem comes in when you remember that you absolutely have to have the ball in Thomas' hands if he's on the court, plus his defensive abilities are … subpar. This is especially true if Boston decides to sign him to a massive contract extension, either this summer or once he hits free agency. How can the Celtics rationalize taking a point guard prospect while still keeping Thomas around?
This argument also somewhat goes for Bradley – a star on defense that can take on the other team's best guard to hide Thomas on that end while also providing some scoring on the other side of things – assuming the answer is "just play Fultz or Ball at the 2."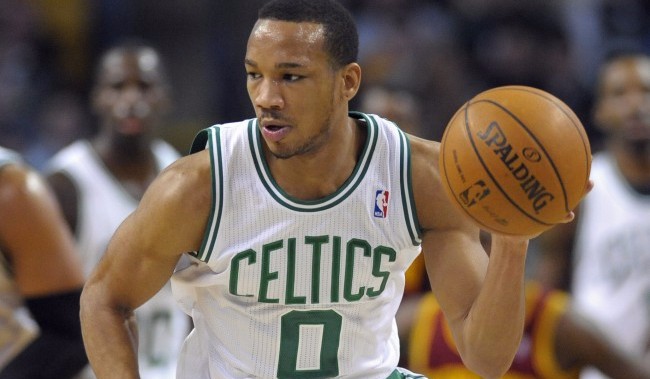 The easy solution is to turn the pick into something other than the No. 1 selection since the Celtics are playing with house money. They can trade down and address a need – for example, Amir Johnson is a free agent after this season, and while this isn't the best draft for big men, there are some interesting prospects on the board.
They can also package this in a deal to a team that has a star but looks to be on the verge of a rebuild – this list is really small outside of the names we heard thrown around at the trade deadline like Jimmy Butler and Paul George.
The much more difficult solution may be to take one of the guards and figure out what to do later. Stockpiling talent is a good strategy, and having a point guard for the future in the event that Thomas leaves in free agency (whether on his own accord or because the team looks elsewhere) isn't a bad thing at all.
The concern is that how on earth can the Celtics really let Isaiah Thomas leave, but again, this is a "get Fultz or Ball in here and cross that bridge when we get to it" gameplan. And who knows? Maybe Boston can throw out some really fun and nutty small ball lineups with Thomas, Bradley, Fultz/Ball, Jae Crowder, and Al Horford that make this experiment work while keeping everyone happy.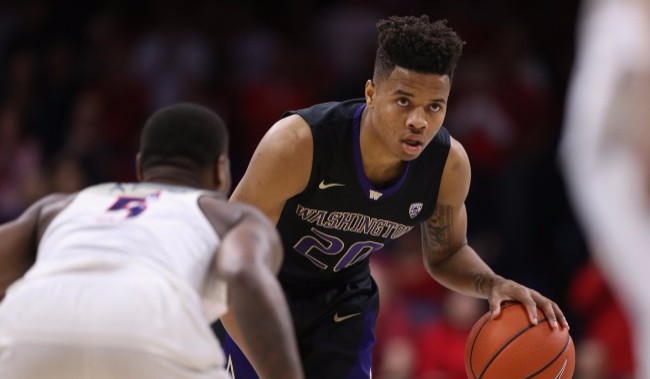 Sure, playing Thomas and Fultz/Ball at the same time would have the potential to be catastrophic on defense, but that lineup would get buckets.
Boston currently has a good problem. Figuring out the best way to add a player with All-Star potential to your roster that won 53 games is something most teams would love to do. And if the Celtics can't figure out exactly what they should do this year, no worries – they can try again in the 2018 Draft, because they have the Nets' first-round selection next year, too.
I'm beginning to think the Paul Pierce/Kevin Garnett trade may have been a bit one-sided.