Despite the Indiana Pacers' utterly delightful alternate unis commemorating one of the greatest basketball movies of all time, the Boston Celtics are the real Hoosiers of the NBA. Hell, they're arguably more Hoosiers than the actual Hoosiers being that there's no Jimmy Chitwood equivalent among their ranks. First-time All-Star Isaiah Thomas is as close as it gets.
With these Celtics, it's all about strength in numbers and an airtight bond that makes them one of the toughest outs in the league. Just ask the Clippers, Cavs, Thunder, or Bulls (or Warriors, who they took to double overtime in December).
Funny thing is, they were never supposed to be this good, this fast. Before acquiring Isaiah Thomas at the trade deadline last season, Danny Ainge had written off 2014-15 as a rebuilding year. They jettisoned Rondo and handed the reigns to rookie point guard Marcus Smart and took a flyer on Evan Turner, whose value at that point was just about as low as it gets. Even with Thomas in tow, everyone assumed they'd land back in the lottery last summer. That is until the Celtics won 22 out of their final 34 games of the season to secure the seventh seed in the Eastern Conference playoff race.
Ainge mostly has Brad Stevens to thank for that. The third-year coach has coaxed the type of effort and production out of this rag-tag group that you only dream about. After all, that's exactly what made him so coveted during his time with Butler, where he led similar underdog teams to back-to-back National Championship games.
One of the main things that makes Boston so tough is their stifling defense, which ranks fifth in the league as they give up a stingy 100.1 points per 100 possessions. That's even more remarkable when you consider they're the third fastest team in the NBA, behind just the Sacramento Kings and Golden State Warriors in pace.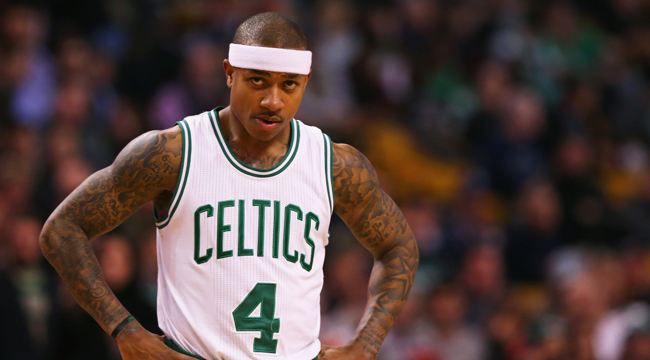 Their perimeter defense is where it all starts. They hold opponents to just 32.9 percent shooting from three-point land, which places them in the top five of that category along with the Bulls, Pacers, Warriors, and Spurs. It shouldn't come as a surprise considering their personnel. Marcus Smart, Avery Bradley, and Jae Crowder are all lock-down defenders. Smart and Crowder both rank in the top ten at their respective positions in defensive real plus-minus, and though Bradley's real plus-minus numbers don't adequately reflect his value, he's still one of the best on-ball defenders in the game and boasts a net rating of +5.1.
One of the byproducts is that they're near the top of the league in forcing turnovers, which turns into easy transition points and is one of the catalysts for their uptempo play.
One of their biggest weapons on both ends also happens to be one of their best values. Crowder has transformed into just the type of 3-and-D player teams salivate for these days, much in the vein of what DeMarre Carroll did with the Hawks last season and what Draymond Green has been doing in Golden State for the past two seasons. He's having a career year across the board and recently posted a career-high of 27 points to go along with nine rebounds in a tough loss to Minnesota on Monday.
He has the size and athleticism to defend multiple positions, but he's also just a general disruptor, getting his hands into passing lanes to get deflections and spur the Celtics frenetic' transition game. And with his speed, he's often the one finishing off those fast breaks.
In terms of offense, it's no mystery why they rank top ten in the league. Stevens has crafted a fluid, motion offense predicated on spacing, ball movement, and outside shooting, all the hallmarks of the current league-wide trends. Part of that is by design, and part of that is by necessity, given their personnel. Regardless, when they're executing accordingly, they're tough to beat.
Arguably the most underrated part of this Celtics team is their depth, which is quite a bit better than you might think. They have a total of seven players who average double-digit scoring and boast one of the top five most productive benches in the league overall. Their bench ranks fifth in scoring, second in rebounding, second in steals, and the third in assists.
All of the trade deadline chatter involving the Celtics has to make you wonder what could've been. Whatever was on the table, Ainge ultimately decided to stand pat. It's been a point of pride for these Celtics that they've been able to accomplish so much without a superstar on the roster, which again, is not a slight at Thomas.
Ainge knows very well that the Celtics, the way they're constructed, won't be competing for a championship this season or the next, which is why there was so much talk about acquiring Kevin Love from the Cavs. Boston would've likely had to give up too many assets and in the end chose wisely not to mortgage their future. Love wasn't going to swing the championship their way, and they'll have much more flexibility this summer with a ballooning cap and a fresh crop of free agents.
But make no mistake, if they want to move beyond feel-good underdogs and second-round playoff fodder, they're going to need a few more major pieces. Keep in mind that this is essentially the same team that got booted out of the first-round last spring by the defending Eastern Conference champion Cleveland Cavaliers.