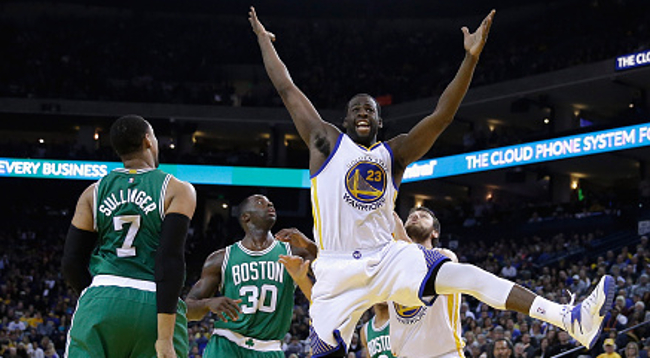 Danny Ainge's stewardship of the Boston Celtics during his tenure as president of basketball operations has been nothing short of remarkable. He was the architect of the Big 3 era that brought a championship back to the city and the multiple years of contention that followed, and it was his savvy foresight that spurred the inevitable transition into the team's current iteration, where they hold the third spot in the Eastern Conference standings despite not boasting a traditional superstar.
But not even the best basketball minds are perfect all the time. For example, Ainge and the rest of the organization have to be kicking themselves as they watch the phenomenal development of Draymond Green, who they apparently had among their top three prospects going into the 2012 NBA Draft. Via Matt Dollinger of SI.com:
It's already clear Draymond Green is one of the biggest steals in NBA draft history, going No. 35 to the Warriors in 2012. Every NBA team passed on the Michigan State product, but at least one team did have him high on their draft board. Brian Scalabrine said Celtics assistant GM Mike Zarren showed him the team's 2012 draft board, which had Green in the top three. The other two? Anthony Davis and Jared Sullinger, who the C's selected with the 21st pick.
To be fair, Sullinger has turned into a quality player for the Cs. The truly unforgivable part is the player they selected immediately after Sullinger with the 22nd pick, Fab Melo, who played a grand total of six games in the NBA before fading into obscurity.
(SI.com)