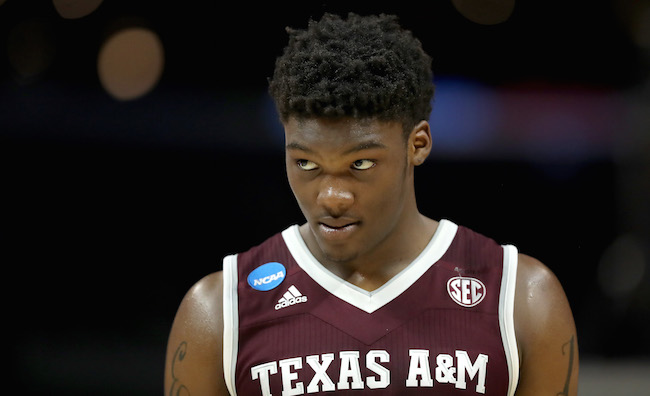 The Boston Celtics got themselves one of the steals of the NBA Draft when Robert Williams from Texas A&M fell all the way to them at No. 27 overall. Williams was considered a lottery-level talent, but inconsistency and some questions about maturity and work ethic knocked him down on many teams' boards.
We're yet to see if Williams' pure talent will win out in the battle with sometimes a lack of effort — which is a fight many young players in the NBA go through — but to this point we've seen exactly why Williams experienced his draft day slide. The morning after the draft, Williams couldn't be contacted for his introductory conference call on time, eventually calling in to speak with the media after a lengthy delay.
That can be understood, as the night you're drafted is deserving of a hearty celebration. However, a pattern has somewhat emerged as Williams missed his first practice ahead of being part of the Celtics' Summer League roster because he missed his flight.

There are a lot of people that are overreacting to this, as missing a flight happens. Missing a conference call also happens, but it certainly isn't the best look for those things to happen in your first two weeks on the job and definitely illustrates the questions teams had.
That said, as someone that spent college sleeping until noon and often missing classes that were too early in the morning I can sympathize with Williams. It's a transition to the real world that can take some time to learn the time and life management skills needed to show up to things on time when you're on your own. The best part of all of this, besides him becoming an instant legend for Celtics Twitter, is that if he tears up Summer League as he very well could, no one will care at all about a missed flight in early July.