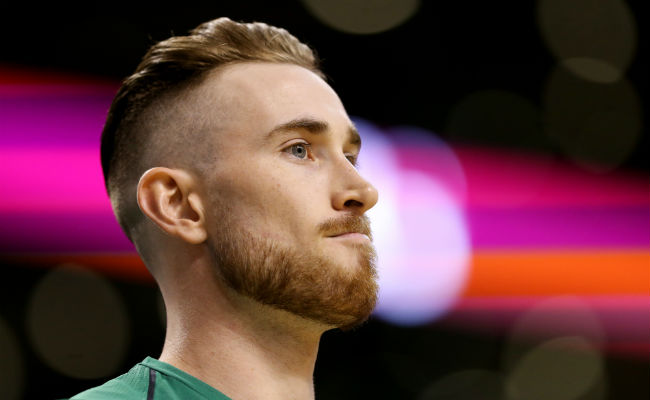 Though the Boston Celtics have produced a 9-7 record in the early going of the 2018-19 season, the team has underperformed when compared to expectations. There are certainly lofty goals ahead, though, as the Celtics still have eyes on a run to the NBA Finals and, after another loss (and offensive impotence) against the Utah Jazz, Brad Stevens elected to execute a change in his starting lineup.
The Celtics have been deploying their top five players together to open the season but, beginning with a road game in Charlotte on Monday, Aron Baynes will replace Gordon Hayward as part of the starting group.

Hayward recently indicated that he was open to coming off the bench if it would help the Celtics and he is the "new piece" involved in the equation. Stevens is reverting to a lineup deployed for much of last season and, while Jaylen Brown has struggled throughout the season, it makes sense to displace Hayward on a number of levels.
On one hand, Hayward is the best passer on the roster in Boston and his removal could, in theory, further stymie the offense on the starting unit, particularly with the use of two traditional big men. With that said, he is comfortable as the offensive centerpiece given his previous time in Utah and, on the second unit, Hayward will perhaps have increased license.
Beyond that, Brown's defensive force is needed on the floor with the starters and, at some point, positive regression is likely on the way with his struggling shooting profile. It should be noted that fellow second-year forward Jayson Tatum has also struggled at times this season but, with the new lineup looking like the "old" lineup, Stevens is seemingly betting on a positive jump in the time machine back to shinier days.
Through 13 games and more than 130 minutes, Boston's previous starting five was outscored by 3.9 points per 100 possessions, with a ghastly offensive rating of 91.1 when operating together. That was apparently enough to pull the trigger on a change and it will be interesting to see how the squad reacts to this differing approach.