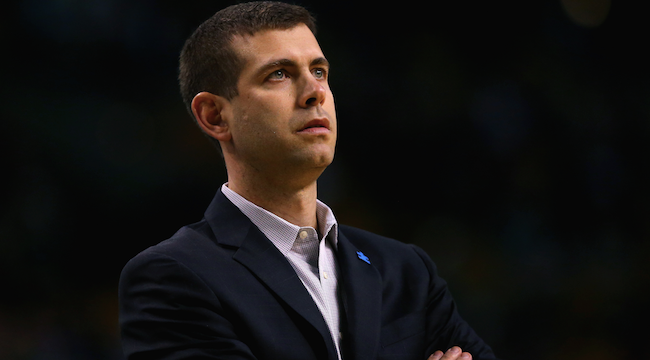 Word came out on Friday evening that the Philadelphia 76ers and Boston Celtics were looking to make a deal centered around the No. 1 pick in the 2017 NBA Draft. Fast forward 24 hours and the deal was announced — Philly would get the No. 1 pick and select Markelle Fultz, Boston would get some collection of picks.
At first, it sounded like the Celtics would get a trio of picks in return: Philadelphia's 2017 pick (No. 3 overall), Los Angeles' 2018 first-round pick, and Sacramento's 2019 first-round pick. Philly was going to reportedly put protections on the latter two — both of which were acquired in trades — but the move seemed pretty even.
And then, more details about the deal came out and Boston's haul didn't seem as great, as it went from two picks after this year to one. Then, Adrian Wojnarowski of The Vertical swooped in and explained the deal a little more, and suddenly, the Celtics looked like they might have gotten fleeced.
https://twitter.com/WojVerticalNBA/status/876279848355942400
As for what those protections are, Derek Bodner provided some more context that's sure to make Sixers fans happy.
So basically, Philadelphia has some insurance in the event this turns into the No. 1 pick, letting them pursue someone like Real Madrid guard/forward Luka Doncic. Plus, next year's draft is projected to be heavy on big men at the top, so the Sixers wouldn't have to worry about how someone like Mo Bamba or DeAndre Ayton would fit in their already crowded frontcourt.
On the other side of the coin, Boston could conceivably have two top-5 picks between this and the Brooklyn Nets' pick that they got in the Kevin Garnett/Paul Pierce trade. But considering that these picks are very likely to be used in some type of trade, this may end up not being Boston's problem.
This still feels like a trade that the Sixers "won," if you can pick winners and losers in a trade like this. While Boston likely isn't done wheeling and dealing, they still gave up the best guard prospect in several years for arguably not too much. As you can imagine, Celtics fans aren't exactly thrilled.
It's important to remember that Boston could make this all work out, especially if they can turn these picks and young assets into a superstar or two. But compared to when this deal was first announced, this does not looks especially great for the Celtics.