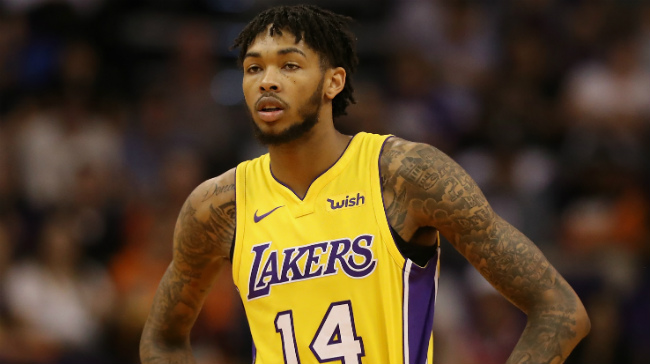 The Lakers snapped a 5-game losing streak in a big way on Thursday night, with Brandon Ingram drilling a 3-pointer from the wing with 0.8 seconds left to break a 104-all tie and steal a win in Philadelphia.
The big shot came off a slick assist from Lonzo Ball in the final seconds to completely deflate a raucous crowd in the City of Brotherly Love and give the Lakers a 107-104 victory.
LaVar Ball will be thrilled to know that Lakers head coach Luke Walton took his advice, though perhaps unintentionally, late in the fourth quarter by not calling a timeout in the final moments and letting his young team win the game.

With the clock ticking down, Ball delivered the perfect pass to Ingram, and the Lakers' dynamic young scorer didn't miss. Here's a cool look at the casual game-winner from Ingram.
Los Angeles held a rather comfortable lead throughout much of the game, but the Sixers fought back at home on the strength of another triple-double from Ben Simmons. Joel Embiid missed a shot inside with under 20 seconds to play, and the Lakers managed to race down the floor for the winning trey.
Richaun Holmes would have the last desperation shot for the Sixers on the inbound, but it sailed over the backboard to end the Lakers' losing streak.