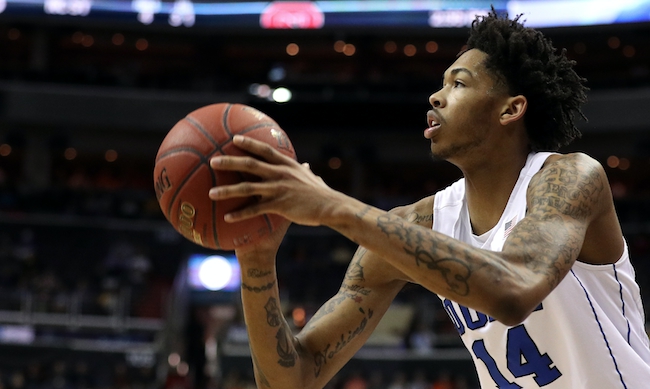 Each week throughout March Madness, DIME is profiling draft prospects from each region of the NCAA Tournament who we deem most intriguing. There's no real rubric for this exercise. We'll be be highlighting surefire top-five picks, run-of-the-mill first-rounders, and even guys who may not hear their name called at Barclays Center on June 23. There's just one rule: Only players still participating in the Tournament will be considered.
March, needless to say, can make a prospect's draft stock. The pressure of do-or-die basketball on the country's biggest stage can ruin it, too. But NBA franchises will be carefully monitoring developments of the next three weeks regardless, altering draft boards in accordance with what scouts, general managers, and even the viewing public sees — possibly drastically altering their futures in the process.
The NCAA Tournament is about winning first and foremost. And not only will the following prospect wield a heavy hand when it comes to his current team's fortunes, but perhaps those of his first professional one, too.
The Player: Brandon Ingram, 6-foot-9 freshman forward for Duke University.
The Present: Ingram averages 16.8 points, 6.8 rebounds, 1.9 assists, 1.1 steals, and 1.4 blocks per game. He shoots 44.1 percent from the field, 41.3 percent from beyond the arc (on 5.4 attempts per game), and 68.8 percent from the free-throw line. He was named ACC Freshman of the Year and Second Team All-Conference.
The Future: Standing nearly 6-foot-10 with a 7-foot-3 wingspan, Ingram has freakish length for a wing player – the attribute most accounting for frequent comparisons to Kevin Durant and Giannis Antetkounmpo. He has the super slim build to match, too, weighing below 200 pounds and possessing a narrow base that suggests little room for growth. One major caveat: Ingram was born on Sept. 2, 1997, making him exceptionally green for the 2016 draft class and over a full year younger than his main competition for the No. 1 pick, LSU forward Ben Simmons.
Physical advancements are paramount to projecting Ingram's potential at the next level. He's already an elite spot-up shooter, and flashes off-dribble comfort rare in players of his size and experience. Similarly rangy wings like Durant, Antetokounmpo, Paul George, and Kawhi Leonard only develop their advanced handle after multiple years in the NBA; others blessed with that natural profile never did. Ingram, obviously, isn't a finished product in that regard, but already shows a canny understanding of pace and passing as a playmaker before turning 19. His middling efficiency in pick-and-rolls and isolations balloons when including passes, according to Synergy, crucial corollaries that stand to transition to the next level.
Ingram isn't quite as disruptive defensively as base statistics indicate. He's one of just 19 players in the country averaging at least 1.1 steals and 1.4 blocks per game this season, but also leads that list in minutes played. Not every elite wing prospect can defend like Leonard, and Ingram doesn't – that's fine. What he does do defensively is compete on every possession, a mentality that's supposedly one of the biggest differences between he and Simmons. In time, it's easy to envision Ingram guarding multiple positions on a given possession without negative consequence. He could be that type of rare athlete a few years down down the line.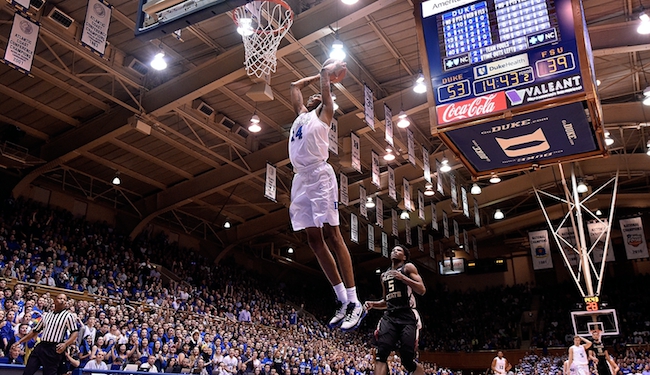 This is a player who boasts the pair of realities that should accompany every possible first overall pick: clear current effectiveness and even clearer room for growth. And for Ingram, that evolution will mostly come in the form of general maturity gleaned from aging and training.
Will he eventually be able to play small-ball power forward for extended stretches? Will his relatively middling first-step burst improve as he grows into his arms and legs? Will he be able to capably defend cat-quick guards as well as burly big men?
The answers to those questions will decide Ingram's fate more than any others. The league's premium on versatility is at an all-time high, and he has the chance to develop into one of basketball's most position-less players on both ends of the floor if his body cooperates. Ingram's biggest problem is arguably that there's no sure way to tell if that will prove the case.
The NBA Fit: Ingram has the skill set to successfully fit within any team's two-way concepts. At the top of the lottery, however, he seems an especially good match for the Philadelphia 76ers, a squad high on young frontcourt talent but low on shooting. Can you imagine Ingram spacing the floor around Joel Embiid post-ups and helping wreak havoc on the other end with Nerlens Noel?
Sam Hinkie surely can, but general managers of other teams that could pick first or second come June undoubtedly have similar plans for Ingram in mind. He'd fill a major hole at small forward for the Los Angeles Lakers and Phoenix Suns; would add some star power to the Boston Celtics' talented, limited roster; he'd provide the Minnesota Timberwolves' promising young core with a much-needed dose of outside shooting.
Ingram could play anywhere.
The Bottom Line: Players with this blend of size, skill, and athleticism are exceedingly rare. Even if the basketball world hadn't soured on Simmons as the season progressed, it's still possible Ingram would have ascended to challenge him as the top prospect in the 2016 draft. Scouts love guys who improve throughout the course of the year, and the 18-year-old Dukie made major strides from November to March – and still isn't quite done leaving his mark.
Ingram could be a superstar. Think about it like this: Our chief concern with respect to his future rests with his mouth-watering physical profile fully evolving, yet Ingram is already blowing by defenders for two-handed dunks and skying above the square to block layups from the weak side.
http://i.giphy.com/A883uzTgxJsDS.gif
http://i.giphy.com/bOdvkom2l9juE.gif
Duke isn't a powerhouse, but has a chance to make a deep run in the NCAA Tournament. And if they do, Ingram could cement himself as the frontrunner for No. 1 pick come June – and as a name even casual basketball fans will know for many, many years to come.