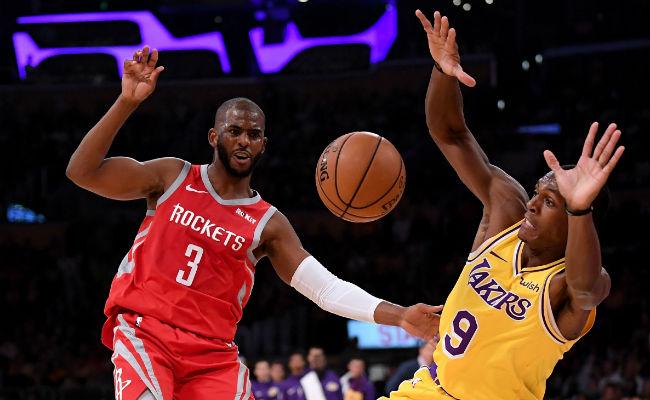 The NBA spent most of Sunday pouring over video and speaking with the players and others involved in Saturday night's fight between the Rockets and Lakers in Los Angeles to determine what punishments should come to the three primary combatants.
On Sunday evening, the league came to a decision on the length of suspension for Brandon Ingram, Rajon Rondo, and Chris Paul, with the two Lakers players being deemed instigators and, thus, earning longer suspensions than Paul. Ingram, who started the whole fracas by pushing James Harden and getting in the face of the referee before later coming in to throw a punch at Paul, gets the longest suspension at four games.
Rondo, who was shown on a courtside video to have spit on Paul to spark their fisticuffs, will serve a three-game suspension while Paul, who pushed Rondo in the face and then punched him after Rondo threw the first punch, will sit out two games for the Rockets.

The NBA also sent out a release explaining the suspensions.
As noted in the explanation, Ingram's suspension factors in him starting it, "confronting an official in a hostile manner," and returning to the fight to throw a punch. Rondo was deemed the instigator in spitting on Paul, while Paul poked Rondo and threw punches as well.
The league wanted to hand out suspensions quickly, with the Rockets facing the Clippers on Sunday night. We'll see what happens as it pertains to any appeals, if there are any, but if they are served immediately, it would mean Paul misses Sunday's game against the Clippers and Wednesday night against Utah before returning for a home game against the Clippers on Friday.
Ingram and Rondo would miss the Lakers games against the Spurs, Suns, and Nuggets, with Ingram also out for a second game with San Antonio.