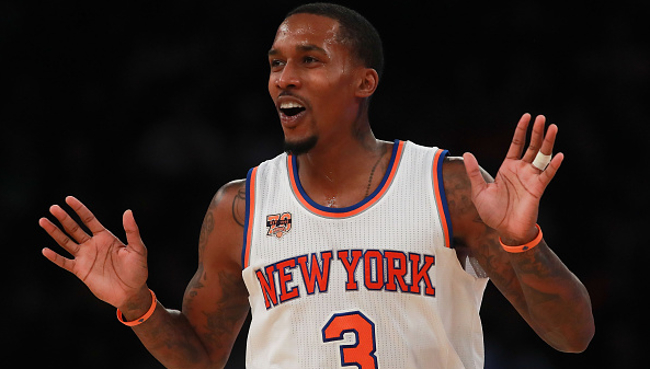 Brandon Jennings has never been shy about speaking his mind. It's partly what makes him such a great follow on Twitter. So it's no surprise that his unfiltered approach to social media periodically results in controversy. On Sunday, when asked about Lakers sophomore point guard D'Angelo Russell, Jennings didn't hold back.
You'll recall that Russell set off a public relations nightmare for himself last season after a cell phone video he took that appeared to show teammate Nick Young discussing his extramarital dalliances somehow surfaced online. In the immediate aftermath, it sparked a whole debate about snitching and bro code versus misogyny and betrayal.
Jennings' tweet removes any doubt about which camp he belongs to, and there might be another, more personal reason behind that stance. His ex-girlfriend Teyana Taylor – who gained notoriety for her appearance in the Kanye West video "Fade" and who may or may not be married to Iman Shumpert, with whom she has a child – went on The Wendy Williams Show earlier this fall and appeared to confirm rumors that Jennings was messing around on her with her best friend. Skip to the 3:25 mark of the video below:
Jennings, however, has denied those rumors.
It'll be interesting to see how Russell responds when Jennings and the Knicks face the Lakers in Los Angeles on December 11 for the first time this season.