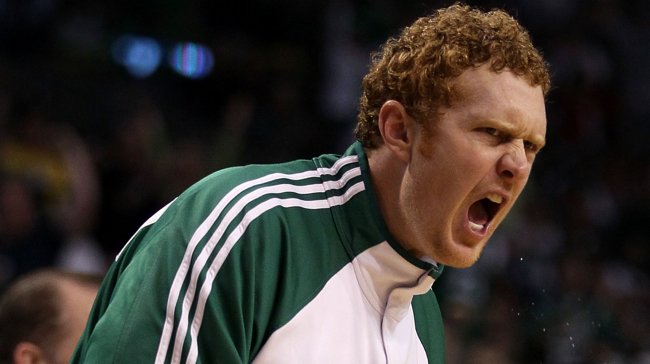 There aren't many basketball players who became such a large part of their sport's zeitgeist while simultaneously spending so much time on the bench. But Brian Scalabrine came off the bench so much when he was in Boston, he became known as the human victory cigar, a nod to former franchise patriarch, Red Auerbach, and the White Mamba's mop-up duty for those amazing Celtics teams toward the end of the millennium's first decade.
But the 6-foot-9 240-pound forward is a legit NBA player, and he's been a part of some all-time great teams. He spent time around an ascendant Derrick Rose in Chicago and was actually a rookie for the New Jersey Nets who made the Finals off the fast-breaking genius of Jason Kidd. He even started seven games that next season when they pushed the Spurs to six games in their second consecutive trip to the Finals.
But the one team he's perhaps best known for would be the aforementioned Boston Celtics, where his ginger dome fit perfectly with the Shamrock-happy denizens of New England.
Scals — "as my friends call me" — has taken us on trips down memory lane with the Celtics before, but in the first-ever Players' Tribune mailbag by an NBA player, the man known as the White Mamba tells us who talked the absolutely best trash during his 13-year career. The answer, shouldn't surprise you.
Well, the cat's out of the bag with that photo above, isn't it? Yes, Paul Pierce is the player Brian Scalabrine called "the greatest trash talker I've ever encountered in this league" in his recent Players' Tribune piece. But that wasn't all he said about his former teammate, and current Clipper. He also named Draymond Green the current trash talking king, while they still pale in comparison to Pierce's razor-sharp on-court observations that cut so deep.
Draymond Green holds the crown now, but Paul Pierce was in a class of his own for many, many years.

Paul's trash talk was devastating because he's so witty and smart. I mean, the guy is off the charts smart. It's one thing to say something outrageous or offensive to throw someone off, but I would hear Paul just cut through guys with his words. And the fact that he was so respected made his insults hurt even more. Nobody wants to get told they're human garbage by The Truth.
You can see why Paul's had so much success with poker. He understands how to employ psychological warfare to his advantage. To him, that's all part of the game. He didn't back down from any player, and there was never a time when he appeared rattled. Guys could try to talk smack back at him but it wouldn't get through. He was too ice cold on the court.
And when asked who he'd pick "as the best player he's ever played with in terms of raw physical talent," that's another Boston teammate.
Kevin Garnett, easily.

To play in the league for as long as he has and never really succumb to any major injuries is nothing short of remarkable. Sometimes it's hard for me to believe that we're the same species.

He's a combination of everything you could ask for in a basketball player.
Scals has spoken.
Now Watch: Who Is The Better Player: Lebron James Or Kobe Bryant?