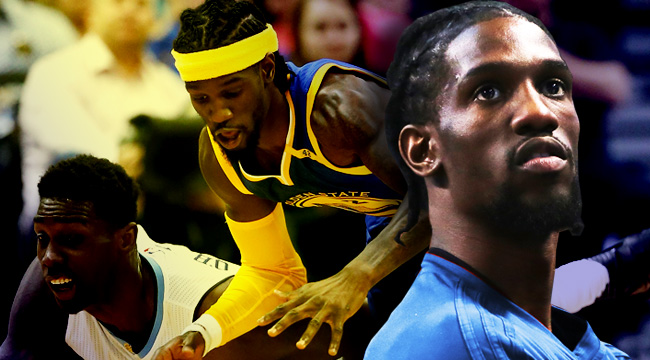 Briante Weber doesn't have a signature shoe or signature move like many of his new Warriors teammates. You won't find him on any billboards or in any national ad campaigns. And he's not even on the best sellers for jerseys on his own team. But the former VCU star is making a name for himself with a versatile, all-around game.
Weber's hard-nosed defense is both exhilarating and exhausting, as he swarms offensive players, picks off passes and battles in the paint. But the numbers don't do his play justice as he's playing limited minutes with the NBA's best team. At 6'2, he may seem small by certain standards. He's still not a player you want to go up against in any capacity.
After an impressive D-League stint early in the season, he recently signed his second 10-day contract with the prohibitive title favorites. However, coming out of college he had no expectations of getting drafted into the league he'd dreamed of playing in.
"I wasn't expecting anything," Weber told DIME. "I was injured, so I knew I wasn't going to get drafted."
In a game against Richmond on Jan. 31st, 2015, Weber tore his ACL and MCL, ending his senior season and likely ending his NBA dream before it had even started. Prior to that moment, Weber's final college season was touted to be his best. The three-time Atlantic 10 Defensive Player of the Year was only 12 steals away from breaking the NCAA's all-time steals record. Had he played his entire season, he'd almost certainly have that accolade added to his name as well. Instead, he ended his season early and fell out of most NBA teams' draft boards.
Weber eventually went undrafted and signed with the Miami Heat. He worked to get back into game shape at their training facility, only to get sent down to the D-League's Sioux Falls Skyforce. Missing the first month of the 2015-2016 season, he eventually put together a "do-it-all" type-of mentality for Sioux Falls. Slowly regaining his confidence and growing as a player, Weber started to garnish interest from NBA teams.
"I made the best of the situation I was given," Weber says.
He later signed a 10-day contract with the Grizzlies and showed glimpses of his NBA talent. But the Grizzlies ultimately didn't see enough in him and parted ways after the contract expired. He went back to Miami and stuck with them through Summer League of the following season, only to get reacquired by the Skyforce.
Move after move, city after city, flight after flight, Weber still wasn't ready to give up.
"Nothing was ever given to me and I was never one of those highly touted or highly recruited kids," Weber says. "Nobody ever gave me a chance. Everybody was saying 'I wasn't going to make it.' That was the motivation for me, and I let that be the chip on my shoulder. Day-in and day-out, I just always wanted to work. I always told my family and everyone around me that I was going to make it. At the end of the day, that was what kept me going. I didn't want to let my family, friends, and myself down."
Weber was reinvigorated and came into the 2016-2017 D-League season as a player to watch. Fully recovered from his injury, Weber was more comfortable on the floor and established himself as a go-to player night-in and night-out. In January, Weber was named the D-League Player of the Month averaging 21.5 points, 8.3 assists, 6.6 rebounds, and 3.6 steals to go along with five double-doubles and two triple-doubles (one of those triple-double was a steal shy of the D-League's first ever quadruple-double).
The acceleration of his play coupled with his unique all-around game was something that stood out to teams looking to take a flier on a player at the end of their bench. His creativity, vision, defensive effort, and awareness are all tools that coaches covet.
"It was actually a tough decision," Weber says about the interest of other teams. "I had received three calls from teams prior to signing with the Warriors. So I had to discuss the opportunity with my mother and teammates to determine what situation would be best. Once I made the decision to sign with the Warriors, I was extremely happy."
Who wouldn't be? Weber is playing on one of the best NBA teams we've ever seen and they're seemingly carving out a role for the young VCU product. His enthusiasm – whether it's on the bench or on the court – has gotten praise from many of his teammates.
"It's fun," Weber says of playing with this team. "It's a dream come true to play with these guys. They're extremely talented players which have only made me better."
While he's only on his second 10-day contract, it seems very likely that he'll re-sign with the Warriors for the rest of the season. Weber, a tireless, selfless, and physical player, is a strong fit for this Warriors style and a perfect understudy for two-time MVP Stephen Curry. He gives Golden State an added dimension defensively and puts the team before himself.
"I'm not going to just put myself in one specific category of player," Weber says. "I learned to play basketball where I could rebound, make plays, score, pass, and defend. I have always wanted to be an all-around player because I didn't want to limit myself to one particular thing. I saw players limit themselves to one specific skill, and you see them struggle when that one skill doesn't go well. So I always wanted to make sure I never hurt my team by limiting myself to a designated strength. My goal has always been to help my team no matter what. If you need me to score 20, I'll score 20. If you need me to stop the opposing guard from scoring 20, then that's what I'm going to do. I was always taught that if you're a point guard then your job is to help your team win. You can't just be good at one thing."
Weber has an old-school type of mentality. And what's really separated him from other players is his focus on defense.
"Here's the thing: everyone can score," Weber says. "What I always took pride in is stopping the scorer. Not many people could do that. When I was 11 and 12, I'd play against 17 and 18 year olds just to see if I could stop them from scoring. I knew I could score on them, so it wasn't a matter of that. It was always a test to see if I could stop someone. So that's where my love for defense came. But in college with Coach Smart and Rhoades is where I got my discipline on the defensive side of the ball. So I've got both the discipline and work-ethic, that's what really separates me. For example, I can gamble on steals but I don't take myself out of the play when I do."
Going back to his injury in college, Weber used a statement which kept him going when times were tough. He came up with a slogan of sorts, which is listed on his twitter page. It reads "New Beginning."
"It's for when I tore my ACL," Weber explains. "I woke up one morning and I thought of the injury being a new beginning. So I came up with something that would help push me every day and that was it. Every morning and every day I woke up, I would have the mentality that there's a new opportunity to start a new beginning. From there, I continued to use it and it grew and stuck with me. Now, it's my motivation. Give it 24 hours and you start your new beginning daily."
In many ways, Weber is a throwback to the point-guards of the 1980s and 1990s. He's possesses a mix of grit and toughness that isn't artificially developed. Weber watched plenty of NBA games growing up, but always wanted to form his own identity as a player.
"I never really looked up to any specific players," Weber says. "I always wanted to be myself. I wanted kids to look up and say 'I want to be like Briante Weber.'"
Weber has both proven his doubters wrong and continues to push for his dream. It starts with working to become the best player he can be, one step at a time. As far as we're concerned, his new beginning has only just begun.