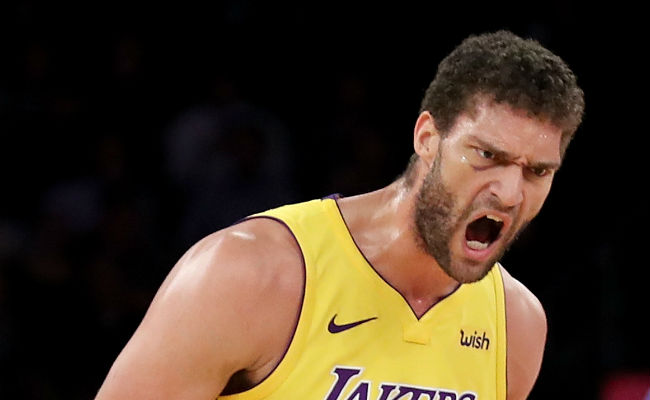 The Los Angeles Lakers visiting LeBron James and the Cleveland Cavaliers was all about Lonzo Ball's first visit to Lake Erie. Would he visit the Rock and Roll Hall of Fame? Did he bring a proper jacket?
No, actually, it was all about Lonzo and LeBron squaring off for the first time. Though James did not dunk on Ball, letting down at least one Cleveland-area child, the two played fairly well and shared a nice moment on the court after the game.
One Laker who did not have a great game was Brook Lopez who, though having eight points in 22 minutes, played the fool of the evening by whiffing on two consecutive free throws in the second quarter of a close game.
Reggie Miller kind of freaked out on the TNT broadcast, claiming that perhaps Lopez had LeBron James in his head when he was shooting those free throws.
"Oh my goodness," Miller exclaimed, completely exasperated. "Wait a minute. What is going on here, people?"
And indeed, it did come a few minutes after Lopez gave the ole on a James dunk down the lane, the 7-footer opting to bear witness to the dunk from the ground rather than contest the basket against one of the game's greatest ever players.
Perhaps that was the prudent thing to do in this situation, but it would also help if Lopez could have made it count when given his own uncontested chance to score points. On Thursday night, he had the worst kind of nothing but net on those shots.