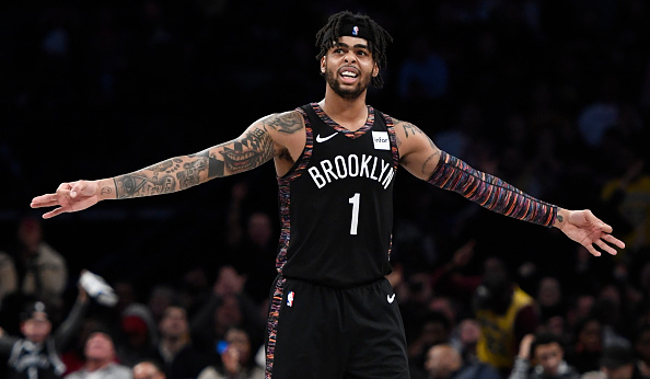 The Brooklyn Nets have been one of the more pleasant surprises of the season. With their 32-31 record, they're currently at No. 6 in the East and are poised to secure solid playoff positioning here in the season's stretch run. As a result, point guard D'Angelo Russell earned his first All-Star selection, vindicating himself after being cast away from the Lakers two seasons ago.
On Friday night, they hosted the visiting Hornets, and as has become common around the league, they celebrated a theme night involving their City Edition jerseys by honoring Brooklyn native and hip-hop legend Biggie Smalls.
Fans got treated to a Notorious B.I.G. bobble-head, while the team sported their Biggie-inspired camo-print uniforms.
But the night certainly wasn't without its controversy. Coogi, the designer clothing brand from Brooklyn, was a favorite of the iconic rapper, and the company recently filed a lawsuit against Nike, the NBA, and the Nets claiming that the "Brooklyn Camo" pattern was stolen directly from them and infringes on the copyrights they have on those designs.
The Nets, however, decided to push ahead with their Biggie-themed night on Friday, on the heels of NBA spokesperson Mike Bass telling the New York Times "there is no merit whatsoever to [Coogi's] claims."
The Nets are scheduled to wear their Brooklyn Camo jerseys in three more games after Friday before the end of the season, including on March 9, which happens to be the 21st anniversary of Biggie's passing.