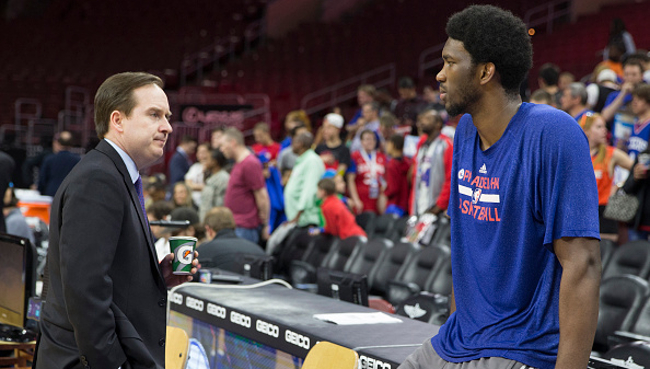 Sam Hinkie was the brain behind The Process. Whether you believed it was a good idea or not, and most people in Philadelphia would argue it was, it is an indisputable fact that the Philadelphia 76ers' quest to crawl through basketball's version of five hundred yards of sh*t-smelling foulness with the hopes of building a contender was spawned by Hinkie.
Of course, the way Hinkie's tenure in Philadelphia came to an end was bizarre — the team hired Jerry Colangelo to become the chairman of basketball operations in December of 2015, Hinkie resigned a few months later, and Colangelo eventually replaced him with his son, Bryan. While the younger Colangelo has done a good job building on top of what Hinkie did, the team's core — namely Joel Embiid, Ben Simmons, and Dario Saric — was all acquired through the draft by Hinkie. (Even the assets used to get Markelle Fultz were in the team's war chest due to its former general manager.)
Despite this, when TNT decided it was high time to dole out some kudos for The Process during the Sixers' Game 5 win over the Miami Heat, it was Colangelo who got the credit. Even more surprising, Hinkie's name didn't even come up in passing.

"Window of time known as The Process," TNT's Brian Anderson said. "Philadelphia 76ers dropping down to 10 wins just two years ago, 28 wins last year. Gotta give a lot of credit to Bryan Colangelo. Twice he's won executive of the year and he has orchestrated this process."
Giving Colangelo credit for staying the course is one thing, but to give him credit for The Process as a whole is the kind of thing that makes hoops fans a bit perplexed.
Hinkie is still something of a controversial figure given the way The Process went down, but to not give him any recognition was a rather strange decision.