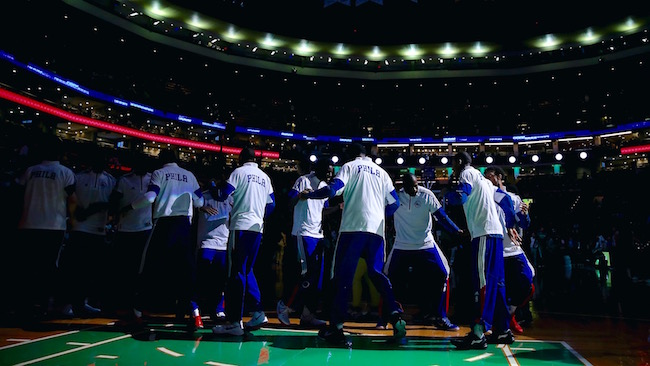 That didn't take long.
Less than an hour after word broke that Sam Hinkie had stepped down as general manager, early reports were confirmed by The Vertical's Adrian Wojnarowski that the Philadelphia 76ers will hire Bryan Colangelo to replace him.
After refusing to accept another marginalization of his power, Philadelphia 76ers president of basketball operations and general manager Sam Hinkie resigned Wednesday, clearing the way for two-time NBA executive of the year Bryan Colangelo to take over as general manager, league sources told The Vertical.
Wojnarowski, ESPN's Zach Lowe, and other outlets reported hearing rumblings of Colangelo's potential appointment with the Sixers before Hinkie's shocking resignation. Also of special note in The Vertical's report is that the Sixers' new general manager initially sought other job openings before agreeing with Philadelphia.
Colangelo is the son of Sixers chairman of basketball operations Jerry Colangelo. The 50 year old was one of the Phoenix Suns' chief decision makers for a over a decade before assuming dual roles as president and general manager of the Toronto Raptors in 2006. Though his tenure in Canada may be most remembered for the selection of disappointing No. 1 pick of Andrea Bargnani and departure of Chris Bosh in free agency, Colangelo's finger prints are all over the current Raptors roster.
Before being stripped of roster-building responsibilities following the 2012-13 season and eventually resigning from the organization altogether, the two-time Executive of the Year added DeMar DeRozan, Kyle Lowry, Jonas Valanciunas, and Terrence Ross to the fold in Toronto. His trade for Rudy Gay allowed current general manager Masai Ujiri to subsequently swap the high-scoring forward to the Toronto Raptors in a deal including Patrick Patterson, too.
The Sixers, it seems, are no longer trusting in The Process. With the Colangelos steering the ship, let's see if a more traditional approach to rebuilding yields more immediate results of success in the City of Brotherly Love.