MILWAUKEE — The Bucks have a formula that works. The team's two biggest stars, Giannis Antetokounmpo and Khris Middleton, compliment one another perfectly — both are lengthy, active defenders, and offensively, Antetokounmpo's tendencies as a battering ram are way easier with Middleton serving as a marksman from deep and vice versa. It's the kind of symbiotic relationship that every team would love their stars to have, and more often than not this season, the Bucks have been able to ride this formula to wins.
Game 1 of their Eastern Conference Semifinals didn't quite work out that way. The Boston Celtics made it a point to punch Antetokounmpo in the mouth, and while he had 22 points, it came on a 7-for-21 performance from the field. In turn, Middleton couldn't really get loose, scoring 16 points on 5-for-12 shooting. In related news, Boston won by 22 points.
But the Bucks know to apply the immortal words of Beach Boys vocalist Mike Love: Don't f*ck with the formula. Overreacting to one game is much easier than trusting what led to your squad winning a league-high 60 games during the regular season. The good news for Milwaukee is that the squad took the latter approach to Game 2.
"It's just one game," Middleton said after the game, a 123-102 drubbing of the Celtics at Fiserv Forum. "That's the thing we told ourselves after Game 1. They punched us in the mouth, they won by 20+ or whatever, but at the end of the day, we only lost one game."
As you can imagine, taking the one game at a time approach worked best for the Bucks' stars. After a pair of snoozers to start the series, Antetokounmpo and Middleton were masterful. The former went for a game-high 29 points on 7-for-16 shooting, pitching in 10 boards and four dimes. This was despite facing a Celtic defense that was hell-bent on making sure he couldn't penetrate, forming a phalanx straight out of ancient Sparta. Behold, this mediocre picture I took with my cell phone sometime in the first half.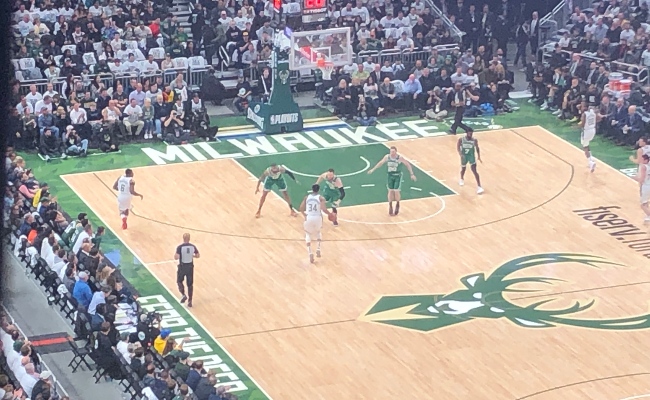 This was commonplace for the Celtics throughout the first two games of the series. In the halfcourt, Antetokounmpo would get checked by someone 1-on-1. That person would get some amount of help in the event Antetokounmpo lowered his shoulder and barreled his way into the paint. In transition, Boston more or less formed a wall and hoped to god he didn't kick it out to someone on the perimeter. The strategy worked in Game 1, but even Celtics coach Brad Stevens knew it was a pipe dream that it'd keep happening.
"Went downhill, it's what he does," Stevens said. "He hits a couple threes again — what is he, 5-for-8 or 9 on the series shooting threes, but at the end of the day, what he does is he goes downhill, gets to the foul line, made a couple of those that he missed the other day. I said it this morning, if we can guard him the exact same way for even straight games, he's not gonna go 7-for-21 very often, he's an MVP, right? So ultimately, guys like that are gonna score some, but we gotta do a better job on everybody else."
When Antetokounmpo is aggressive and punishing a defense, life becomes way, way easier on Middleton, a silky shooter who is capable of punishing opponents who give him an inch of space. His 28 points on 10-for-18 shooting, including a 7-for-10 mark from three, kept Milwaukee afloat as Antetokounmpo was figuring out how to unlock Boston's defense.
Middleton, as he's wont to do, found space to operate in the corners, sliding down and getting open looks from deep when Boston lost him. Of his seven made threes, four were knocked down on corner jumpers, with three of them coming in transition. While Antetokounmpo didn't assist any of them, he did get hockey assists on the first two by pushing the ball and finding a teammate, which caused the defense to scramble. This led to wide open looks from the corner for Middleton, and with him, those are like shooting layups.
"He's at his best when he's playing aggressive, getting downhill, getting to the paint, putting pressure on the defense," Middleton said. "And in order for us to loosen up for that, we have to be willing to take and make shots, threes, play aggressive. "
https://twitter.com/NBAonTNT/status/1123414094994821121
There are better two-man duos in the NBA, but in terms of pairings where Player A and Player B are perfect fits next to one another, it's hard to find a better pairing than Antetokounmpo and Middleton. When they're cooking, as they were on Tuesday, Milwaukee will almost certainly remind you why they posted the league's best record. That's especially true when they get a big night out of Eric Bledsoe, who put the clamps on Kyrie Irving on defense and pushed the ball on offense, giving Milwaukee another attack-minded option. In all, Bledsoe went for 21 points and five assists.
After the game, Bucks coach Mike Budenholzer made it a point to praise the way attacking led to space opening up for Middleton to fire away.
"The transition threes, when he started to hit those and we got guys backpedaling and they're trying to show crowds, he gets in a rhythm on his dribble coming up, those are huge shots for us and him," Budenholzer said. "I thought he scored some other ways. I thought our pace and Bled getting to the paint, Giannis getting to the paint, sharing and getting some really good open threes for Khris with just our activity, our aggressiveness."
The good news for the Celtics is that they stole home court advantage away from Milwaukee in Game 1, and now, the series shifts to Boston, where they've been quite good this season. As is the case with the Bucks (and, well, every team), the Celtics are at their best when their stars rise to the occasion. The centerpiece of this, of course, is Irving, who had a terrible game on Tuesday — nine points on 4-for-18 shooting with five rebounds, four assists, and three turnovers.
Milwaukee primarily had George Hill and Bledsoe check the All-Star guard, and while you can never be too certain of the effectiveness of your strategy against Irving working out, it did. He says he already has "a clue" for how he's going to approach Game 3 on Friday night, but made it clear this is exactly the kind of situation that he loves.
"This is what I signed up for, this is what Boston traded for me for," Irving said. "Being able to go back, get back in the trenches, get ready for another battle on Friday, this is what you live for. Basketball is fun when it comes like this when you have to respond, and this is the type of basketball you want to be playing this time of year."
The stakes aren't lost on the Bucks, either. If Antetokounmpo and Middleton show up like they did on Tuesday night and get help from guys like Bledsoe, it's hard to imagine Milwaukee losing three more times in this series. Time will tell if they do, but at the very least, they can take solace knowing their MVP candidate is aware of the magnitude of this stage.
"We know we've got Game 3 on the road now, every game's gonna get tougher, and tougher, and tougher," Antetokounmpo said. "Gotta keep playing good basketball and trust one another, and hopefully, we can win Game 3."