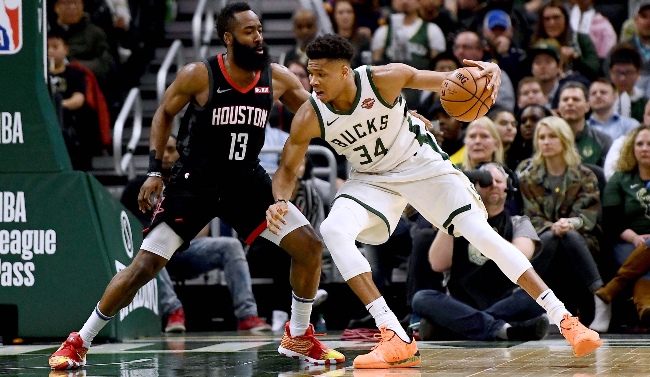 Tuesday night gave basketball fans a fascinating matchup between the Milwaukee Bucks and the Houston Rockets. The game itself was interesting in that we could see these squads face off with an NBA championship on the line later this season, but for now, all eyes were on MVP frontrunners Giannis Antetokounmpo and James Harden going at one another.
Prior to the tip, though, Harden showed up to the arena with Rockets teammate P.J. Tucker. While he's usually known for what he's wearing on his feet, Tucker wore a hoodie that sent a message about where he believe the MVP race stands.

One game doesn't make up an entire MVP race, but on Tuesday, Antetokounmpo out-dueled Harden. Milwaukee won, 108-94, with the Greek Freak going for 19 points on 7-for-15 shooting with 14 rebounds and four assists. The Beard, meanwhile, had 23 points on 9-for-26 shooting with 10 boards and seven dimes.
Getting the last laugh on the scoreboard is one thing, but in 2019, you are legally required to make statements on social media whenever the opportunity presents itself. As such, the Bucks social media team made the following photoshop in the game's waning moments.

That's pretty good! The MVP race will get settled in a few months, but no matter which side of the debate you're on now, if we're going solely off of the best application of a hoodie P.J. Tucker wore on one night at the end of March, Antetokounmpo has the leg up for now.