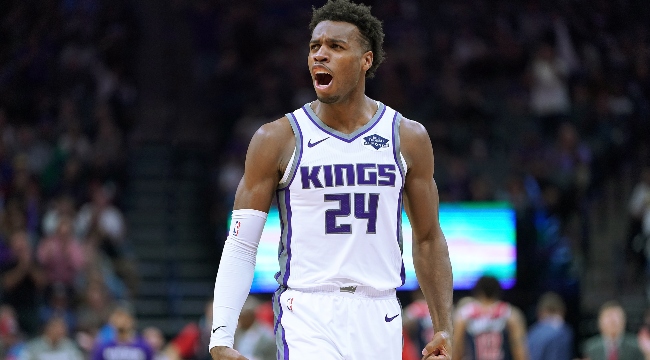 It's been a minute since the Sacramento Kings won four games in a row. To find that, you'd have to go back to Feb. 8-14, 2017. It was one of the high points in a season that ended with Sacramento "boasting" a 32-50 record. Last season, the Kings didn't win four in a row at any point. Hell, they failed to win three-straight games at any point during the 2017-18 campaign.
When it comes to NBA futility, there is no team more people point to than Sacramento. You know all the regular talking points surrounding the franchise by now — they haven't made the playoffs since 2006, their best season since then saw them win 38 games, they're a fixture atop the lottery and seem to never hit on those picks, all that. To be 100 percent clear, it's still entirely possible this all happens during the 2018-19 campaign, because they're the Kings, and finding themselves high in the lottery is a very Kings thing to do … only they don't have their pick this year. The reason why is a trade that involved them acquiring the rights to Artūras Gudaitis and Luka Mitrović from Philadelphia. Sacramento is a weird organization.
Anyway, let's live in the present for a moment, where the Sacramento Kings are 5-3 at this early point in the season. On Tuesday, they picked up their fourth win in a row, a 107-99 victory over the Magic in Orlando that came one day after they walked into Miami and beat the Heat by 10.
Identifying exactly why the Kings have a longer winning streak than anyone other than Milwaukee or Golden State isn't especially simple. Milwaukee has Giannis Antentokoumpo and a system that has worked ever since Mike Budenholzer came to town. Golden State has four of the 25-best basketball players alive.
Sacramento? They've just been doing things good basketball teams do on both ends of the floor, which is a weird thing to say for the Kings. Defensively, David Joerger has his team locking opponents down over the last four games, as Sacramento's opponents during this winning streak have averaged 104 points per game on 41.3 percent shooting from the field and 29.8 percent shooting from three. Memphis, Washington, Miami, and Orlando aren't exactly offenses that light up opponents on a nightly basis, but for a team that was 27th in adjusted defensive rating last year, any wins on that end of the floor are worth celebrating.
This year, Sacramento is 19th in adjusted defensive rating. That's not an earth-shattering ranking or anything, but it's a positive step forward. The Kings have some intriguing options on the defensive end of the floor, whether it's an established guy like Willie Caluey-Stein or young, athletic players like De'Aaron Fox or Marvin Bagley. Plus, as future bag-getter Cauley-Stein said after the game, the team is doing something easy that can make or break a defense: communicating.
"We're starting to come together as a communication on the floor," Cauley-Stein said after the game. "We're starting to communicate with each other, and it's just making everything a lot easier."
It also helps that Sacramento's offense has been legitimately good this year. Not Kings good, but seventh in adjusted offensive rating good. Buddy Hield has been at the center of things, as the third-year guard has turned into a legitimately solid offensive player during his third year in the league. His 18.9 points per game lead the Kings, while his 52.2 percent clip from the field is the best of his young career, as is the fact that he'd knocking down 44.7 percent of his threes.
His best game thus far came against the Magic, as his 25 points and 11 rebounds were both season highs. Hield has a reputation for being a great shooter, namely from behind the arc, but his best work against Orlando came when he was punishing the opposing team from mid-range.
https://twitter.com/NBA/status/1057659781782138880
This isn't a new thing — here is Hield's shot chart for the season, per NBA.com. It features a whole lot of green.
Again, it's early and the sample sizes are super small, but Hield is getting the job done all over the place. We'll have to see if it's sustainable, but with Hield's smooth stroke and ability to catch fire at any time, he has always been a dangerous offensive option. So far this year, he's put it all together.
Hield isn't the only guy who has performed admirably on that end of the floor for Sacramento. Second-year guard De'Aaron Fox still isn't much of a shooter — he's connecting on 21.1 percent of his threes — but he's averaging 17.5 points per game and is connecting on 54 percent of his twos this season. Fox's shot chart isn't as impressive as Hield's, but he's connecting on 61.4 percent of his attempts from the rim and has been above league-average when he's operating inside the free-throw line. Plus he's done a great job setting up teammates, as his 6.9 assists per game are ninth in the NBA.
While Cauley-Stein's 17.4 points per game have led the frontcourt, and while Bagley (12.4 points, 7.1 rebounds per game) is the future of the group, it's been former future Sixer Nemanja Bjelica who has been the biggest revelation. The Serbian big man is averaging 15.1 points on 58.2 percent shooting from the field and 54.5(!!!) percent shooting from deep. His shot chart is tremendous because he's not shooting mid-range jumpers. Instead, he's throttling teams on threes from the top of the key and slicing them up in areas close to the rim.

Bjelica is tied with LeBron James and Joel Embiid for seventh in the league in offensive win shares. I did not expect to type that sentence at any point before I die. In the small sample size of the last three games, he's averaging 22 points and 8.3 rebounds per game. That screaming noise you heard as you read that was a chorus of Philadelphians agonizing over how the Sixers could have really used someone who brings what Bjelica brings to the table.
Bjelica been great so far, and it's been awfully impressive to watch as he's out-performed what anyone expected. That can be said for Sacramento, too. They're one-tenth of a way through the regular season, and the expectation that they go full KANGZ will exist until we know for sure that this team is, indeed, different.
The good news for Sacramento is that the early returns are awfully encouraging. The playoffs may still be a stretch at this juncture, but for the first time in a long time, there's plenty of talent and a clear vision for what the future could be for the Kings. For a squad that hasn't made the postseason in more than a decade, that's all you can really ask for.